By browsing, you consent to our

use of Cookies

.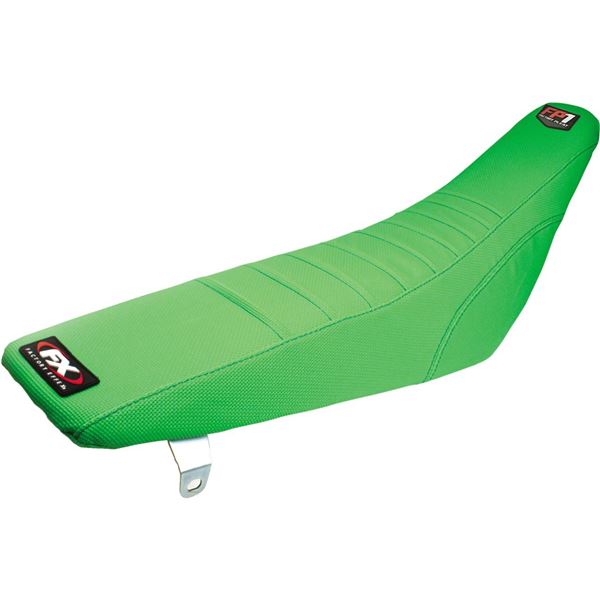 Free Shipping Over $75

Low Price Guarantee

No Hassle Returns

Featuring a top pleat pattern that keeps you positioned on the seat and hidden heavy duty DuraTech ballistic nylon reinforcements to prevent knee brace wear. Finished off with O.E.M color matched material to give your bike a true factory look.
Pleated top for traction
Hidden ballistic nylon reinforced knee area to reduce wear
O.E.M color matched material
Race proven design
Note: Image for referance only. Actual product may vary according to vehicle.
Specifications
SKU
FX14-25330
Brand
Factory Effex
Frequently Bought Together

California Prop 65
WARNING: Cancer and Reproductive Harm - www.P65Warnings.ca.gov
Part Numbers
| | SKU | MPN | Availability | In-Store Pickup |
| --- | --- | --- | --- | --- |
| Black | FX14-25330 | 14-25330 | 2 In Stock. Ready to ship. | - |
| Blue | FX14-25232 | 14-25232 | 2 In Stock. Ready to ship. | - |
| Yellow | FX14-25424 | 14-25424 | 1 In Stock. Ready to ship. | - |
| Black | FX14-25328 | 14-25328 | 1 In Stock. Ready to ship. | - |
| Blue | FX14-25226 | 14-25226 | 1 In Stock. Ready to ship. | - |
| Green | FX14-25130 | 14-25130 | 1 In Stock. Ready to ship. | - |
| Black | FX22-25532 | 22-25532 | Unavailable. | - |
| Black | FX22-25140 | 22-25140 | Unavailable. | - |
| Green | FX22-25138 | 22-25138 | Unavailable. | - |
| Black | FX21-25434 | 21-25434 | Unavailable. | - |
| Yellow | FX21-25432 | 21-25432 | Unavailable. | - |
| Black | FX21-25328 | 21-25328 | Unavailable. | - |
| Red | FX21-25326 | 21-25326 | Unavailable. | - |
| Black | FX21-25236 | 21-25236 | Unavailable. | - |
| Blue | FX21-25234 | 21-25234 | Unavailable. | - |
| Black | FX19-25530 | 19-25530 | Unavailable. | - |
| Black | FX14-25526 | 14-25526 | Unavailable. | - |
| Black | FX14-25436 | 14-25436 | Unavailable. | - |
| Black | FX14-25434 | 14-25434 | Unavailable. | - |
| Yellow | FX14-25426 | 14-25426 | Unavailable. | - |
| Red | FX14-25326 | 14-25326 | Unavailable. | - |
| Red | FX14-25324 | 14-25324 | Unavailable. | - |
| Black | FX14-25322 | 14-25322 | Unavailable. | - |
| Red | FX14-25320 | 14-25320 | Unavailable. | - |
| Black | FX14-25240 | 14-25240 | Unavailable. | - |
| Black | FX14-25238 | 14-25238 | Unavailable. | - |
| Black | FX14-25236 | 14-25236 | Unavailable. | - |
| Black | FX14-25230 | 14-25230 | Unavailable. | - |
| Blue | FX14-25228 | 14-25228 | Unavailable. | - |
| Blue | FX14-25220 | 14-25220 | Unavailable. | - |
| Black | FX14-25216 | 14-25216 | Unavailable. | - |
| Blue | FX14-25214 | 14-25214 | Unavailable. | - |
| Black | FX14-25136 | 14-25136 | Unavailable. | - |
| Black | FX14-25132 | 14-25132 | Unavailable. | - |
| Green | FX14-25126 | 14-25126 | Unavailable. | - |