Monster Energy Cup Riders Will Get To Use Cardo Comms Systems During Race
Chaparral Motorsports
|
October 18, 2019
|
Last Updated: February 10, 2021
While the Supercross series officially wrapped up way back in May (congratulations Cooper Webb on your first 450 championship), the Monster Energy Cup (MEC) has become recognized as the last Supercross race of the season. The invite only event has also become one of the most exciting Supercross events of the year. There's no other single race in Supecross or motorcycle racing for that matter, where there riders have a chance to win 1 million dollars. As a stand alone event MEC has become somewhat of a testing bed for the promoters and race organizers to try out new ideas for possible inclusion in the future Supercross series.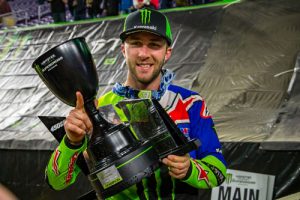 For example, the three main event race format of MEC was incorporated into the 2018 Supercross season with the introduction of the Monster Energy Cup Triple Crown. With three events taking place throughout the season the Triple Crown became a mini-series within the main series with an overall Triple Crown Champion announced at the end of the third event.
This year the Monster Energy Cup will once again bring in a new facet that hasn't be done before in Supercross with the announcement that teams and riders will have the abiltiy to communicate with one another during the races via Cardo's PACKTALK BOLD communication system.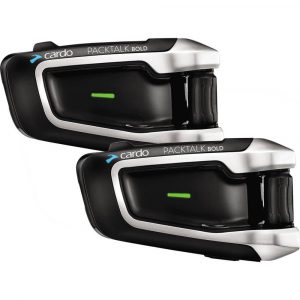 A leader in wireless motorcycle helmet communication systems, Cardo will have a booth setup in the pits and will make their PACKTALK BOLD system available to any teams that want to use them, free of charge. The PACKTALK BOLD features a Dynamic Mesh Communication™ (DMC) technology that allows anywhere from 2-15 people to communicate with one another with private end-to-end encryption. According to Cardo their comms system is already in use for practice purposes by many teams so that the rider, coach, mechanic and whoever else is on the mesh network can talk about technique, mechanical issues, or bike setup.
This is a pretty big deal-especially for the Monster Energy Cup and its notorious Joker Lane. The Joker Lane is a mandatory lane that each rider has to take at least once in each race. In the heat of battle the Joker Lane has proven to be the downfall to several racers, notably the Ryans, Dungey and Villopoto. So with the ability to talk to their rider and remind them that they need to take the Joker Lane the Cardo PACKTALK BOLD could prove to be a key piece of equipment. For the first time ever during a race the riders will be able to talk to their mechanics and notify them of any issues they may be experiencing. It'll also allow for the team to tell their rider (Savatgy) where the perfect spot to let up on the throttle is so that their teammate (Tomac) can slip by for the Triple Crown sweep and the cool Mill.
Seeing as how this year's MEC will feature "three different tracks" it's safe to say that most teams will opt to use the Cardo system to make sure their rider makes the correct turn or is going the correct way on the track.
Could the Cardo PACKTAKL BOLD system or any comms system for that matter eventually make its way into the main Supercross series? It's tough to say, but it's a possibility. It would be really cool because then hopefully they'll eventually make it so that the crowd can tune in as well and hear what their favorite rider is saying to their team or vice-a-versa.
NASCAR already has a system like this in place with their NASCAR Raceview Mobile app. It's is a fully immersive app that allows users listen to the race live or click on their favorite racer and listen to them talk with their pit crew.
Granted a Supercross race doesn't last nearly as long as a NASCAR race so the communication between rider/team may be minimal but it would still be cool to hear how riders handle getting blocked out of a corner or knocked over a berm, or what type of strategy the team tries to implement by changing up lines as the track conditions change.
We'll just have to wait and see-and hopefully eventually listen.