Seeing Triple: 2019 Monster Energy Cup Will Have A Three Track Format
Chaparral Motorsports
|
August 6, 2019
While the start of the 2020 Supercross season is still more than five months away, fans get extremely excited for October because that's when Monster Energy Cup takes place each year. This year race fans will be in for a real treat as Feld Entertainment and track development team have completely flipped things in reverse-literally-by challenging the riders to compete on three different track layouts, one of which will be riding the course in reverse.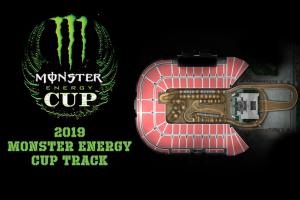 Racer X got the scoop on the concept for the event this year and has a full article explaining in detail what's taking place. Essentially there is one main starting area that sits at the back end of Sam Boyd Stadium (like it typically does) and it will have starting gates on both the front and backside that will be the hub for the three tracks: Inside Left, Inside Right, and Outside. The backside of the starting area will have the racers taking off outside the stadium and ripping down a short straight section that sweeps left and brings them back into the stadium.
The front side will have the racers jamming into the arena wide open down a short start straight that splits into left and right J hooks. In one race the riders will run in traditional fashion and go straight down into a left hand turn. Then in another race the riders will take off down the straight and hook into the right hand turn and run the track backwards.