Five Takeaways From Supercross Round 14 At Nashville
Chaparral Motorsports
|
April 9, 2019
In years past we've recapped each Supercross race with a series of questions posed to several of our Chaparral Motorsports employees and industry insiders. This year we've decided to change things up a bit and will be posing questions to you guys via our Facebook and Instagram (@ChaparralMoto) pages, so be sure to head over and give us your thoughts on our questions. For our blog we are going to give our insight on the Top Five Takeaways from each race. A mix of highlights, lowlights, or just random observations; you'll get to read what we saw, or what we thought we saw.

Editor's note: I have never raced dirt bikes, so I have no personal experience as to the grit and grind these guys sacrifice their bodies to week in and week out. But I love watching the races and respect the hell out of each and every one of them for putting their lives and livelihood on the line each and every time they roll up to the starting line.

Tomac Torches The 450 Main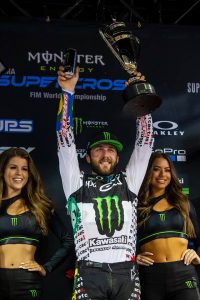 Evidently Eli Tomac had a point to prove Saturday night as he lit up the 450 main. He had a mid-pack start but quickly began making passes on his KX450 and by half way through caught up to race leader Cooper Webb. Tomac waited and then lined up a pass and checked out with leading 18 laps and winning with more than an 11 second margin of victory. Granted Webb played it safe-actually, doubly safe by letting Baggett pass as we'll without much of a fight. Either way Tomac was still motivated and moving around the track with blazing speed. He even accomplished a feat that hadn't been done in about six years since Ryan Dungey did it. Tomac had engine trouble in his heat race and had to pull out and go through the LCQ. He won the LCQ and despite the bike still smoking in the 450 main, managed to win. He's now tied with Marvin Musquin for second overall in points behind Webb. However, it's looking a little too late for Tomac with Webb adding four pints to his overall all lead and there only being three races left. But then again anything is possible.

The other big takeaway from Tomac's night was that he gained big points on Musquin and is now tied with the French rider for second overall in points. You know this probably doesn't sit well with the Factory Red Bull KTM team who would love to end the season with a 1-2 overall finish.

Webb Plays It Smart and It Pays Off

After a turnaround season that has many looking at Webb as potentially setting up a run of championships, he's been showing a ton of maturity. Although he did get a little emotional with his Factory KTM teammate last week when he pitched Musquin off the track. I think someone got in Webb's ear after that and reminded him how close he is to the title.


While Webb could have challenged both Tomac and Baggett for the win or second place, he made the decision that the point difference wasn't worth the risk. There are only three races left and with a 21 point lead all he has to do is ride smart and play it safe and he'll roll out of Vegas with his first 450 Championship. Those five points he could have gained by keeping Tomac at bay and taking the win Saturday night shouldn't be much of a factor, right?

Roczen Can't Catch a Break (Thankfully)

As the old saying goes, "if it weren't for bad luck, Ken Roczen would have no luck at all." For everything the guy has been through all the fans want is to see him win. Roczen is such as fun rider to watch, is extremely fast, has a ton of talent, and even more heart. He just keeps getting caught up in bad situations that are often beyond his control or not his fault. He just can't catch a break, which is a good thing in the literal sense of the word given his past injuries, but bad in the figurative sense given the fact that he can't shake the bad luck.



Roczen really looked like he could have won on Saturday night and was quickly making his way to challenge Webb for the lead. But then just as he was plotting a pass on Savatgy for 2nd place on the third lap Savatgy ate dirt in the turn and Roczen was too close behind to make a move. Roczen got caught up in the KX450 on the ground and ended up rolling backward over the corner tuff block. It took him a while to get back up the hill and into the race, falling back to basically last place. He made a hard charge though and managed to salvage some points with an 8th place finish.

The question I wonder though is if Roczen was able to get past Savatgy and made his way behind Webb, would Webb have given up the lead as easy as he did for Tomac and Baggett? Webb and Roczen have a rather tempered past and it would've been interesting to see how Webb handled the challenge.

Davalos Had One Job and Succeeded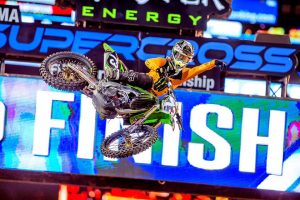 As much as Supercross is an individual sport when the gate drops, there is also a team factor that often doesn't come into play until towards the end of the season. Martin Davalos had put in a fairly decent season entering Nashville 5th overall in points. However, he had yet to make a podium showing all season. Then when his Monster Energy Pro Circuit Kawasaki teammate Austin Forkner had to pull out of the night show due to a knee injury sustained during qualifying the pressure was on Davalos to step up and help Forkner protect his point lead by keeping Sexton and Cooper off the top podium spot.

Going into Nashville Forkner had a 26 point lead on Sexton and Cooper was only a two points behind that. A 26 point lead with only three races left in the season is a nice cushion-unless you can't race and end up with a big goose egg-which is exactly the scenario Forkner found himself in. Thankfully Davalos pulled it together and was fast all night. First he won his heat race and then jumped out to an early lead in the main and never looked back. Davalos' win allowed him to earn the max points for the evening. While Sexton and Cooper raced to 2nd and 3rd respectively-despite Cooper's best effort to take them both out, Davalos denied Sexton the 26 points and the opportunity enter the penultimate race of the season tied at 151 points with Forkner. If Forkner ends up winning his first 250 title he may want to consider Cash-Apping Davalos a little bonus for a job well done.

Cooper Had One Job And Nearly Failed


With Forkner having a nearly perfect season, winning every race except for the ATL East/West Showdown, Cooper has been chasing Forkner's shadow with Sexton right there with them. With Forkner having to sit out due to his knee injury it was the perfect opportunity for Cooper to take advantage of the situation and make some headway on the point gap between him and the series leader. When the gate dropped in the 250 main Cooper had one job, get around Sexton and keep it on two wheels to collect maximum points for the evening and put himself within two points of Forkner. After a good start with him and Sexton both out ahead of the pack things went south. Not sure if it was nerves or angst after swapping positions back and forth, but rather than setting up Sexton for a clean pass Cooper took him high in the corner and made contact. Cooper ended up taking them both down which left the door open for Davalos to ride right through and take the win and protect his teammates lead.

Cooper was lucky that even though he briefly went down again later he was able to keep it together and ride to a 3rd place finish behind Sexton. He now sits four points behind Sexton and seven points behind Forkner. I can only imagine things are going to heat up during these next two races between Cooper and Sexton.