Five Takeaways From Supercross Round 13 At Houston
Chaparral Motorsports
|
April 2, 2019
In years past we've recapped each Supercross race with a series of questions posed to several of our Chaparral Motorsports employees and industry insiders. This year we've decided to change things up a bit and will be posing questions to you guys via our Facebook and Instagram (@chaparralMoto) pages, so be sure to head over and give us your thoughts on our questions. For our blog we are going to give our insight on the Top Five Takeaways from each race. A mix of highlights, lowlights, or just random observations; you'll get to read what we saw, or what we thought we saw.

Editor's note: I have never raced dirt bikes, so I have no personal experience as to the grit and grind these guys sacrifice their bodies to week in and week out. But I love watching the races and respect the hell out of each and every one of them for putting their lives and livelihood on the line each and every time they roll up to the starting line.

More stuffing Than a Thanksgiving Dinner
Who did it better, Webb or Ferrandis?



During the first 450 main, after teammates and training partners Cooper Webb and Marvin Musquin exchanged a few nibbles back and forth, Webb finally got fed up with Musquin and took a bite out of the left side of his 450 SX-F and knocked him over the side of the wall jump.



Or was Dylan Ferrandis' move to take the lead from Chris Blose in the second 250 Main the better stuff? Ferrandis ran Blose wide in the last corner on the track so that Blose had no real estate left when they came out of the turn and Blose ended up eating up a tuff block?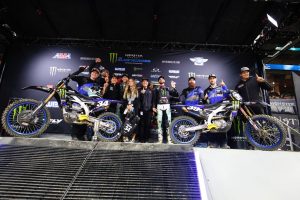 It's gotta be the Webb move right? I mean how awkward and tense must that KTM pit have been after that race? But kudos to Webb and Musquin for seemingly keeping their cool to ensure a KTM 1-2 (respectively) podium finish for the night.

Mcadoo Makes Do
The opening straightaway and the 90 degree hole shot turn wreaked havoc on Geico Honda Amsoil Factory Connection rider Cameron McAdoo. However, despite back-to-back messy starts in 250 Main One and Two he managed to make do and salvaged his night with a top ten finish.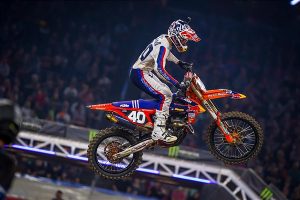 In the first 250 Main Mcadoo got a great start and was out in front to grab the hole shot but when he launched off the first turn jump he was veering off right and when he came down there was nothing there for him to land on except for a tuff block. I'll give him the benefit of the doubt because it did look like the corner of that tuff block was sticking out on the track a bit. He did have a nice dismount though. He hit the ground running-he's just lucky the Kawasaki blow up wall was there to stop him because he could still be trying to stop himself. Jumping back in to the race Mcadoo powered through half the field for a 9th place finish.



McAdoo's start in the second 250 Main wasn't any better for the Honda 250 rider. In fact he didn't even make it to the hole shot jump. A chain reaction of bumping and jockeying for position into the first turn sent a three pack of riders: Adam Cianciarulo, Jacob Hayes, and Mcadoo off the track. Cianciarulo was the only one that was able to keep it on two wheels. Mcadoo and Hayes both took diggers off the track. This time it was the Fly Racing blow up wall that saved Mcadoo from hitting the cement and potentially injuring himself. After a quick remount and sitting at the rear of the field Mcadoo made a hard charge to regain position and managed to ride all the way to 6th place.

In the third Main Mcadoo made it out of the first turn unscathed and ended the evening with his best finish of the night with a 5th which helped him secure a 6th overall for the Houston Triple Crown. Pretty impressive considering his first two starts.

Roczen's Leg Scare
After breezing through the first 450 Main with a nearly 10 second margin of victory over second place finisher, Webb, Roczen's get off down the start straight in the second Main had fans gasping and holding their breath. Roczen was ripping down the left side of the opening straight and then about half way down his front tire got into the rear of Dean Wilson's Husky and then the next thing we saw was Roczen ninja rolling across the track. Miraculously he wasn't hit or run over by any of the other riders. But when he popped to his feet he was hobbling back to his bike which had people fearing the worst.


At the time, the pain was severe enough and bike in such poor condition that Roczen pulled out of the race and went back to the pits. Thankfully and to the relief of just about everyone the injury didn't keep him out of the third Main and he bounced back with an 8th for a 10th place finish overall.

Tomac Takes it Easy
Fans of Eli Tomac had to be pulling their hair out after the first 450 Main. With no time on the clock and two laps left in the race ET3 was sitting in 5th with a slight 2 second lead on Musquin. Musquin began closing the gap and was on Eli's back wheel by the final half of the last lap. Then for whatever reason Tomac basically just shut it down after coming out of the very last turn and rolled up the finish line. Meanwhile Musquin held it open and launched over the line to snatch 5th place away. (skip to the 12:54 mark)



There's no way Tomac couldn't have known Musquin was there because the two riders nearly get into each other three turns before. In a race where every position counts for the cumulative score at the end of three mains, taking it easy on the final jump doesn't seem like a smart move.

Cianciarulo Loses Valuable Points
Nothing proves how much one bad race in a Triple Crown event can affect your overall points than the second Main event that Adam Cianciarulo had. Granted the results could have been much worse; he could have gotten injured, or taken out by Justin Startling. However, even though he had great first and third main event races, that 10th place finish in the second main led to his overall points lead on Dylan Ferrandis for the West Coast 250 title being cut down by more than half. Going into Houston Cianciarulo had a 12 point lead on Ferrandis, and coming out of Houston he now only has a five point lead.

On Ferrandis' side of things it helps significantly that he had a great night and put in three successful races going 2-1-2 to win the Triple Crown event and score the maximum 26 points.

That second Main event was quite the doozy for Cianciarulo. First he went off the track on the opening start and then he tried to avoid crashing into Sean Cantrell's KTM mid-flight on the over/under bridge by sticking his arm out to push Cantrell out of the way. It was a pretty wild sight. And it only got more intense after Cianciarulo bailed on the backside and nearly got his clock cleaned by Justin Starling when running back to jump on his bike. It's pretty amazing and he's really lucky that he was able to pull a 10 spot out from that race and didn't lose any more points.

These final three races between Cianciarulo and Ferrandis for the 250 West title are going to be awesome!