Bridgestone AX41 Adventurecross ADV Tire Review
Chaparral Motorsports
|
March 4, 2019
|
Last Updated: July 3, 2020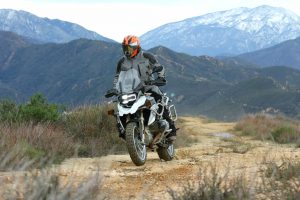 Adventure touring motorcycle riders are extremely scrutinizing when it comes to tire choice for their big BMW 1200GS', Honda Africa Twins, and KTM Adventure bikes. They deservedly have every right to be critical of their motorcycle tires because they expect these bikes to carry them anywhere and everywhere their hearts desire. That can be anything from a leisure 500-mile freeway jaunt to a skillful back country excursion.
Knowing how demanding ADV riders are and how versatile the terrain they tackle can be Bridgestone recently introduced the Battlax Adventurecross AX41 tires. While Bridgestone has the Battleax Adventure A41, that tire was more of an on-highway, long mileage tire that could be taken onto the occasional fire road for some light exploring. This new AX41 is truly designed for the adventurous at heart, those riders that typically spend a good chunk of their time navigating rutted trails or tricky riverbeds and then jump on a paved road to travel to the next trail or to ride home.
Bridgestone put in a lot of design and testing to ensure that the new AX41 not only hold tight to paved surfaces but can hook up or bite softer terrain to propel heavier ADV bikes to new heights or keep them from sliding down white knuckle lows. Designed as a 60% offroad / 40% on-road tire, the Battleax AX41 features enhanced characteristics in key areas such as compound, tread/block design, and durability. While the tire is comprised of only single compound the composition is tougher and more rigid than the A41. This strong composition is perfect for supporting and catering to these heavier bikes that often get loaded down with extra gear. And the durability means they can take a beating and last.
The tread blocks feature a block wall angle as well as a valley design that helps the blocks maintain their shape under load and braking while also helping reduce shearing of the trailing edge to maintain the block's integrity and longevity. This block design was also specifically created to help mud sling off rather than stick to the sides of the tread blocks. The staggered block pattern means that there is bite at all times whether in a sandy turn or trudging across roots and rocks. On paved surfaces the tread and composition provides great high-speed handling, predictable transitioning from side-to-side, and a smooth ride.
Beyond the tire's ruggedness and ability to deliver high performance marks in just about any terrain or conditions they look great as well. Bridgestone incorporated subtle details that help the tire stand out while standing still. First there's Adventurecross nameplate running between the center blocks, then there's the AX41 identifies dotted along the shoulder, and finally there are small geometrical blocks, which Bridgestone calls Deco Grooves, lightly cut into the tops of the outer lugs.
We were lucky enough to get one of the first sets of the new AX41 tires and immediately mounted them on a BMW 1200GS to put them through just about every type of terrain and whether conditions ADV riders may come across in their travels. As you'll see in the video review below, these tires blew us away. They did everything we expected them to do and more with hardly any compromise. What really astonished us was their handling in nasty, wet conditions on twisty mountain roads-it's like they were begging for more throttle.
If you ride a big ADV touring bike and are in the market for a new set of do-it-all tires, you'll definitely want to jump on the Bridgestone Battlax Adventurecross AX41.
Tires available in these sizes
Front

110/80B19 M/C 59Q TL
120/70B19 M/C 60Q TL
90/90-21 M/C 54Q TL

Rear

130/80B17 M/C 65Q TL
140/80B17 M/C 69Q TL
170/60B17 M/C 72Q TL
150/70B18 M/C 70Q TL