Glamis Survival Guide
Chaparral Motorsports
|
October 26, 2018
|
Last Updated: October 7, 2020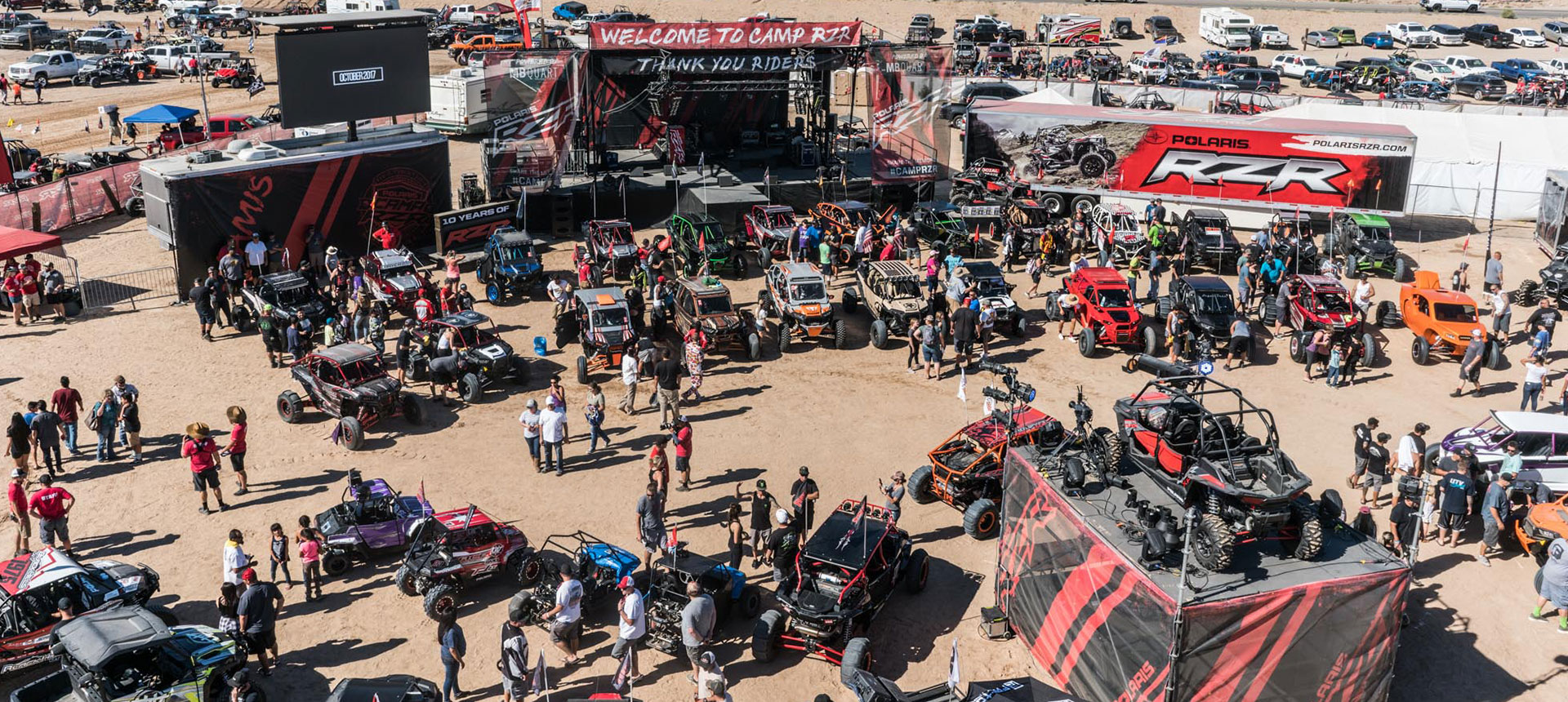 Southern California sand season may have started back on October 1st when the Glamis permit passes became mandatory (passes are required from Oct 1st through April 15th of every year) but traditionally the week of Halloween is the unofficial kickoff to sand season. Typically by late October the temperatures are finally cool enough to enjoy a mid-day dune ride without melting into your seat and with all the hype around dressing up, trick-or-treating from toy hauler to toy hauler, and just having an all-around good time, Halloween makes perfect sense for everyone to roll out to the dunes and party. If you have no clue as to the who, what, or where Glamis is, read this.
Right around Halloween is also the time when Polaris hosts their big Camp RZR weekend. This year the event falls on the weekend before Halloween (Oct 26-27) and features a ton of entertainment for the entire family. There's a vendor village, contests and giveaways, a fireworks display, a custom RZR show and Shine competition, and live concerts.
Whether this is your first time or 21st time heading to the biggest OHV sand box in the west there are some things you should know, or at least keep in mind. So we put this survival guide together to help you get the most enjoyment out of Glamis.
No Pass, No Play!
While you can go out and play in the dunes all you want free of charge most of the year, when "sand season" rolls around (Oct 1st-Apr 15th) you have to pay to play. You can get either a season pass or a weekly pass that is good for one to seven days. Passes are sold on site, but if you want to save time and maybe even some money it's best to purchase a pass offsite. Weekly passes sold offsite are $35, $15 dollars cheaper than if you purchase at Glamis. The season pass is $150 no matter if purchased at Glamis or offsite.
*HOT TIP: Chaparral Motorsports sells Glamis passes, so while you're there shopping for your necessities (some listed below) pick up a pass and save yourself one less headache when you get out there.
Up the Dune Without A Paddle
You've most likely heard the old saying "up a river without a paddle", meaning you're screwed or ill prepared for the situation at hand. Well, the same logic basically applies with the Glamis sand dunes. If you show up to the dunes without paddle tires, or sand tires as they are also commonly called, on your side-by-side then you're probably going to have a bad time. That's not to say that you can't get around with a set of offroad tires on your side-by-side or ATV, you can, however it will be faster, easier, and much more fun climbing and shredding the deep sand if you're running paddles. Now there are a plethora of sand tires to choose from and it can be dizzying trying to determine which ones to get. To help make the decision easier Chaparral Motorsports went out to Glamis and tested six of their most popular paddle tires in hill climbs and flat drag racing situations; you can check out the results here.
*HOT TIP: Whether you've got paddle tires or you chose to run offroad tires, air down to about 7.5psi-10psi at all four corners. That will help keep you from popping a bead if you aren't using beadlocks and provide a nice wide footprint for traction and to float across the top of the sand.
Raise a Flag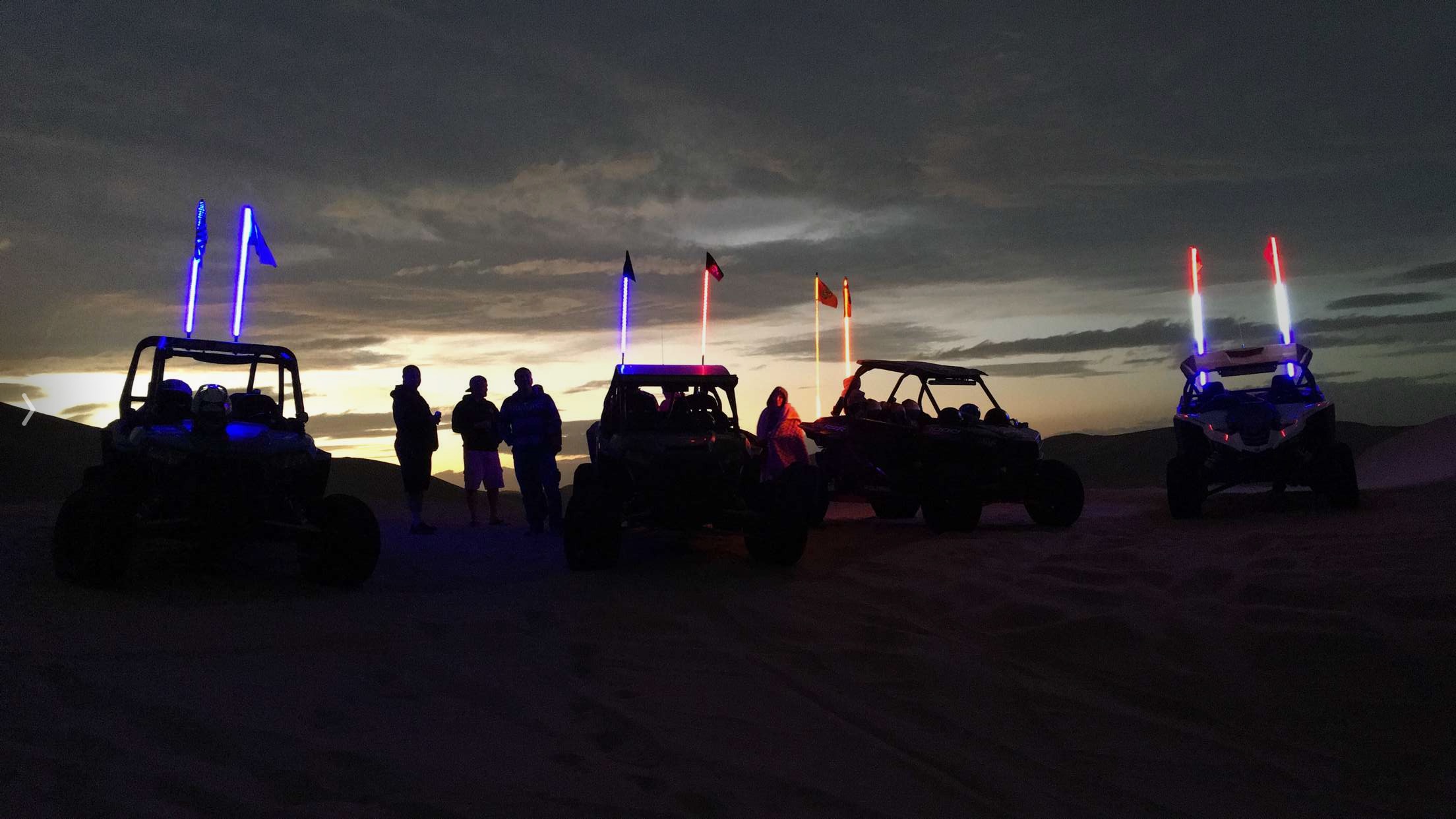 No matter if you ride a dirt bike or ATV or you drive a UTV or sand rail your vehicle has to have a flag mounted to a whip. The whip has to be mounted to the vehicle and extend 8 feet tall from the ground to the tip. You can run a triangular, square, or rectangular flag, it just has to be at least 10 inches from the top, red or orange in color and measure 6" x 12". Some aftermarket side-by-side cages come with tabs on the rear to mount a flag; otherwise your best bet is to measure the diameter of your cage to determine which size flag mount clamp you may need.
HOT TIP: You don't have to have a lighted whip when riding/driving at night but it's definitely a good idea.
Heads Up
4
If you don't have a DOT approved helmet you better pick one up because it's the law that you wear one when out exploring the dunes. Yes, side-by-side owners this means you too. Riders, drivers, and passengers are all required to wear a helmet.
Buckle Up
If you own a UTV/side-by-side it most likely came with seat belts. Any time you are driving around in Glamis the driver and passengers must be wearing either the stock seatbelt or an aftermarket safety harness.
Help Yourself, Help Friend, Help A Stranger
A tow strap is an invaluable piece of equipment that you can store in your side-by-side and it takes up very little space. You never know when you're going to get stuck or roll up on someone who is stuck in the sand.
Oh Snap!!
Charging through the dunes puts a lot of abuse on your vehicle-especially the heavier two seat and four seat side-by-sides. And for those vehicles the key component that makes sure you get from one dune to the next is the drive belt. As tough as those suckers are, they're not indestructible and the extra heat and work generated from trudging through the sand really puts a lot of stress on the belt. Eventually, once it's had enough, the belt will give up. And when you snap a belt you're dead in the water sand. It doesn't take too long to replace a belt on a side-by-side and in most cases it's a rather straight forward affair. But if you don't have a spare belt on hand you won't be going anywhere soon. So do yourself a favor and pick up a belt or two to store somewhere in or on your vehicle.
*HOT TIP: In the comfort of your own driveway or garage practice removing and installing your belt. Repeat the process a half dozen times or so until you're really familiar with it. Then do it at night, with no flash light-because that's one of the worst case scenarios you'll run into out into the dunes.
*BONUS HOT TIP: Make sure you have all the tools necessary to remove your shroud and belt stored securely in a pouch or bag. Also make sure you have some pliers to pull out stubborn belt cords that may get wedged into the pulleys or sheaves.
Road Rules
Even though you may feel like Mad Max in the middle of a desert apocalypse, there are rules you have to abide by. There's a 15 mph speed limit on the Sand Highways. This speed limit applies to whenever you are within 500 feet of Highway 78, Grays Well Road, Gecko Road and access roads within the Gecko and Roadrunner recreation sites. You should maintain a speed of at most 15 mph whenever you are within 50 feet of any campground, campsite, or concentration of people or animals. As for speed limits in the great wide open, well, the rules state "don't operate an off-highway vehicle faster than it is safe for conditions." So use your best judgement because if you don't the authorities will be there to help make sure you do.
You cannot driver your side-by-side, ATV, or non-plated dirt bike on the roads or highways. The only exception is to make a crossing, which has to be done 90 degrees (straight across) in a safe manner.
If you plan on doing any night driving/riding, you better make sure your vehicle has a headlight(s) and taillight(s)--you have to have a least one red taillight.
Pay attention to all the signs and closed off areas. Some areas may be closed for environmental protection.
Burn Baby Burn
Fires are allowed, however you cannot burn hazardous materials. You cannot burn pallets or any other "firewood" that has nails, screws or metals in it. Fireworks are illegal and so is discharging firearms.
Stay Dry
Drinking and driving, don't do it. Open containers, driving while drunk, passengers drinking while you're driving-just like in a regular vehicle on a paved road or highway, it's illegal.
Hopefully we gave you some good insight and maybe even reminded you of something you may have forgotten. Glamis is a massive area and there is plenty of fun to be had out there; just stay smart and stay safe.