ChapMoto SX Race ReCap Week 14: What We Saw In Seattle
Chaparral Motorsports
|
April 13, 2017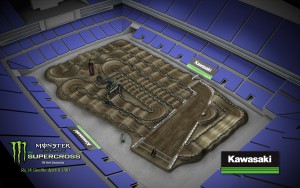 This is a new series in which we will look back at the past weekend's Supercross race and give you our thoughts and perspectives on what we saw. We've posed several questions based on the evening's events to a motley crew of Chaparral Motorsports staff (and one outsider) and provided you with their answers and insights.

A little background on the respondents in this series:

Dave Damron (DD): Chaparral Motorsports founder. Racer, team owner, manufacturer, retailer. Dave has seen it all and done it all on two wheels.

Travis Snyder (TS): Chaparral Motorsports Offroad Products and Apparel Manager. Travis is one of our in-house moto racers. A Honda guy, Travis is either at one of the local tracks or prepping his bike for his next event.

Mike Medina (MM): Chaparral Motorsports Technical Advisor/Communications Specialist. When Mike's not at the office he's in the pits spinning wrenches for the Enticknap brothers, #722 Adam (The Seven Deuce Deuce) and #723 Tyler.

Eric Ellis (EE): Chaparral Motorsports Marketing/Social Media. Eric is just a Harley guy who likes to watch Supercross.

The Outsider (TO): N/A. The outsider is not a Chaparral employee but he is an industry veteran with a good perspective on the inside.

Being that Chaparral Motorsport is part of the Monster Energy| Yamalube| Yamaha Financial Services| Yamaha Factory Racing team with two-time Supercross Champion Chad Reed and two-time 250SX West Region Champion Cooper Webb (making his debut in the 450 class this season) we focused a few questions on the their performance. Also, we had the opportunity to toss Webb a few questions in between his busy schedule so you could get some perspective on the race directly from him.

Let's start off with the questions we sent to Cooper Webb first.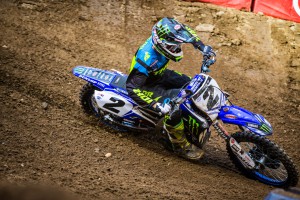 Cooper Webb:

It didn't look like the track conditions in Seattle bothered you too much and you were able to deal with it pretty well. What's the key to staying focused and finding the right lines on a track like that?

CW: I just felt really comfortable right from the get-go. I've been riding a lot of outdoors back home in North Carolina, and the conditions in Seattle resembled an outdoor track so I felt at home right away. My bike was working great, as well. There really wasn't a secret to being focused. I was just relaxed and felt comfortable all day, so it came natural to me.

How would you sum up your night?

CW: Overall, I would consider the night a success. The crash was obviously a bummer, but that's part of it when you're pushing and trying to be on the podium. I felt great all day, qualified first, won my heat race, and I was in a great position for a podium until that crash happened. I gained valuable confidence, and I'm looking forward to better days ahead.



What We Saw

General questions:

Who had the best night?

[caption id="attachment_62797" align="alignright" width="200"]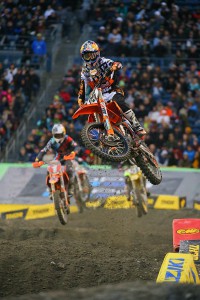 Image: Vital MX[/caption]

DD: Marvin Musquin and Aaron Plessinger. Plessinger looked good on a tough track. Marvin always rides good on technical rough tracks like that. He might want to work on his post race celebration though.

TS: Aaron Plessinger! I don't know about you, but I expected AP to pull a Win a little sooner than Seattle. Don't forget the 250 class received a red flag three laps into the main, which led to a re-start.

MM: The Yamalube/Star Racing rider #23 Aaron Plessinger had the best night in Seattle. AP23 finally tacked on a 250 main event win this year, and he had to do it with two gate drops in the main event due to the red flag restart. I expected more wins from AP23 and he was also my pick for the 250 West title earlier in December. I think AP23 practiced a million starts during his break when the 250 series headed East. LOL!

EE: I'd say Dungey made the best out of what could have been his worst night. He was good in the heat race coming in second behind his KTM teammate Musquin but that Main event started out super ugly. First he stalled out after getting mixed up with the tuff block in the first turn and ended up dead last once he got going again. However, that wasn't the end of his tuff block affair for the evening, just under a minute later he was squeezed into the tuff block in a right hand corner by Bogle which caused him to lose some precious time. But man that dude charged like a mad man and picked up every single point he could to stay elbow to elbow with Tomac in overall points. If the main had gone the full time instead of being cut short who knows how close the end of the race could have been between those two. But either way it was amazing to see him get 4th and now the points gap between him and Tomac is at zero as they lead the series in a tie for first, crazy how that worked out! I'm gonna follow Travis' lead in previous recaps and throw in a hashtag for Dungey: #thankgodforelectricstart

https://youtu.be/hIIVdPtqHXk

TO: Kawasaki- one step closer in both classes to Championships!

Who impressed you most?

DD: Ryan Dungey, coming from a dead last start then finishing 4th.

TS: Mitch Oldenburg from the TLD KTM team impressed me! His previous SX race was in January San Diego (collar bone injury) and now he comes out and throws down a 3rd place finish. The podium has been missing a true ginger over the past couple years!

https://youtu.be/CXYT-MnDUgI

MM: Mitchell Oldenberg of the TLD KTM team landed on the podium for 3rd place in the 250 main event after his long layoff from his injury he sustained earlier in the West coast swing of the season. I did not see any ring rust on this dude. Bravo.

EE: I really enjoyed watching Aaron Plessinger grab the win in the 250 main. Seeing him triple-triple-triple his Yamaha YZ 250F through that rhythm section and pass up Davalos for the lead was Sa-Weet!

TO: Tomac and Dungey. Both could have had disastrous nights as far as the championship goes and both did a great job of damage control.

Who had the toughest night?

DD: Not only did he impress me, but I thought Ryan Dungey had a tough night losing the points lead.

TS: Ryan Dungey. Unfortunately the rookie Webb kicked the teflon block out from underneath his Yamaha heading into the first corner which took the #1 out, leaving him with a dead last start. Thank God no lappers got in his way! RD finished 4th behind Jason Anderson. I hope you like sharing Dungey, because the #3 will have a red behind it in Salt Lake City.

MM: The toughest night award goes to the whole 250/450 rider field. The track was as treacherous as a track can get and it was to be expected. The Seattle loam or sponge cake as I experienced before, is a tough animal in itself. The dirt ruts up bad as soon as you look at it and the transitions cause extreme G-outs, as Josh Grant had the pleasure of experiencing in practice which ended his night. The track claimed quite a few riders which led to many trips to the hospital. Ouch.

EE: Although it wasn't during the night time show, Chris Alldredge by far had it the toughest. That hit he took from McElrath in qualifying was so gnarly to watch. He ended up with a laundry list of internal and rough injuries but man it looked like it could have been so much worse. Despite his pain and suffering he showed a world of class by posting to social media an apology to McElrath for crashing in front of him, that's amazing sportsmanship. Get well soon Chris.



TO:
Cooper Webb. He had a podium in him and threw it away.

Did you every think with three races left we would have a tie for the point lead?

DD: We haven't had a championship points race this close in a while. Should be exciting going into Vegas.

TS: If they decided to go through with that "points chase format" the AMA was talking about, we'd basically be in the same situation. Supercross 2017 is going down as a nail bitter for Kawasaki & KTM.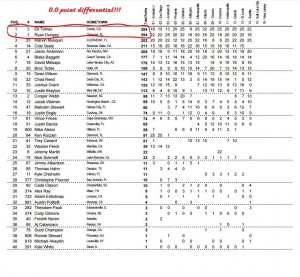 MM: In January, I expected a three way battle with K-Roc, Dungey, and Tomac. After K-Roc ended his season in A2 and Tomac had the horrible Dallas race, I expected the points gap between the Dunge and ET3 to be tied going in to Vegas. I was right about the insane win streak ET3 unleashed to erase the Diesel's points lead. It just happened earlier. It is now a three race series for the 450 title.

EE: Absolutely not! Honestly after Roczen went down I thought we were going to see Dungey click off a bunch of wins. I didn't expect him to win every race but I also didn't think that lead he had would get chewed up by Tomac. Not to doubt Eli, but after his issues with arm pump I didn't think he'd be able to swing it around like he did.

TO: It makes it much more exciting instead of the championship being clinched with a round or two to go.

How about Dungey battling back from 19th in the first lap of the main to 4th place?

DD: That's who impressed me the most. I wonder what he would have finished if they ran the full 20 minutes?

TS: Where was that intensity last weekend when he got behind Reed? Yeah yeah... I know, different track and different situation. Well here's a fact: In St. Louis last weekend, Dungey had slower lap times trying to get around the Millsaps / Barcia battle, compared to the three laps he was behind Reed. Hmmm and who was the one fined again??

MM: I understand as a racer, the inside line is the shortest distance and usually the quickest way around the first turn of a race. But, the tuff block Dungey ran over is the same tuff block that got ran over in every race that night. Dungey had to have known this and if he knew he did not get the greatest of jumps out of the gate, he should have laid up and took the safe way around instead of getting caught up and having to carve his way through the pack on the toughest, rutted out track of the year. It was a great ride to get back to where he ended up, but the first turn pile up could have been avoided.

EE: It was pretty crazy. I am not a huge Dungey fan, I respect him, his championships, his consistency, and everything he's done for the industry-he's a perfect ambassador for the sport-he's just too calm and reserved most of the time for me. But to watch his drive and determination to squeeze out every point possible from what could have been a disastrous main event on Saturday night, you have to respect and admire that.

TO: Great riding. That is why Dungey is always in championship contention.

Reed/Webb questions

What did you think of Reed's night?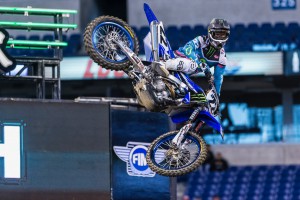 DD: Reed's night was just ho hum, he got a bad start but then had to stop and get a rock out of his rear brake so his results aren't what they should have been.

TS: He seemed fairly comfortable on the bike. I'd say he made progress throughout the night. Nothing terrific though.

MM: Reedy did not start off the day as well as I would have expected being the 16th fastest in qualifying and 3 seconds off of Cooper Webb's qualifying pace. It looked like he made some changes and had a better evening finishing in the 9th spot, but I am sure he was expecting more. This upcoming Easter weekend off from racing should do him some good and recharge the batteries for the last leg of the season.

EE: I am bummed for the guy, has so much fight and desire to ride to the best of his abilities and win but this season just isn't going as hoped. I know he's extremely frustrated with this season but not every season can be a great season. It's unfortunate because he is a multi-time champion so people have higher expectations for him, but they seem to forget that he's still in the top ten in overall points right now--or they just don't care to recognize that, and that's some BS! He is competing at an age and level that few riders have been able to and I really want to see him make a huge comeback next year and put any naysayers to rest.

TO: 9th place isn't where I thought Chad Reed would be. He should be top five. Nothing against Millsaps, Tickle, or Baggett, but Chad Reed should be top five!

What did you think of Webb's night?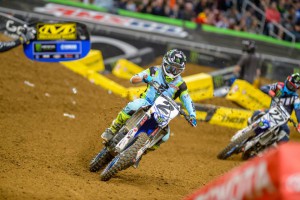 DD: Webb looked good in his heat and started out good in the main and when Tomac passed him the first time he fought back but then he stalled out on his drive and when Anderson passed him he seemed to lose focus and hit the ground but got back up to salvage an 8th place finish.

TS: The heat race was awesome! As far as the main event goes; I don't know if it was his foot or peg that pulled the Suzuki block out from underneath him, but that moment put a stop to Ryan Dungey's points lead. Webb was running a solid race up until Anderson passed him then he took a digger and went down.

MM: Coop had an excellent qualifying time and heat race but threw away a great night when he crashed in his main event and ending up in 8th place. Coop looked better than he did last week, just a small error cost him a nice finish. With three more rounds to go, he needs to have some solid finishes under his belt to carry some momentum and good mojo into the upcoming Outdoor season.

EE: He was having a great night aboard the the Monster Energy/Yamalube/Chaparral/Yamaha Financial Services/Yamaha Factory Racing Team YZ450F. It was good to see him bounce back after a rough return from his injury. It looked like his confidence was back and he was on his way to a podium finish in the main. Just looks like he cross-rutted and ended up on the ground. It was good to see him pop right up and get back on the bike to finish out in the top ten though.

TO: Cooper has his race speed back. He looked good until the crash. Hopefully he can carry some of the momentum outdoors.