ChapMoto Race Recap Week 9: What Went Down In Toronto
Chaparral Motorsports
|
March 8, 2017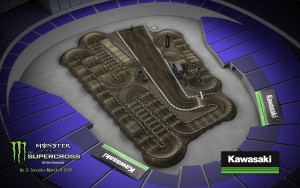 This is a new series in which we will look back at the past weekend's Supercross race and give you our thoughts and perspectives on what we saw. We've posed several questions based on the evening's events to a motley crew of Chaparral Motorsports staff (and one outsider) and provided you with their answers and insights.

A little background on the respondents in this series:

Dave Damron (DD): Chaparral Motorsports founder. Racer, team owner, manufacturer, retailer. Dave has seen it all and done it all on two wheels.

Travis Snyder (TS): Chaparral Motorsports Offroad Products and Apparel Manager. Travis is one of our in-house moto racers. A Honda guy, Travis is either at one of the local tracks or prepping his bike for his next event.

Mike Medina (MM): Chaparral Motorsports Technical Advisor/Communications Specialist. When Mike's not at the office he's in the pits spinning wrenches for the Enticknap brothers, #722 Adam (The Seven Deuce Deuce) and #723 Tyler.

Eric Ellis (EE): Chaparral Motorsports Marketing/Social Media. Eric is just a Harley guy who likes to watch Supercross.

The Outsider (TO): N/A. The outsider is not a Chaparral employee but he is an industry veteran with a good perspective on the inside.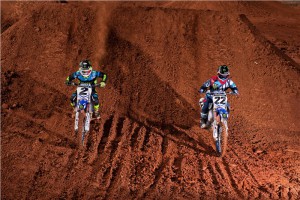 Being that Chaparral Motorsport is part of the Monster Energy| Yamalube| Yamaha Financial Services| Yamaha Factory Racing team with two-time Supercross Champion Chad Reed and two-time 250SX West Region Champion Cooper Webb (making his debut in the 450 class this season) we focused a few questions on the their performance. Also, we had the opportunity to toss Reed and Webb a few questions in between their busy schedules so you could get some perspective on the races directly from the riders.

Let's start off with the questions we sent to Reed and Webb first. Note, with Cooper still recovering from his injury, we decided to leave him off the questions this week.

Reed:

You had a good evening with the heat race win, qualifying second, and nearly making the podium. How would you sum up your night?

CR: For the most part, it was a solid night. It's always good to get a win. Even if it's a heat race, you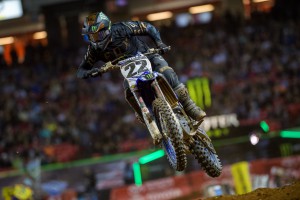 have to start somewhere. In the main, I was really disappointed with my ride. I just couldn't find my flow like I wanted to. I finally found it towards the end of the race, but it was too little, too late.

Now that the season is halfway through, have your thoughts changed at all about the new timed format? Do you have a preference between the timed format or a pre-specified number of laps?

CR: With this era's tracks being the way they are, timed events are, in my opinion, a positive because the tracks become a little more beat up and challenging to ride on. For me, 20 laps or 20 minutes is all the same. I'd really like to see a track layout that creates good side-by-side racing and then, use that as a base footprint going forward.

What We Saw

General questions:
Note, Dave was out in the middle of the desert testing the miles till empty in his UTV so he missed the races and won't be replying this week.

https://youtu.be/tGhN-3k3kzU

Who had the best night?

TS: Eli Tomac. He put on a Supercross clinic for all the riders in the main event! Kind of like the RV2 days...


MM: ET3 and the Diesel had good nights but the best night award is going to the number 20 Broc Tickle of the RCH Yoshimura Suzuki team. Broc was the 5th fastest qualifier, won his semi race, and nailed his start which got him on the podium with a 3rd place finish. Broc was in second place the whole main event and surrendered only one spot to the defending champ. Broc was rolling all night and looked very sharp. Well done.

EE: I'm gonna have to say in the 450s it was Tickle with his best main event race of his career getting third place to Dungey and Tomac. In the 250s it would have to be Cianciarulo, that kid (well I guess he's not so much a kid anymore as he's a young adult) got onto the podium for the first time in two years after being away from the series due to injuries.

TO: Dungey. You win championships on your worst nights. After getting a terrible start (for Dungey) and getting knocked around by a few riders, Dungey still managed 2nd place points.

Thoughts on Tomac's win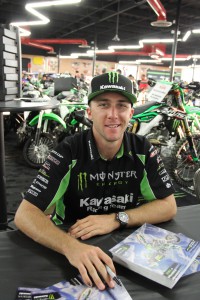 TS: He had the best night. On the other hand, how about Broc Tickle!? Nice work BT20

MM: ET3 had a near perfect night by being the fastest qualifier, winning his heat race, and winning the 450 main event in convincing fashion. He just needed the holeshot for the "perfect" night. He needs to repeat these performances consistently in order to have a chance for the title.

EE: Tomac had a good night, he won his heat race, qualified first and then shot out of the gate in the main and was never to be seen again by the front of the pack. He was extremely fast all night and was riding with the determination of someone who is extremely focused on one specific goal.

TO: Tomac is the fastest rider now. If he can get a 5th place or better start he will win.

Who had the better race for second place, Dungey this week or Tomac last week?

TS: Good question. They both started 9th in the main event and finished 2nd. So they mirrored each others results from Atlanta to Toronto. Considering Tomac qualified 11th in Atlanta, I'd say he was pretty happy with 2nd at the end of the night. That was a tough track to pass on last week in Atlanta as well, so I'll give it to Tomac. *Side Note: Since Dungey has been in the Premier 450 class, he has been on the podium a whopping 95 times out of the 123 main events he's started in. #Impressive

MM: I would say that the Diesel's second place ride this week was more significant since it was a round for damage control for him. He knew ET3 was not going to be within reach for him to press since Eli was about 7/10's of a second faster per lap, so he carved his way through the field to snatch and hold the second place position in which he only surrendered 3 points to ET3 at the end of the night. He is still ahead by 24 points.

EE: They both started out in about the same position (9th) so they both has to make around the same amount of passes, but I'd have to say that Tomac's race to 2nd last weekend was way more exciting. He moved into the second spot with 5:30 left and trailing Dungey by 7.3 seconds. He made a hard charge to chase Dungey down and by the end of the race was only trailing by Dungey by 3 seconds. Dungey on the other hand took the second position with 3:14 left and a 15.3 second gap behind Tomac but at the end of the race he had only closed the gap by about 1 second. So to me it seemed like Dungey was just holding the points he had and not trying to actually gain any points.

TO: Dungey. He rode aggressive and made the passes. Tomac is used to making up for bad starts.

https://youtu.be/jEUDtMddYTo

Who had the toughest night?

TS: I think Dylan Ferrandis and Joey Savatgy need to rock-paper-scissors for this one. Savagty made the red plate that much harder to get back giving Osborne a 12 point lead. Ferrandis showed us how to holeshot throughout the night, then demonstrated how to throw a podium finish away.

MM: The toughest night had to go to the Diesel's wingman Marvin Musquin. He was battling an illness all week and looked wore out all evening. He was only 10th fastest in qualifying, which is sub par for him, and finished 13th in the main event. He surrendered the second spot in the point standings to ET3. He needs to have a stellar race next weekend to try and get back in the points hunt, but that will be a tall order considering Daytona is more of ET3's style of track.

EE: I'd say it was Ferrandis and Savatgy. Even though he got the holeshot and had a great back and forth with Savatgy, Ferrandis led the first couple of laps but then gave it up to Savatgy and then dropped four spots in about 1-1/2 laps and to cap it off he became a human speed bump for Cianciarulo on lap 6. As for Savatgy, his lead wasn't long lived, after giving it up to Osborne he went down twice finishing the night in 6th and giving up what was only a two point overall deficit to Osborne to now a 12 point deficit as they head into Daytona.

TO: Marvin Musquin. Riding when he is super sick. 13th place.

Some of the top riders (Dungey, Tomac, Reed, etc.) seem to be having issues with starts this year, why do you think that is?

TS: It's all mental when you get to the line. No one is separated anymore because a lot of the factory teams are using similar technology, so it's whoever manages their machine better with the right mind set as soon as the gate drops.

MM: I think the reason for this is that the rest of the field got better at their starts and closed the gap on that aspect of the race with the factory machines. It is tougher this year with the deeper field. Even Mr. Holeshot Mike Alessi is not nailing all of his starts either. Baggett and Millsaps on support KTM rides are beating factory KTM machines to the first turn.

EE: I'm not really sure. It could be that's the one place where it's easiest to get into your own head. So once you have one or two bad starts it's easy to continue in that slump until shake the negative vibes.

TO: Super competitive field. Everyone knows the start could be the difference between 3rd place and 10th place. Ask Broc Tickle.

With 24 points separating Dungey and Tomac and seven races left before the finals in Las Vegas, do you feel that one rider has more pressure on their shoulders than the other?

TS: I'd have to say Eli Tomac considering that Kawasaki has not won a championship in the SX series since 2014 with Ryan Villopoto. Dungey has pressure on himself I'm sure, he just needs to keep being 'The Diesel' in order to win the Championship. *Oh Snap, Side Note #2: Dungey has only missed 5 main events in the 450 class, making him 123/128 which is 96% success rate. #GoodLuckET3

MM: All of the pressure is on ET3. Dungey still has a 24 point lead over Eli. Eli needs to be pretty much perfect the rest of the way and the Diesel can rack up second place finishes all the way to Las Vegas. Of course, the Diesel would like to sprinkle in some wins here and there, but ET3 also can use a gift from Dungey as well to help in his championship run.

EE: The pressure is probably equal but the challenge is going to be much tougher for Tomac. Tomac has to be perfect from here on out and basically win every single race leading up to Vegas if there's to be a real chance for him to win the championship. That's going to be a tough feat. As for Dungey, he doesn't necessarily have it easy either, one bad night and it can significantly change everything.

TO: Tomac knows it is going to be tough to overcome Dungey's points lead.

Reed questions

Thoughts on Reed's night?

TS: Chad rode extremely well. I'm sure it's not easy hitting the deck in the main event two weeks in a row (Minneapolis & Atlanta), so coming back after that and getting 4th in Toronto is a huge confidence booster. Dayton is going to be interesting for Chad. He's been on the podium seven times and won Daytona in 2004, 2005, and 2009.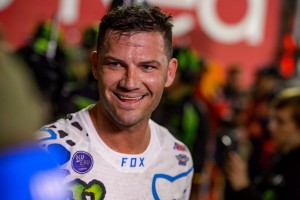 MM: Reedy had a good night, not a great night. He looked fast and more aggressive with his 4th place finish in the main event. He qualified 6th in the afternoon and won his heat race to punch his ticket to the main event. His start was better than recent starts, but he was still not quite as fast as the riders who made the podium, but it is progress. Daytona has always been one of Reedy's favorite rounds and since he trains and resides in Florida, he should feel some home court advantage on his side......but ET3 is going to win! I can see Reedy making the podium in 3rd place.

EE: Overall he looked pretty good. He was stellar in his heat race, got an ok start in the main and stayed upright.

TO: Reed looked great in his heat race. I thought he had a podium in him for sure. Two more laps and he would have had Tickle.

Reed got a decent start this week but came up short of making a podium, what else does can he do?

TS: Exactly what he did this past weekend in Toronto. Get a good start and keep it on two wheels.

MM: Reedy can race up front, when the start is there. Otherwise he uses all of his energy making his way through the field and falling short of his finishing goals. He still needs to work on his starts a little more. He needs to also install the Rekluse Torque Drive clutch kit!

EE: Honestly, I'm not sure what else there is. He's putting down some good laps and is fast, but from what we've seen Tomac and Dungey do these past two weeks, those guys are staying consistent and making passes.

TO: Holeshot.