ChapMoto SX Race Recap Week 8: What We Saw In The ATL
Chaparral Motorsports
|
March 1, 2017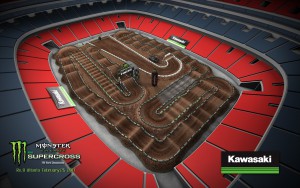 This is a new series in which we will look back at the past weekend's Supercross race and give you our thoughts and perspectives on what we saw. We've posed several questions based on the evening's events to a motley crew of Chaparral Motorsports staff (and one outsider) and provided you with their answers and insights.

A little background on the respondents in this series:

Dave Damron (DD): Chaparral Motorsports founder. Racer, team owner, manufacturer, retailer. Dave has seen it all and done it all on two wheels.

Travis Snyder (TS): Chaparral Motorsports Offroad Products and Apparel Manager. Travis is one of our in-house moto racers. A Honda guy, Travis is either at one of the local tracks or prepping his bike for his next event.

Mike Medina (MM): Chaparral Motorsports Technical Advisor/Communications Specialist. When Mike's not at the office he's in the pits spinning wrenches for the Enticknap brothers, #722 Adam (The Seven Deuce Deuce) and #723 Tyler.

Eric Ellis (EE): Chaparral Motorsports Marketing/Social Media. Eric is just a Harley guy who likes to watch Supercross.

The Outsider (TO): N/A. The outsider is not a Chaparral employee but he is an industry veteran with a good perspective on the inside.

Being that Chaparral Motorsport is part of the Monster Energy| Yamalube| Yamaha Financial Services| Yamaha Factory Racing team with two-time Supercross Champion Chad Reed and two-time 250SX West Region Champion Cooper Webb (making his debut in the 450 class this season) we focused a few questions on the their performance. Also, we had the opportunity to toss Reed and Webb a few questions in between their busy schedules so you could get some perspective on the races directly from the riders.

Let's start off with the questions we sent to Reed and Webb first:

Editor's note, again we are going to leave Cooper off for this week's questions and let him focus on healing up from his shoulder injury.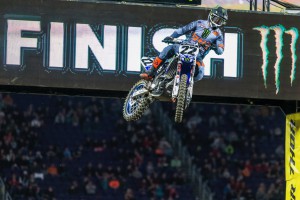 Chad Reed:

You were really fast in qualifying and in the heat race, and you had a great opening in the main. Last week, you mentioned not feeling 100% yourself the previous couple of races. How were you feeling on Saturday?

CR: The weekend, as a whole, was much more positive for me. I made a costly mistake in the main that didn't allow me to reach my full potential. I still didn't feel 100%, but I'm definitely getting there.

Over the past couple of races, it seems that, with the timed races and extra laps, the track has been breaking down to the point that wood and concrete are getting exposed in some portions. How bad has it been? Is this a concern to you?

CR: There was a lot of concrete showing again this weekend. The fix to this issue is an easy one but, for whatever reason, they're not getting it done.

What We Saw

General questions:

What did you think of Dungey's night?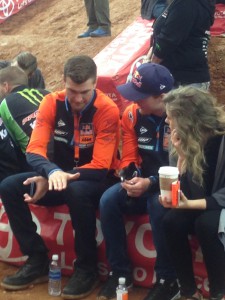 DD: I think he had a great night. Dungey went down as the third rider in Georgia dome history to get five wins. Good for him.

TS: It was everything the Diesel needed! Especially after the five week roller coaster ride since his last win at Anaheim II.

MM: I feel the Diesel has quieted some of the media masses wondering if something was troubling him throughout these last few races. He was the 4th fastest in qualifying, won his heat race, and took the 450 main event win in convincing fashion, although by race end, he may have felt the heat coming from ET3.

EE: What can I say, the dude looked like he was back to his old self. He was fast out of the gate and then it looked like he was gone. As we all saw Dungey is lucky Tomac didn't get a good start otherwise it would have been a very interesting race.

TO: Super consistent, doing what Dungey does best.

Thoughts on the wall jump followed by the sand section.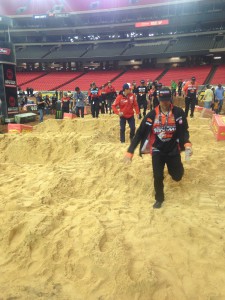 DD: It seemed technical and I'm sure the riders didn't like it.

TS: It was awesome to watch, but I'm sure the riders hated it. The wall was cool, and It actually looked like some fine.. deep.. moist.. (keep your brains on track boys..) SAND! Finally right!?? Atlanta gave us some real sand!!

MM: I like the wall jump element personally to break things up a bit, just not before a sand section. I think a big sand turn leading into the section would have been better. Most guys were getting sand blasted to Egypt and back once the rider ahead of them got over the wall and whacked the throttle. While doing track walk Saturday morning, it felt more like moist brown sugar and it was deeeeeeeep!

EE: It was interesting to see how different riders attacked that wall, some rolled over it while others hit it hard and let it all fly. In the main I saw Tomac launch off it a couple times and he just hung in the air, it was fun to watch.

TO: Something different. I like that Dirt Wurx mixed it up.

Did anyone surprise you Saturday night?

DD: Blake Bagget in 450 and Alex Martin in the 250, both riders with podium finishes.

TS: Colt Nichols surprised me! Qualified 11th, started 6th in the main and worked his way into 3rd thanks to Alex Martin booting his team mate Jordon Smith off the track. Go CN39! Blake Baggett surprised me as well! Held off Jason Anderson on the last lap for a podium spot.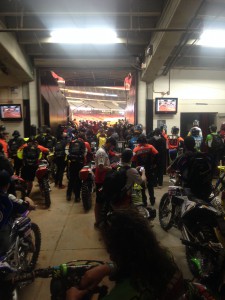 MM: I feel Blake Baggett, " El Chupacabra ", of the Rocky Mountain KTM team gets the surprise of the night award. He was top five in the qualifying sessions, won his heat race, and got to the podium for the first time this year with 3rd place making a KTM sandwich with ET3. Bravo.

EE: I think overall it was pretty tame, nothing too spectacular and no one really surprised me that much. I guess I could say watching Alessi blow a good start was surprising...but it wasn't. I feel like I've seen him do that multiple times. He was running behind Dungey in the first two laps and then lost five spots in about two-and-a-half laps.

TO: Blake Baggett winning his heat race and following it up with a 3rd in the main.

What was the highlight of the night?

DD: Watching Chad Reed take second in the Heat race. Unfortunately my highlight came to end at the beginning of the main event.

TS: Watching Zach Osborne win his first SX main event! I'm not going to lie, the kid looks like he has everything dialed in this year (bike, fitness, mental game, etc.)! He's been a professional 250 rider for a little over 4,00 days now, let's hope to see him on a 450 next year.

MM: I'm gonna steer away from the main event on this one and go with the battle for the final qualifying spot for the 450 main event in the 450 LCQ between Cade Clason #80 of the K1 Speed Honda team and Scott Champion #76. Clason was sending it over the wall jump into the sand trying to catch Champion for the final transfer in the last lap. A couple of good exchanges were made and a last ditch pass by Champion through the whoops punched his ticket to the 450 main event. It was probably the best two laps of the whole night in my opinion.

EE: Couple highlights. Obviously Tomac's charge for Dungey was exciting another lap or two and who knows...? That pull from Champion at the end of the 450 LCQ to get the fourth transfer spot over Clason was awesome. And then A-Mart bumping his Troy Lee Designs/Red Bull/KTM teammate Jordan Smith off the track with like 20 seconds left in the 250 main was pretty crazy. The team probably could have gone 2-3 for the finish but that wasn't the case.

TO: Watching Tomac chasing down Dungey. It was exciting to see if he could make it happen.

Who had the toughest night?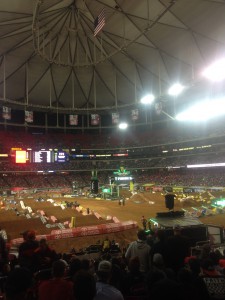 DD: Eli Tomac, starting 9th in the main event. It was tough for him to make his way up to 2nd, but he made it happen.

TS: I had the toughest night!! Watching Chad Reed hit the deck while exiting the whoops was brutal for me (two weeks in a row now). He qualified 3rd, finished 2nd in his heat with the fastest lap time. In the main, he comes out of the first corner in 5th and starts making moves, then the slick Georgia soil took him out... Dang it! I thought Reed was for sure going to be on the podium in Atlanta. On another note, Christian Craig had a crappy night. He didn't make it to the 250 main event due to a dirt sample through the whoop section in his heat race.

MM: The toughest night award has to go to the number #48 Christian Craig of the Geico Honda team. Christian's day started off superb with the 2nd fastest qualifying time in the 250's and a big turn around from the previous week was in the works. Then in the heat race, he crashes twice which led to him having a concussion and ending his night. I think the magic we witnessed in Craig's 250 campaign from last year may have run out.

EE: Not sure. But I guess Reed. He looked good in the heat race and had some really promising first five laps running 5th at the beginning of the main and then it all went down. At least he was able to regroup and came back from 13th to finish 7th and actually gaining a spot in the overall rankings moving from 9th after last week to now sitting 8th.

TO: Chad Reed. Crashing two weeks in a row.

With this new timed format and more laps being ridden the track is getting pretty rough and breaking down to the point to where the past couple of weeks riders have commented about exposed wood and concrete. Should the track crew address these issues or just let it be?


DD: The track is the same for everyone racing so it's ok to have it rut up and breakdown, if you want a smooth groomed racing surface go to a TT or a Supermotard race.

TS: They definitely need to address these issues. Josh Grant broke a bone in his hand from falling on a piece of concrete in the sand section at Oakland. These tracks are way gnarly and already technical enough for the riders. A better prepped track makes for better racing - Figure something out.

MM: I like that the track is deteriorating more which is another element the riders have to tame if they are to be successful. If the ruts are getting down to the ply wood or concrete, choose another of the 10 lines up the face of the jump. Simple. I do not think there is anything Dirt Werks can do to try and keep the track from breaking down slower with the torque these machines create. Once the injuries start climbing due to the track deterioration, then there will be some changes, but for now it's making things more challenging and entertaining.

EE: Those in charge gotta protect these riders. It's dangerous enough already without having to worry about slamming into concrete or getting a piece of plywood shoved through your skin.

TO: The Tracks should be safe for the riders. It's a tough sport to begin with.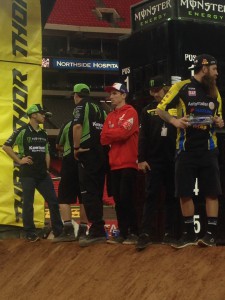 Thoughts on Tomac nearly chasing down Dungey?

DD: Nearly is the operative word here.....I feel Dungey knew how fast he needed to ride to keep the lead and he rode at that pace. Tomac was hanging it out to chase Dungey down and he came up short which if it had gone five more laps I still feel the outcome would have been the same. Dungey would still be standing on the top step, he would have just picked his pace up a lap or two sooner to secure his 1st place finish .

TS: I thought Tomac rode a great race! I was definitely keeping an eye on the lap to lap gap that Eli was minimizing. If he did happen to catch Dungey, good luck getting by him. I don't think anyone was going to take that win from the Diesel in Atlanta.

MM: I was on the edge of my seat wondering if ET3 had enough time to catch the Diesel. He needed 1-2 more laps, but how soul crushing would it have been for the Diesel if ET3 caught and passed him for the win? Its an awesome sight to see when ET3 is pumping max heart rate into his racing.

EE: I was so rooting for him! Honestly I'm not too invested in anyone but Reed and Webb, other than those two guys all I want to see is some exciting racing and that means cutting into Dungey's lead. So if its Tomac or Musquin or Seely or someone else, so be it. But yeah that was fun wondering if Tomac could actually catch him and really make a race out of it.

Reed questions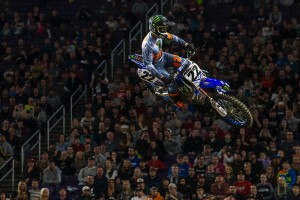 Thoughts on Reed's night?

DD: He needs to keep the bike up right. He had a great night leading into the main event.

TS: Ugggghhhhhh!

MM: Reedy's night was shaping up to be a good one with being the 2nd fastest qualifier and a 2nd place finish in his heat race. His main event began with a decent start in 6th and was making a run and battling for 4th with Justin Bogle, but then he went down again exiting the whoop section getting sideways and low siding into the turn. He lost about six spots in the process but clawed his way back to a 7th place finish. He may have found the podium if not for that one big mistake

EE: Looked really good. Looked good, then bad. Ended ok.

TO: Bad luck (again). Reed looked fast this week, but bad starts and crashing did Reed in.

He's been consistently finishing in the top ten but what do you think he needs to work on to get on top of the podium?

DD: A better start would the best boost to get him to the podium more than anything else. He has the speed and conditioning to run the race pace for a podium finish.

TS: Get a good start and keep it on two wheels. (I know I know... it's easier said than done).

MM: Reed is not happy being a top ten guy. He still needs to nail his starts a little better but this was a decent night heading towards the right direction, just one mistake cost him dearly. He should feel more confident going into Toronto next weekend.

EE: I know he's all about the whoops, and he's one of the best at them, but maybe with the way these tracks are breaking down he needs to rethink his strategy and dial it back a tad. Other than that he knows what to do.

TO: A holeshot.