ChapMoto Race Recap Week 4: What We Saw In AZ
Chaparral Motorsports
|
January 31, 2017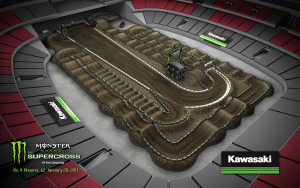 This is a new series in which we will look back at the past weekend's Supercross race and give you our thoughts and perspectives on what we saw. We've posed several questions based on the evening's events to a motley crew of Chaparral Motorsports staff (and one outsider) and provided you with their answers and insights.
A little background on the respondents in this series:

Dave Damron (DD): Chaparral Motorsports founder. Racer, team owner, manufacturer, retailer. Dave has seen it all and done it all on two wheels.

Travis Snyder (TS): Chaparral Motorsports Offroad Products and Apparel Manager. Travis is one of our in-house moto racers. A Honda guy, Travis is either at one of the local tracks or prepping his bike for his next event.

Mike Medina (MM): Chaparral Motorsports Technical Advisor/Communications Specialist. When Mike's not at the office he's in the pits spinning wrenches for the Enticknap brothers, #722 Adam (The Seven Deuce Deuce) and #723 Tyler.

Eric Ellis (EE): Chaparral Motorsports Marketing/Social Media. Eric is just a Harley guy who likes to watch Supercross.

The Outsider (TO): N/A. The outsider is not a Chaparral employee but he is an industry veteran with a good perspective on the inside.

Being that Chaparral Motorsport is part of the Monster Energy| Yamalube| Yamaha Financial Services| Yamaha Factory Racing team with two-time Supercross Champion Chad Reed and two-time 250SX West Region Champion Cooper Webb (making his debut in the 450 class this season) we focused a few questions on the their performance. Also, we had the opportunity to toss Reed and Webb a few questions in between their busy schedules so you could get some perspective on the races directly from the riders.

Let's start off with the questions we tossed to Webb and Reed.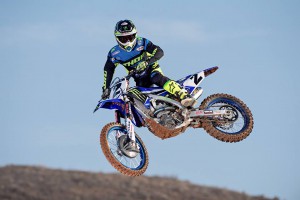 Webb:



Probably not the results you were hoping for, but you did have some good starts and made some good passes. Is the bike exactly where you want it to be now?

I'm happy with the bike. I just didn't get the best start in the main, and I wasn't able to jump some of the sections that I wanted to in the early laps because we were so crowded together...but the bike is good."



How frustrating was it when Jason Anderson connected with you at the end of the heat race and took you out of the transfer spot? What words were exchanged leading into the tunnel after that?

"It was really frustrating, but I don't want to say anything more about it, though."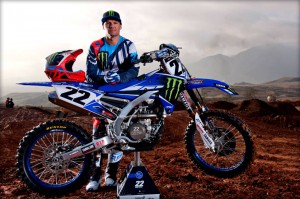 Reed:



Congratulations on taking second place. That was such a great race with some awesome passes! Throughout the entire night, the crowd was really behind you and going ecstatic whenever you made a pass. Can you hear the crowd and/or feel their energy when they get going like that and, if so, does it help you mentally at all?

You can totally hear/feel the energy of the crowd. It's such an awesome feeling, and it never gets old. When I passed into 2nd place, the crowd went nuts and made me, for sure, feel awesome to be able to put on a good show for them.



You really had that track dialed in and started making up some time on Tomac once you got ahead of Dungey and Seely. What seemed to be the difference between Saturday and the previous three races?

I felt comfortable all day. I don't need to be the fastest qualifier for it to be a good night. I've made solid steps towards where I need to be. My starts are still letting me down, so I will continue to work on them.

What We Saw
General questions:

Who had the best weekend?

DD: I feel that honor should be shared by Tomac and Reed, both riders found what has been missing in the first three rounds.

TS: Eli Tomac of course. Qualifying 1st, winning his heat race, then a holeshot and main event win. Tomac was the man to beat in Phoenix. As far as the Lites class goes, Justin Hill did the same; qualifying- 1st, Heat- 1st, Main Event- 1st. It was a good night for Kawasaki & Monster.

MM: The best weekend honors has to go to the Monster Energy Kawasaki rider Eli Tomac. He had the top qualifying spot in practice, won his heat race, grabbed the holeshot which aided in winning the 450 main event in a Ken Roczen like fashion by 16 seconds. But I will also put Chad Reed as a strong honorable mention for this award.

EE: Most will portably say Tomac but I really enjoyed watching Reed. He was just so fast out there and everytime he made a move the crowd went nuts.

TO: Kawasaki, sweeping both 250 and 450 classes. And the rookie Forkner making his first podium.

Pass of the night?
DD: The best pass would be Reed when he got Seeley and Dungey.

TS: Chad Reed passing Dungey and Seely through a rhythm section for 2nd Place! The crowd went nuts! (and so did my living room!)

MM: The best pass of the night goes to our own Chad Reed making a 2 for 1 pass stick when Dungey and Seely were battling for the 2nd and 3rd position.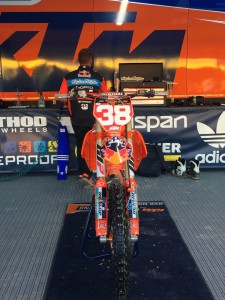 EE: There were quite a few exciting passes. In the 250 that last pass Hill put on McElrath to take the lead for the last lap and the win the main was pretty nice. But Reed was on fire-especially in the whoops. In the heat race he passed Baggett in the whoops like Baggett was standing still, it didn't stick (that time) but man he was flying. His absolute best pass was when he got Dungey and Seely in that rhythm section just past the holeshot line. Both Seely's and Dungey's momentum seem to be off coming out of that turn and they went 2-2-2-2-1 and 2-2-3-2 respectively, Reed seized the opportunity and went 3-3-3 flying past Dungey and then taking Seely in the corner.

TO: In the 450's Chad Reed passing both Seely and Dungey. In the 250's Hill catching McElrath at the very end.

Who struggled the most on Saturday?

DD: Jeremy Martin and Tyler Bowers crash in practice

TS: Marvin Musquin. He qualified 5th fastest, then finished 3rd in heat #1. After getting a 13th place start, I thought he would gain more than four positions. He only finished in 9th. That's a huge difference compared to the first three rounds where he finished 3,3,2.

MM: It was gut wrenching to see my friend Weston Peick go down in practice breaking his wrist and putting himself out of commission for a while. This is another key player in the 450 class heading for the sidelines.

EE: No one really stands out to me as struggling on Saturday night, but I do think Malcolm had a rough night. He went into the main 3rd in qualifying, had a good start and was sitting in second before he got the nudge from Millsaps and ended the night in 14th. McElrath had a tough night too having to go all the way through via the LCQ, he definitely made up for it though taking the second spot in the 250 main.

TO: Marvin Musquin. His podium streak came to a end.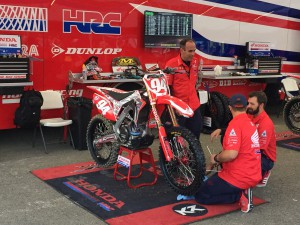 Do you think Honda will fill Roczen's Ride?
DD: No, they don't need to fulfill an outside sponsor obligation and there isn't anyone who isn't already racing for someone else who could possibly win. If so who will it be? NA

TS: No. Honda is very familiar to having one injured rider and one healthy rider during SX season ha! Look at Canard all those years. Now that I mention it, it would have been ALOT cheaper with the same outcome if they just kept Canard rather than K'Roc. If they fill Roczen's ride who will it be? JS7!? Lol...

MM: I do not think Big Red is in a hurry to fill in K-Rocs position since they are their own factory backed team. It would be a different story if it was a year or two ago when they had Muscle Milk or Red Bull pushing to keep two bikes on the track. I think with the impressive weekend Justin Brayton of the Motoconcepts Honda team had, he would be a reasonable choice for the fill in ride since he is now one of only two riders on the track with the new 2017 Honda CRF450 machine. It depends if Motoconcepts will let him out of his contract.

EE: No I doubt it. Seely has been in the mix and getting good exposure, plus he's tied for 3rd with Tomac right now only 20 points down from the leader Dungey. I don't think there is anyone available that could give them the results they would want.

TO: Honda won't fill the ride. If they did, maybe Brayton? Because of his existing relationship with Honda.

There was a lot of hype around Forkner leading up to the start of the series, what are your thoughts on his season so far?

DD: Forkner has done the best of all the rookies the only riders to have beat him have two to ten years in the lites class already.

TS: He's playing it cool, it seems like he's not making any stupid moves. If I were in Mitch Payton's shoes, I would be very impressed with Forker after the first four rounds. As long as he stays healthy, he's going to learn a lot!

MM: I think Austin Forkner is doing well for his first go around on the big stage. He got on the podium this past weekend and showed good speed. Pro Circuit Kawasaki should be smiling right now with Justin Hill and Austin Forkner taking two of the three podium spots. Austin just needed to work out some of the early round jitters and get in a groove, which I feel he has found.

EE: I think he's off to a great start, I mean if you look at his season average stats so far (qualifying, starts, and finishes) he's right at the top. He's steadily been improving each week. He's gotten the holeshot twice (back to back) and got his first taste at leading a few laps this past weekend. If he doesn't make top three next week I'll be surprised.

TO: Forkner is a smart racer. It is his rookie Supercross season and he is improving each week. He could end up winning a round before it's over.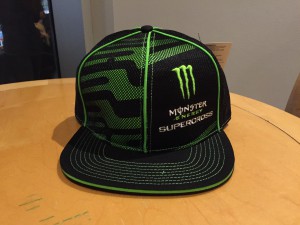 Apparently arm pump wasn't an issue for Tomac this weekend what did you think of his race?

DD: He looked and rode like the Tomac I thought was going to show up at Anaheim 1. Whatever was bothering him seems to have left the stadium.

TS: Arm Pump? Or the mental aspect that Ken Roczen wasn't there? I feel Tomac is very strong physically, but seems somewhat weak mentally. All in all, ET3 had the best night amongst everyone!

MM: ET3 had the weekend of all weekends. As usual he was at the top of the qualifying times and doing well in the prelims. Was the ET3 of the early rounds gonna show up again with a " also ran " top 10 again? Not this time. ET3 was on another level for the main event and my original A1 pick for the win finally showed up. Whatever ET3 did during the week, he should do it again.

EE: Finally! Eli was on a tear Saturday night. I think he was out to prove a point and he made a statement for sure. He hit that holeshot and that was it, he was gone. I think at one point he had like a 16 or 18 second lead at one point. He had a really impressive ride.

TO: Tomac looked unbelievable! At one point ET had an 18 second lead. If Kawasaki has the bike working this good at all the rounds and Eli can keep his head in the game, he will be a contender every race.

Webb/Reed Questions

Thoughts on the Webb/Anderson incident in the heat race?
DD: Anderson has always been able to get away with bump and run and it might have worked on Seely but Webb is someone who will hold his ground and he did.

TS: I understand Anderson was trying to get into the main event, but pass the guy in a clean manor. Making it a dirty pass like he did, causing both riders to go to the ground, doesn't get him any closer to making the main event. That also tells me the pass wasn't clean if both riders go down. El Hombre isn't gaining any new fans/followers.

MM: Our own Cooper Webb got the bad end of El Hombre's brain lapse. Coop and Anderson were in qualifying positions for the main event in 2nd and 3rd with a straight rhythm to go to the checkers and El Hombre felt he needed another position to make an aggressive pass in the tough sand bowl section and they both end up on the ground having to go to the semi races. Coop showed some class and restraint not to get too fired up and lay out El Hombre off the track.

EE: There was a couple different lines in that sand section and it looked like Anderson took two of them. Again like the incident with Friese, I don't think the contact was intentional but I can totally understand the frustration Cooper must have felt after that. It wasn't a good move on Anderson's part. At least he handled it much better than Anderson did at A2. Maybe Anderson will take a note from Cooper's playbook on how to keep your emotions and reactions in check.

TO: Anderson has been doing these moves on Cole Seely for years, it looked like Cooper got it this weekend.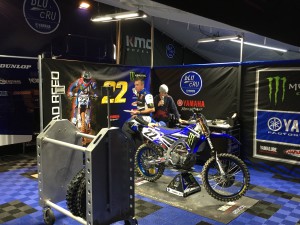 Chad was extremely fast, what did you notice different about this race than previous races?
DD: His finish ....Chad showed that he is in shape and can run the race pace and has now got the bike setup to his liking. Chad turned his fastest lap on lap 15 a 1:00.230 and Dungey turned his fastest lap also on lap 15 also a 1:00.238

TS: I'm still scratching my head trying to figure that out. It seemed like a few riders woke up this weekend (Reed, Tomac, Millsaps..) or was it the simple fact that there was no presence of Ken Roczen around ?

MM: Chad Reed had been riding well all day and the whoop section, as always in AZ, was massive. Reed loves the biggest whoops you can find and feels no one can overtake him. It is a thing of beauty to watch Chad Reed annihilate a huge set of whoops. Reedy just showed these young pups this old dog can still run with his second place finish.

EE: Chad was on fire! His corner speed was much better than previous races and he was really attacking the whoops, more so than anyone else out there. He really put on a clinic for younger riders and I'm sure there's a couple veterans that took notice as well.

TO: Chad looked like he has his bike set-up perfect. Chad was hooking up coming out of the corners and Dungey was spinning going nowhere. Chad's riding was great to watch. He was flowing.