MotoGP Changes Penalty Point System
Chaparral Motorsports
|
January 15, 2016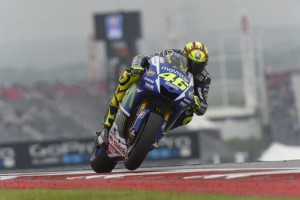 MotoGP riders will have to accumulate more penalty points before actions are taken against them, according to a rule change race officials announced recently.

The changes come in the aftermath of a collision between Marc Marquez and Valentino Rossi at the Malaysia Motorcycle Grand Prix race in October. Rossi finished third in the race. But MotoGP assessed three penalty points against him for the collision. That and the one penalty point he already received from a previous incident had relegated him to start at the back of the grid for the last race of the season in Valencia.

Riders accumulate penalty points for what race officials deem to be aggressive riding and they remain on a rider's record for a year from the infraction.

The old rules dictated that if Rossi had gotten one more penalty point before his three points from Malaysia expired in October 2016, he would have had to make another start from the back of the grid. However, under the new rules, once all of Rossi's points expire at Malaysia in 2016, he can go up to the next point threshold before having a sanction levied against him. In other words, Rossi would have to accumulate seven more points before he's punished, which would be starting from pit row. That means he bypasses the typical penalty of starting from the back of the grid once he reaches four penalty points.

Riders who reach ten points automatically must be withheld from a race and then their point total resets to zero.

Bad Blood Brewing
[caption id="attachment_56759" align="alignright" width="300"]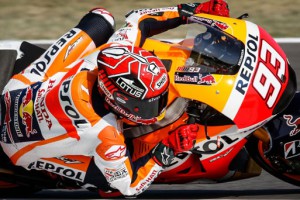 Marc Marquez 2015 MotoGP Phillip Island[/caption]

Marquez and Rossi had several clashes on the track during the 2015 season. The two collided in Argentina in April, causing Marquez to go down and eventually retire from the race. They again bumped at Assen, forcing Rossi into a gravel pit. Rossi would eventually get back on the track and win the race.

In Misano in September, Rossi was assessed a penalty point for what officials deemed was interfering with Marquez during qualifying.

Then came the incident in Malaysia. The two had been battling for several laps, passing each other several times before Rossi gained inside position in a turn, bumped Marquez and forced him wide.

Marquez went down and ultimately would not finish the race. Rossi went on to finish third.

After the incident, MotoGP race director Mike Webb said on MotoGP.com that Rossi was penalized because he deliberately ran wide in the turn and deliberately caused contact with Marquez.

"Valentino was of the opinion that Marc was deliberately slowing the pace of the race down and doing so unfairly," Webb said. "We listened to both riders; our opinion was that there was some fault on both sides, but as far as the rulebook goes Marquez did not make any contact, did not break any rules as such, but we feel that his behavior was causing problems to Rossi who reacted. Unfortunately he reacted in a way that is against the rules."

Rossi disagreed with the penalty and appealed to the Court of Arbitration for Sport. But the penalty was upheld.