Dani Pedrosa Wins Malaysian MotoGP
Chaparral Motorsports
|
October 28, 2015
Dani Pedrosa
took home his second win of the season at the Malaysian Motorcycle Grand Prix after another action-packed race Oct. 25.

Pedrosa rode a near-perfect run at the Sepang International Circuit this past weekend in front of a crowd of more than 88,000 fans. However, while Pedrosa's maneuvering may have gone unhindered start to finish, other riders weren't quite so lucky:

Marquez vs Rossi: Second Showdown
https://youtu.be/_2DiV26-jqs

After heated comments flew at a press conference following the close of the Australian Grand Prix, a bout between Valentino Rossi and Marc Marquez was highly anticipated. The two riders clashed midway through the 7th lap initiating one of the biggest battles of the 2015 season. At almost every turn after they converged, the two seemed to overtake each other. In turn 14 Rossi attempted to run Marquez wide, which ultimately caused the Spaniard to crash out of the race. After the incident, Race Direction ruled that Rossi was ultimately at fault, and will penalize him in the season's final MotoGP event, causing him to start from all the way in the back in Valencia on Nov. 8.

Due to Marquez and Rossi's conflict, MotoGP's current World Championship leader, Jorge Lorenzo, was able to open a lead of more than 5 seconds on Rossi. Nothing Rossi could do would close such a large gap, and the Italian ultimately finished third. While Rossi maintains seven points over his runner up Lorenzo, this new penalty could have profound affects on the Italian's previously-secure win. Rossi will have to finish in second place (or better) in order to keep this year's MotoGP title in hand.

After the race, Rossi recounted the crash, saying that the time he spent dueling with Marquez could have been better spent, according to the Federation of International Motorcycling.

"I tried to go wide to get a better line to make him slow because he just rides to cause me some problems. Unfortunately he came to me and I think he crashed in that moment. Its a shame because I think that in a normal race we can stay and fight with Jorge and we lost some more points."

Rossi went on to say that the Race Direction's ruling will most certainly make Valencia's upcoming race far more difficult for him.

Pedrosa Takes Malaysia
[caption id="attachment_56701" align="alignright" width="300"]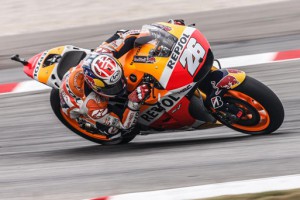 Dani Pedrosa 2015 MotoGP Sepang[/caption]

After the initial drama, the remaining laps of the Malaysian Motorcycle Grand Prix rolled on relatively smooth.

Once his early lead was gained, Pedrosa defended his advantage by perfectly managing his turns and pacing on almost every lap, according to MotoGP. Ultimately, this brought the 30-year-old Spaniard more than 3.5 seconds in front of his immediate follower, Lorenzo, for Pedrosa's second Grand Prix win in 2015.

"Really tough physically, a very hot race and the track is very demanding on this bike," said Pedrosa in a post-race statement as reported by the Federation of International Motorcycling. "The pace was very good all weekend so I think we did a good job and winning this race I'm really happy for my team and everyone behind me. It was really hard so I'm really happy and we'll try to finish the season in the same way."