Jorge Lorenzo Wins MotoGP World Championship
Chaparral Motorsports
|
November 12, 2015
[caption id="attachment_56698" align="alignright" width="300"]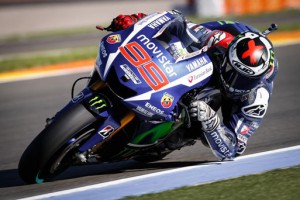 Jorge Lorenzo - 2015 MotoGP Champion[/caption]

In the conclusion to one of MotoGP's most dramatic series to date, Jorge Lorenzo took home his fifth-ever MotoGP World Championship gold cup in front of 11,000 cheering fans.

In an impressive display of superbike riding prowess, Lorenzo ran a flawless race. The Spaniard started in point position and lead the pack from start to finish, effectively holding off Marc Marquez and Dani Pedrosa of team Repsol Honda in the process. Lorenzo's teammate on Movistar Yamaha, Valentino Rossi, started the Grand Finale race seven seconds behind Lorenzo at 25th, from all the way in the rear.

This was due to a penalty kick that Rossi gave Marc Marquez, allegedly causing the Honda rider to crash out in the Malaysian Motorcycle Grand Prix.

Rossi, known widely by his racing alias "The Doctor" made a valiant effort to reclaim his shot at the title during the epic conclusion in Valencia. By the end of the first lap, Rossi had jumped up the pack 10 spots. Eventually, the Italian rider managed to navigate his way up the pack to ultimately place fourth, in what the MotoGP racer called one of the best races of his life.

The final podium for the race ended with Lorenzo crossing the finish line with a time of 45 minutes, 59.364 seconds. Marc Marquez placed second, less than three tenths of a second behind, with Dani Pedrosa rolling through hot on Marquez's heels.