Yamaha Reveals XV950 Racer To The Public
Chaparral Motorsports
|
April 3, 2015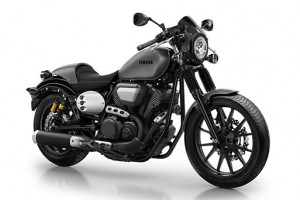 One of the more anticipated releases of 2015 is the Yamaha XV950 Racer, which was finally been revealed to the public.

The newly released images and teaser YouTube video of the Racer show exactly why they chose the name. The XV950 Racer serves as a sporty ride for those wanting a new café racer style motorcycle. The Racer has the same 942cc air-cooled, V-twin engine as its predecessor the XV950. However, the Racer now has clip-on handlebars, rear sets and other café racer-inspired additions. While it will only be available in Europe, it is similar to the Yamaha Bolt available in the United States.

Plenty Of Acceleration In The Racer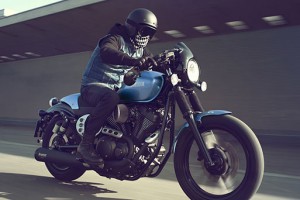 The motorcycle's 52hp and 58.5 foot-pounds of torque shows the power of its acceleration in the engine, and now the Racer has more aggressive positioning for riders. The seat height is higher than the previous version, which gives the rider a better angle toward the handlebars (much like the classic 70s café racers).

Yamaha claims the new centralized mass and ergonomics will create a much better handle for riders of the Racer. However, the newest version of the XV950 has plenty of changes from its previous versions. The front and rear suspension were specifically created for the bike to give it a longer lasting traveling abilities than Yamaha's standard motorcycles. Also, the Racer has different levers, a newly positioned indicator and switchgear.

Café Racer Inspired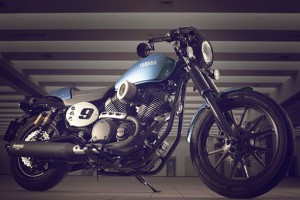 The bike's rear footpegs and clip-on handlebars will have riders leaning forward much like the vintage café racers. Also, the new switchgear, clutch and brake levers are smaller than previous versions. The Racer is a compacted and much more tightly built version of the standard XV950.

"With its torque-rich V-twin engine, sports riding position and timeless good looks, the bold XV950 Racer brings together low rider style with café racer attitude to create a new kind of gutsy and light handling bike that defies convention," Yamaha said about its newest bike. "Because rules were made to be broken."

Its old school saddle gives the impression of a true café racer style bike and the single front headlight will surely grab the attention of vintage bike fanatics. Its aluminum side plates are all new and the 70s style bike also added a "nine" drilled aluminum side number plate like the vintage racer bikes. However, its matte black wheels and parts give the Racer a contemporary aesthetic as well.

Yamaha plans on releasing the new motorcycle in May in either blue or gray with ABS brakes as well.

2015 Yamaha XV950 Racer Image Gallery
(Click for full size images)
Teaser Video
https://www.youtube.com/watch?v=pDhmVEkhuzY