Two New KTM SX-F Factory Edition Bikes Ready To Compete
Chaparral Motorsports
|
December 20, 2014


[caption id="attachment_35175" align="alignright" width="300"]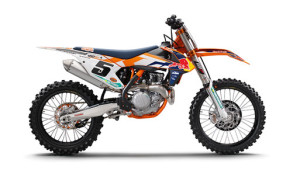 2015 KTM 450 SX-F Factory Edition[/caption]

Two new factory-edition race motorcycles were added to KTM's lineup, which will ultimately provide riders with a brand new style of its previous models, Cycle World reported. Essentially, KTM developed both of the 2015 motocrossers with reduced weight and an improved mass centralization to increase on-track performance for riders.

The 2015 KTM 250 SX-F and the 450 SX-F Factory Edition motorcycles are both designed with lighter and more compact engines. The motorcycle manufacturer also increased its power and reshaped its cases for better rotating mass of the crankshaft and clutch. According to the source, KTM made these changes to reduce the length of both powerplants.

[caption id="attachment_35173" align="alignright" width="300"]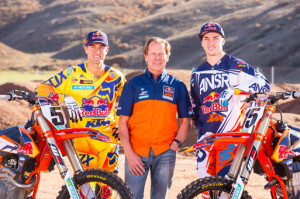 Ryan Dungey and Dean Wilson - Photo: Simon Cudby[/caption]

Roger DeCoster, team manager for KTM, was directly involved with the creation of the two new bikes, Cycle News reported. DeCoster said the new Factory Editions are more like what he thought KTM would make when he first came to the team in 2011. To get these two new motorcycles on the market, KTM began the development in 2013.

Several New Parts Added To The SX-F
[caption id="attachment_35172" align="alignright" width="300"]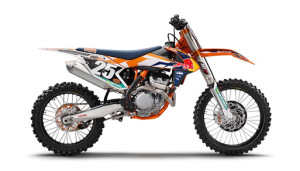 2015 KTM 250 SX-F Factory Edition[/caption]

Riders of the standard SX-F models will see limited parts moved from the old version to the new one. The only truly noticeable thing that was not changed included the steel construction of the bike. KTM said they felt there wasn't an advantage to switching to an aluminum frame and that the company will likely never switch to the different alloy, Cycle News reported.

Both bikes will have electric starters, but will feature all new exhaust systems. The exhaust on each bike is shorter than that of its predecessor and more compact. Some riders might notice the rear shock is shorter than on the previous model, but the WP 4CS forks on the bikes will be re-valved to create increased performance and feel.

However, the newly designed chassis was built to improve comfort for the rider.

[caption id="attachment_35174" align="alignright" width="300"]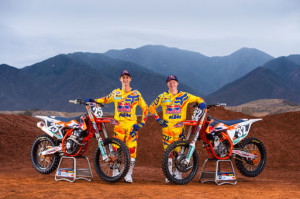 Marvin Musquin and Justin Hill - Photo: Simon Cudby[/caption]

"With the 450 SX-F, KTM has a winning motorcycle in its range, which derives its potential from a high-capacity engine and a chassis perfectly tuned to the power unit," KTM said about its new bikes. "The 450 SX-F is the No. 1 choice for the official KTM factory team in the AMA Championship. No wonder; the compact SOHC engine guarantees brutal yet controllable power with its revolutionary injection."

KTM has the 250 SX-F listed at $9,299 and the 450 SX-F at $10,199 - however there will be only 500 of these dirt bikes made.