Are Trikes Really Motorcycles?
Chaparral Motorsports
|
November 22, 2014
|
Last Updated: August 28, 2020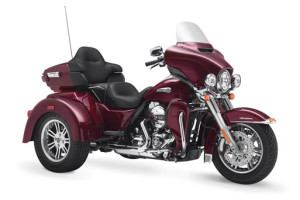 2015 Harley-Davidson Tri-Glide Ultra Classic Trike
With an influx of new technology on the road, some of the bikes we see can hardly be called motorcycles. For instance, if it has three wheels, then is it really motorcycle? The three-wheel bike, or trike, has gained popularity over the past decade, but has left some motorists scratching their head. Is it a car, is it a bike?
Though the government considers a trike to fall under the same category as a standard motorcycle, there are several glaring differences in how they operate. Here are a few:
Wheels
The obvious difference is the number of wheels. However, some bikes do have more than two wheels - those with sidecars. Typically, there is the standard motorcycle, but with another wheel to the right of the bike that stabilizes the sidecar. A trike can either have two wheels in the front or two wheels in the rear, depending on the manufacturer. The third wheel would correspond with the position of the other two wheels.
Steering
Handling a two-wheeled vehicle is much more difficult than its three-wheeled counterpart. Whereas a motorcycle has to take into account leverage and stability, a trike driver can simply turn the front wheels in the direction he or she wants to go. There is no leaning involved with a trike like there is with a motorcycle.
Design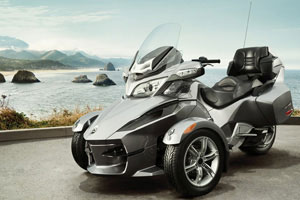 Can-Am Spyder
Some trikes come with side-by-side seating and are designed very differently from motorcycles. A standard two-wheel bike operates on a single track, while one with a sidecar runs on a double track. Regardless of the position of the wheels, a trike runs on a triple track, which affects the overall driveability of the vehicle.
Operation
Changing lanes, parking, swerving, body position and taking turns are not done similarly between two- and three-wheeled vehicles. Whereas you might see a motorcycle swerving through traffic and changing lanes, a trike usually runs more like a car because of its size. In fact, some cars are more narrow than a trike. Multiple bikers can ride side by side in the same lane, but trikes do not have this capability. When turning, a trike wheel can lift off the road if you are going too fast. Motorcyclists can lean into a curve and adjust their weight so they don't skid.