How To Choose A Bicycle Helmet: Part One
Chaparral Motorsports
|
July 10, 2014
A bicycle helmet is without a doubt the most important piece of safety equipment for a cyclist. It could make all the difference for someone involved in an accident, protecting the most vital part of their body.

Many helmet shoppers will just pick up the first one they see or choose the one with the lowest price. However, there are far more variables to base this decision off of. When it comes to shopping for a helmet, there is a lot to consider, like the type of riding a person will be doing. Depending on what bike a person has, they'll likely want a suitable helmet.

Three Different Helmet Designs





Sport Bicycle Helmets:


[mageProductLink sku="132-73-9140" title=""][/mageProductLink]These helmets are typically on the cheaper end, giving riders a practical choice for their bike. Sport helmets are perfect for those who want a good value in a cheaper helmet. Anyone who commutes to work with their bike or simply uses it for casual rides will want to go with this option.




Road Bicycle Helmets:


[mageProductLink sku="139-157870" title=""][/mageProductLink]Helmets for road cyclists tend to be more advanced, giving a rider an aerodynamic option for a long commute across town or even a race. These helmets will also likely feature more ventilation and lighter-weight design when compared to other types of helmets. Typically, the more vents in a helmet, the pricier it will be. Not only will it keep a rider's head safe in the event of a crash, but it will also keep it cool during a hot ride.




Mountain Bike Helmets:


[mageProductLink sku="355-hb14-fodb-s" title=""][/mageProductLink]These helmets are likely more durable than their sport and road counterparts. They often include visors and more coverage for the back of the head. Mountain biking requires a more rugged design, as there are more obstacles to deal with in the woods. These helmets might be a little heavier than, say, a road bike helmet, but they will do the job in keeping a rider safe.

Finding The Perfect Fit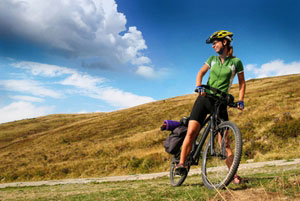 Buying a helmet might seem tough. You have so many styles to choose from and a number of features to consider. However, before getting any further with shopping, you'll want to make sure you find a helmet that fits. Sure, the helmet might look cool or match your bike gear, but if it doesn't fit you might be putting yourself in danger.

As many helmet shoppers are unaware of the various styles and types of helmets, it's likely they are unsure how exactly a helmet should fit. This can make all the difference in the performance of helmet in the event of a crash, so it's clearly important.

Certain helmets are one-size-fits-all, featuring products for both men and women. However, certain helmets do have sizes, so it's important to get one that fits tightly to the head without feeling constrictive. If someone is in between sizes, it's best that they go for one that's smaller, as this will better protect their head than a loose-fitting helmet.

A helmet should fit comfortably and sit on top of your head. It should be a little tight once you buckle your chinstrap - however, not so tight that it's uncomfortable.

Properly wearing a helmet is essential to it functioning properly. It will ensure you stay comfortable during a hot ride, but more importantly, will protect your head in the event of a crash. A helmet is the most essential piece of safety equipment for a bike rider, so it's important it fits properly.

Adjusting For Safety And Comfort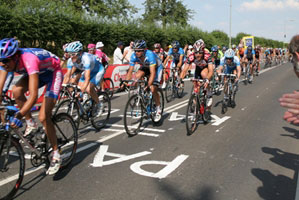 Safety is likely the largest concern when shopping for a helmet. However, comfort is a close second. Most people will likely purchase a one-size-fits-all helmet, as they come with certain features to ensure a rider finds the perfect fit.

Helmets typically come with a strap on the inside, along with a chin strap, in order to get the right fit. It's important riders know how a helmet should be worn in order to make sure they are adjusting it correctly. A helmet should be level with the ground when it is on top of a rider's head and should be just above their eyebrows. Any tilting forward or backward means the helmet likely is too loose and needs to be adjusted.

If a helmet is loose on top of a rider's head, that problem should be corrected immediately. A helmet needs to be tight to a rider's head - while still comfortable - so if they are in a crash, it protects them. Otherwise, a helmet could slide to the improper position and a rider could end up hitting their head, instead of the helmet taking the brunt of the impact.

Every helmet will be different, although most are designed to fit riders of all sizes. However, where they tend to vary is in their appearance and how many ventilation holes they have. Typically, the more holes, the lighter and more expensive a helmet will be. This ensures a rider stays cool, as the ventilation holes helps a rider get plenty of fresh air.

Continue to Part Two