FlyKly: When Scooter Meets Motorcycle Meets Bicycle
Chaparral Motorsports
|
August 24, 2011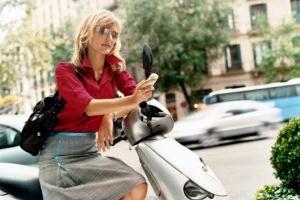 The electric scooter and motorcycle industry has exploded, with tons of companies popping up that are now offering a wide range of models powered by electric motors. However, nobody is quite sure yet what the electric vehicles of the future may look like.

The start-up company FlyKly believes it has found an answer. Their lineup of electric bikes differs from many other companies in that they are somewhat of a cross between scooters, motorcycles and traditional bicycles. The overall shape of the model looks like a Frankenstein mishmash of a motorcycle and scooter (the company officially calls them "bikes"). However, because their motor only provides speeds of up to 20 miles per hour, they do not require a license to ride. They also can be chained up at signposts or bike racks like traditional bicycles.

FlyKly claims a range of 40 miles on a single charge, which isn't bad for electric vehicles. But what about range anxiety? The company believes they've fixed that too. For starters, the battery is removable, making it easy to swap in a replacement or charge pretty much anywhere. Secondly, the FlyKly can be pedaled like a normal bicycle if it's ever out of juice.

FlyKly sold out of their initial run after starting a pop-up shop in Soho in New York City. Now, the company is coming to San Francisco. The model costs $1,900 and can also be purchased online.