29er Mountain Bike Buyer's Guide
Chaparral Motorsports
|
July 9, 2014
Advantages and Disadvantages to Bigger Wheels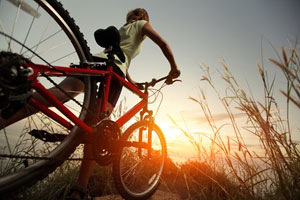 Mountain bikes
with 29-inch wheels have become the norm, and many people are likely wondering just what makes these wheels so different.

Previously, 26-inch wheels were the industry-standard size, but wheels have been trending larger in recent history and it appears the 29-inch model has taken over. Bike manufacturers are regularly releasing these options alongside their predecessor, leaving a shopper to choose which wheel size they want.

Benefits
Larger wheels provide more traction with the ground, making it easier for a mountain biker to turn, climb and stop. Rolling over rocks and other debris has never been easier with 29-inch wheels. More wheel is in contact with the ground, making a rider feel stable.

In addition, once a larger wheel is in motion, it's harder to stop, so a rider doesn't have to put forth as much effort to maintain their speed. And once they do need to pedal, more distance is covered every revolution with the 29-inch wheel than a 26-inch wheel.

As is the case with off-road vehicles, mountain bikes require larger bicycle tires to cover rugged terrain. They need wheels that are up to the task of navigating tough obstacles, so larger seemingly makes sense. However, it does have some negative impacts.

Downsides
While larger wheels have become commonplace, they aren't without disadvantages.

A bigger wheel means a heavier bike, and that might make or a break a purchase depending on a rider. These wheels also make the bike hard to maneuver in small spaces, since there's essentially more bike to work with. For some, a bike with 29-inch wheels simply feels big. Where they might be used to riding lower to the ground, these wheels can elevate riders by as much as 5.5 inches.

A mountain bike is built to be off-road, and while 29-inch tires would lend to that style of riding, it's up to the buyer to weigh the pros and cons.

Who Shouldn't Ride a 29er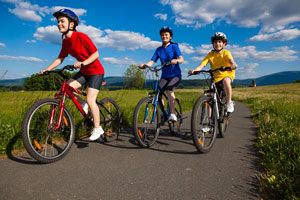 The 29er is a mountain bike with 29-inch wheels. It is increasingly becoming the norm in the mountain bike world, but that doesn't mean this size is right for everyone.

While the 29er offers a number of advantages over mountain bikes with 26-inch wheels, like more traction and better cornering, it's not the best fit for shorter riders. So what's the problem?

For someone who is shorter than 5-foot-4, 29-inch wheels on a mountain bike could lift them too high off the ground to the point where a bike is too large for them and they can't touch the ground. Proper clearance is essential to a safe ride, so these individuals will probably want to opt for 26-inch wheels if they feel a bike is suddenly too big with the 29-inch wheels. The two primary issues that shorter riders will notice are incorrect handlebar height and toe overlap, which is when is when a rider's toe will actually hit the tire because it's too big for a bike.

When selecting the proper tires for a bike, it's critical to factor height into the equation. Shorter riders will have to go with smaller wheels, but that doesn't mean those don't have their own benefits. For example, 26-inch wheels are far lighter than 29-inch wheels, so these riders won't have to lug around as much weight. In addition, 26-inch wheels maneuver far better than their 29-inch counterparts.

Larger mountain bike wheels naturally grip the ground better, but they are bulkier and harder to get around town. Shorter riders will want a bike they are comfortable with. While it's nice to have large wheels to navigate tough obstacles every once in a while, day-to-day use will be much easier with smaller wheels.

How to Shop
[mageProductLink sku="db-02-14-2001-03" title=""]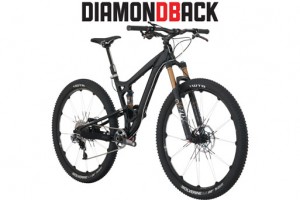 [/mageProductLink]Shopping for a new mountain bike is an exciting time. It's likely one of the larger purchases someone will make in their lifetime for a product that could last just that long. A mountain bike is a sturdy machine, so it's worth investing in. However, when it comes to what wheel size a rider could choose, going with a 29-inch over the standard 26-inch option might raise some questions.

What's the difference?
Riders these days are commonly siding with 29-inch mountain bike wheels over their 26-inch counterparts. They offer better cornering and more traction, as more of the tire is in contact with ground. However, they do sacrifice some maneuverability, as they are heavier than 26-inch mountain bikes. Still, when it comes to mountain biking, it would seem that the benefits outweigh the negatives.

Those shopping for a mountain bike should be inclined to choose a larger-wheeled, heavier bike. Just like riders in urban areas side with single-gear, lighter bikes, having a bike that can navigate off-road trails requires a larger tire. Therefore, choosing a 29-inch tire would seem to make sense, especially for those who are using their mountain bike on trails often.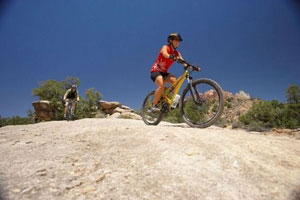 Choosing a bike
Mountain bikes will vary depending on their brand, as well as a number of features. However, one of the first choices a rider will face is the type of bike they want: Sport, mountain or street. If they go with a mountain bike, they will then have to choose the tire size.

Those looking for a great value on a 29-inch mountain bike can find a plethora of options on the market that will suit their needs. Shorter riders should be advised that 29-inch wheels can be too large, so it's important to know they will fit before making a purchase.