Michelin Vs Metzeler Tires: Strong Histories And Bright Futures
Chaparral Motorsports
|
May 8, 2014
|
Last Updated: August 7, 2020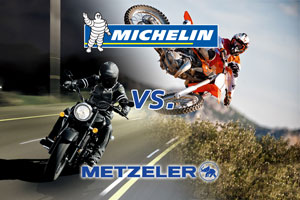 When deciding what motorcycle tires are going to replace the worn out worn out tread of the your current tire it pays to look at all the available options. While Dunlop and Bridgestone may be two of the most popular brands of motorcycle tires on the market, riders shouldn't skip over the offerings by Michelin and Metzeler. These two companies have carved out their own niche in the market by providing top-notch tires for sport bikes, street bikes and more. Take into consideration whether you are looking for long-lasting mileage, superior traction, wet drainage capabilities, or an all around dual-sport tire.
About Michelin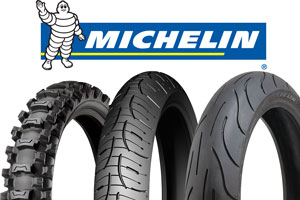 Since its founding in the late 1880s, Michelin has been supplying riders across the world with racing equipment. Riders who use the brand have accumulated hundreds of motorsports victories, including more than 350 wins in MotoGP. Any speed demons who want to ride like the professionals may be able to find what they're looking for in Michelin street bike tires, but the brand also offers items for cruisers, scooters and dirt bikes.
Some of the most popular choices among Michelin are the Starcross Soft-Intermediate Tire, which is ideal for dirt biking, as well as products from the Michelin Pilot Road and Pilot Power series.
Michelin has created a number of technologies that improve the overall function of the products. The 2CT Two Compound Technology offers excellent grip on the shoulders while also wearing resistance in the center of the tread. Other innovations, such as the NST Near Slick Technology and XST X-Sipe Technology allow riders to customize tires to their riding habits, whether they want smooth surfaces for high speeds or integrated water reservoir tech for drainage.
About Metzeler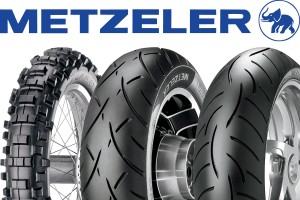 Much like Michelin, Metzeler is also nearly a century old. Throughout those decades, the company has focused on providing riders with long-lasting, quality products that meet the demands of the road. It offers everything from marathon and sport tires to endurance, motocross and other dirt bike options.
When it comes to technology, Metzeler aims high with Interact, which seeks to give riders the best possible performance regardless of the conditions. It attacks all aspects of tire function: grip, handling, mileage and more. There are several different versions of Interact, including Racetec, Roadtec and Sportec. Each of these options uses different materials and strategies for various zones of the tire, tailoring the product for top performance in any circumstance.
Overall, the emphasis is on the customer: Metzeler creates tires that work the way motorcyclists want them to, often with low maintenance or affordable prices. Motorcycle tires from Metzeler cover everything from cruisers and street bikes to dirt bikes and scooters.