Dunlop Vs Bridgestone: Decoding Motorcycle Tires
Chaparral Motorsports
|
May 2, 2014
|
Last Updated: October 12, 2020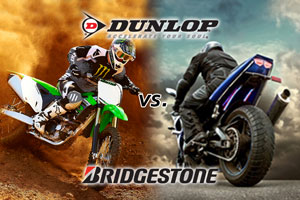 The motorcycle tires you choose are one of the most important investments you can make when working on a motorcycle. Whether it is for a competition motocross bike, an all out sportbike, or a classic cruiser, you need your tires to grip the road/track and last as long as possible. Among the most popular brands for riders are Dunlop and Bridgestone, and while their products may look the same, the two companies are actually quite different.
Inside Dunlop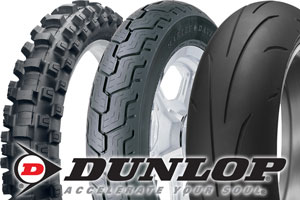 One brand riders are sure to come across is Dunlop. With products catering to all types of riding and a long history of success, Dunlop tires are certainly in play for anyone with street bikes, cruisers, scooters, dirt bikes or ATVs.
Dunlop tires come equipped with innovative technology such as the MT Multi-Tread Design and Intuitive Response Profile. Both of these help riders get the most out of their investment, providing a safe and smooth experience. Dirt bikes can benefit from the brand's [mageProductLink sku="331-8540" title="Dunlop Geomax MX32 Soft-Intermediate Terrain Rear Tire"]Geomax[/mageProductLink] Reinforced Pattern technology, which is used in professional supercross and motocross racing, offering top-notch tread that can grip even the toughest of surfaces.
This history of motorsports success has helped Dunlop create a line of tires that can last. Its MT Multi-Tread feature includes technology that makes it cool-running and long wearing, increasing the life span. Lateral grip compounds have also been added to the tires to make every turn feel smooth. You'll like the way they look, too: Many of the tires have been created for OEM fits or even in a vintage style that will match classic rides.
All About Bridgestone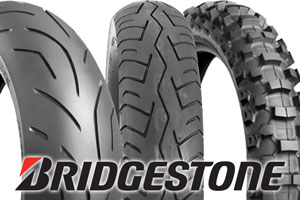 Bridgestone has been one of the biggest names in the world of motorcycle tires for nearly eight decades. The brand offers tires for a variety of different machines, including dirt bikes, scooters and street bikes. With a focus on grip, balance and cornering, Bridgestone creates high-quality tires that come with several key features.
The Dual-Tread Compound that makes up the tires ensures that the products are reliable and long lasting, and a softer side compound maintains the balance that riders are looking for. That, along with the [mageProductLink sku="330-0752" title="Bridgestone Battlax BT-45 Sport Touring Rear Tire"]Sport SACT[/mageProductLink] - Straight and Cornering Technology - system, helps to make the riding experience fun.
Final Thoughts
If you're the type of person who wants to find value in your motorcycle gear, then Bridgestone may be the brand for you. Of course, you can't go wrong with Dunlop either, so ultimately, it will depend on the features you're in search of, your budget and the machine you're adding them to.