Round And Round: Peddling Around The Different Types Of Bicycles
Chaparral Motorsports
|
April 29, 2014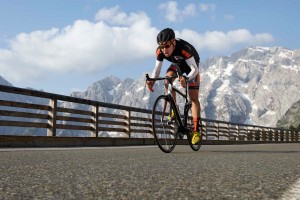 Remember back in the day when the world of two-wheeled, pedal-powered transportation was much simpler and there were only two basic types of bicycles, kid's bikes and adult bikes? There are still bikes for the tykes and peddlers for the elders, but these days the bicycle world has been segmented even further with bikes created specifically for different types of terrain and/or style of riding. Not only are the bicycles highly specialized for specific riding disciplines, but many manufacturers also offer varying frames sizes and dimensions to accommodate riders of all sizes (which we will cover in another article on bicycle ergonimics). If you really want to boggle your mind, just take a look at all the new fandangled bicycle parts, accessories, and riding gear that is now available for all these different types of riding environments. From BMX racing to road bikes to urban commuting, trying to keep up with the ever growing industry of bicycles can be dizzying. Below we've covered some of the characteristics of a few of the more popular types of bikes so that the next time you walk into a bicycle shop you won't feel overwhelmed and you'll have a better understanding of what you're looking at and what it's best used for.

Balance Bike
Granddaddy. OG. Push Bike. Dandy Horse. Draisienne. These are just a couple of words one could use when referring to the predecessor of all bicycles. Invented nearly 100 years ago in Germany by Baron Karl von Drais, the push bike or as it more commonly called now, the balance bike, was the first mode of in-line, two-wheeled transportation for humans. No pedals, chain, or crank, people simply scooted about using their feet and lifted them up to coast around. These days balance bikes are designed specifically for the purpose of helping children develop the balance, spatial awareness, and counter steering skills necessary to ride a traditional pedal bike. Balance bikes can be made of either wooden frames or traditional round tube metal frames and most feature highly durable air-less wheels designed to easily roll over or through a variety of surfaces such as grass, gravel, and dirt. Lightweight and easy to maneuver advantages to children starting out on a balance bike is that there are less components for the child to worry about or get caught up in, they can use their feet for stability when needed, and they don't become dependent on training wheels and therefore the transition to a peddle bike is much easier.

BMX Bike
Back in the '70s kids began emulating the motocross heroes of the day by racing their Schwinn Stingrays around dirt lots. As the trend gained traction and grew in popularity manufacturers saw an opportunity to create bikes designed specifically for the new sport of bicycle motocross (BMX). From that time the BMX bike has splintered off with bikes catering to specific activities such as freestyle park riding, racing, dirt jumping, vert ramps and more but still falling under the BMX moniker. Typically the first bicycle the majority of kids learn to pedal around on, BMX bikes feature single speed gearing, knobby or aggressive tread tires, and compact frames. With wheels sizes ranging from 16-26 inches, BMX bikes are ideal for everyone from pee-wee riders to adults who want to relive their childhood jumping curbs and riding wheelies.

Commuter Bike/Urban Bike
Offering the efficiency of a road bike with the comfort of an upright mountain bike, just as the name suggests, the commuter or urban bike is aimed at leisure on road use. The frame is designed for lighter duty than a mountain bike and often the top tube has a slight downward angle to make repetitive mounting/dismounting of the bike easier. The frame also features pre-drilled holes and bungs in order to mount a front rack or basket and saddlebags/panniers at the rear to carry items like groceries and work essentials. They are characterized by a 700centimeter (c) wheel diameter and 35c tire width, so it's a bit narrower than a mountain bike tire for better rolling but wider than a road bike tire so it can handle the rugged terrain found in city/urban environments such as uneven pavement, potholes, and rubbish. Multiple gears allow users to climb steep hills and take advantage of high speed flat stretches. You may see a bit of cross over or grey area with some of the less hi-tech mountain, cyclocross, road, and single speed/fixed gear bikes falling into the commuter/urban category. In all reality a commuter or urban bike could be any bike you regularly use for commuting or leisure urban riding.

Cyclocross Bike
Cyclocross involves racers/riders following a specified course that covers both on road and off road terrain that entails hills, dirt/grass trails, and obstacles. A Cyclocross race is typically a timed event in which the winner is decided based on the most laps ridden. Cyclocross bikes are based around road bike frames but feature more durable rims and mildly aggressive tires for better traction. A lightweight frame is ideal for quicker acceleration on paved surfaces while also making it easy to lift the bike when cyclists hit the off road and come across hills or obstacles that can't ride across and therefore need to carry or run the bike.

Mountain Bike
Back in the early 70s, dare devils hauled large balloon-tired (ballooners) Schwinn cruiser bicycles up to the top of a mountain fire roads or dirt trails and then let loose to see who could get down the fastest. As one might expect, it wasn't long before they were stripping and modding the bikes to handle better and go faster. Dubbed Klunkers, these were not pretty or practical but they were fun and got the job done. Then in 1977 downhill racer and Klunker enthusiast Joe Breeze built the first bike designed specifically for the terrain and type of riding he and his friends were doing. And thus the first mountain bike was born. Based on a heavy-duty, reinforced rigid frame, with multiple gears and off road oriented tires, the Breezer#1 would kick off a whole new world for off road bicycling enthusiasts. Today, similar to BMX bikes mountain bikes are designed for specific disciplines such as downhill, free ride, cross country (XC), Enduro and more. General characteristics of a mountain bike are a large, heavy-duty frame, rim diameters ranging between 26-29 inches, wide, knobby tires, multiple gears, and flat bar handlebars. Another key factor in the majority of modern mountain bikes is some form of suspension either in the front forks or at the front and rear of the bike. The varying disciplines often offer bikes with slight tweaks to frame dimensions and/or specific components. However, similar to a BMX bike you can easily spot a mountain bike and calling it as such would not be wrong (a bike snob on the other hand may call you out for not being more specific).

Road Bike
Back in the day you might have called a Road Bike a 10-speed. While still offering many of the same characteristics of the old "10-speed" bicycles-lightweight and smaller diameter tube frame, multiple gear options, narrow tires, and drop handlebars-the modern road bike is designed for speed and performance-oriented hard surface riding. Ideal for triathlons, road races, or training where speed and power are key objectives, modern road bikes cover the gamut from moderately priced to high-end bikes incorporating technologically advanced components such as carbon fiber frames and wheels as well as gearing ratios spread across anywhere from 12-30 gears.

Scooter
A scooter is sort of a mix between a push bike and a skateboard. It has no crank, pedals, or chain and you use your feet to push against the ground for momentum. However, instead of pushing with your feet and sitting on a seat, you stand on a narrow deck and coast around. Unlike a skateboard, a scooter only has two wheels and it has a tall T-bar handlebar which you use along with your feet/body to help you steer. Scooters are available in varying sizes for both adults and children. Many kid's scooters feature small, hard wheels similar to those found on roller blades, while the adult version usually has rubber pneumatic tires with wheel sizes ranging anywhere from 6-20-inches. Adults often like to use scooters for city commuting because they are faster than walking, more nimble than a bicycle, and can fold up for easy transport inside offices, stores, busses, or subways.

Single Speed/Fixed Gear Bike
Similar to a road bike in the fact that it has a lightweight, smaller diameter frame, narrow tires, and is great for city/urban commuting, the main difference between the two bicycles is that a single speed bike has one fixed gear. Commonly referred to as a Fixie, these bikes have a fixed gear which is typically threaded or bolted to the hub and does not have a freewheel mechanism therefore the pedals are always rotating when the rear wheel is in motion. Often found with no brakes, riders use their legs and body weight as force against the pedals to slow and stop. These bikes were highly popular with bike messengers in large compact cities like New York and San Francisco back in the '80s/'90s because they were lightweight, quick and easy to maneuver, could pick up speed relatively quickly, and with no gearing or derailleurs to mess with were very easy to maintain. In the past couple years they've found a renewed popularity with younger riders customizing their Fixie bikes with custom wheels, colored grips/handlebar tape, and bright frames.