2012 AMA Motocross Steel City Results
Chaparral Motorsports
|
September 4, 2012
Ryan Dungey Wins Ninth Straight 450 Motocross Overall!
[caption id="attachment_15144" align="alignright" width="300"]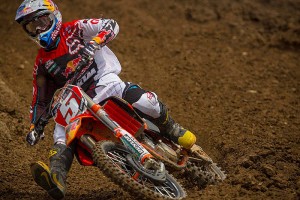 Ryan Dungey won his ninth straight overall victory at Steel City Raceway - Photo: Hoppenworld.com[/caption]

After wrapping up the 450 Motocross Championship at the previous round of the Lucas Oil Pro Motocross Championship Red Bull KTM Factory rider, Ryan Dungey, won his ninth straight overall victory at the eleventh round of the series at Steel City Raceway.

At the start of the first moto, Ryan Dungey rocketed his KTM 450 SX-F off the line to grab the holeshot. Dungey quickly pulled away from the rest of the field. He went on to lead every lap of the race to take the first moto win by over 30 seconds on the 2nd place ride.

In the second moto, Dungey started inside the top five and crossed the first lap in 4th position. Dungey made a pass on Jake Weimer for 3rd place on lap two and then began to set his focus on the 2nd place ride of Josh Grant. By the end of the fourth lap, he passed Grant and began to close on the lead ride of Mike Alessi. Just past the halfway point, Dungey closed the gap on Alessi and made a nice pass to take over the lead. Dungey led the remaining laps to take the moto win and the overall for the day.

Dungey's 1-1 moto finishes earned him his ninth overall victory of the season. "It feels great to come out here and win both motos today," remarked Dungey. "I had to work hard to make the pass for the lead in the second moto and take the win. I had a lot of fun here and appreciate all of the fans that cheered me on today. I am looking forward to the final round at Lake Elsinore next weekend."

Next Race: September 8, 2012 - Lake Elsinore, CA

Source: KTM North America

Ken Roczen Earns 2nd At Steel City Raceway!
[caption id="attachment_15142" align="alignright" width="300"]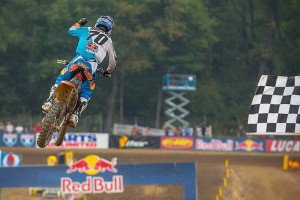 Ken Roczen finished 2nd overall in the 250 Motocross Class after earning 3-2 moto finishes - Photo: Hoppenworld.com[/caption]

Red Bull KTM Factory Team rider Ken Roczen finished 2nd overall in the 250 Motocross Class after earning 3-2 moto finishes at the eleventh round of the Lucas Oil Pro Motocross Championship Series held at Steel City Raceway. His teammate, Marvin Musquin, also had an impressive ride finishing 5th overall for the day.

In the first moto, Ken Roczen leaped out to a great start sitting inside the top three at the end of the first lap. Marvin Musquin was not far behind in 5th position. The two Red Bull KTM teammates held their pace and put together two solid rides to remain in their position and earn top five finishes in the first moto. Roczen finished 3rd overall while Musquin finished 5th for the first moto.

Roczen earned another great start in the second moto where he rounded the first lap in 3rd position. Musquin was a little further back in 7th position. On the next lap, Roczen made a pass to take over 2nd place while Musquin passed into 4th place. Roczen continued to click off impressive lap times and finished the second moto in 2nd place. His two podium finish results earned him 2nd place overall for the day. Meanwhile, Musquin lost one position near the end of the moto that dropped him to 5th. He crossed the finish line in 5th place to duplicate his first moto finish and earn 5th overall for the day.

Both riders will now head to California to race the final round of the series to be held in Lake Elsinore, CA on September 8, 2012.

Source: KTM North America

Steel City Overview And Point Standings
2012 AMA Pro Motocross Steel City Image Gallery (Click for full size images)


Overall Results - 450 Class - Moto 1 / Moto 2



Ryan Dungey - 1 / 1

Mike Alessi - 3 / 2

Josh Grant - 4 / 4

Jacob Weimer - 7 / 3

Tyla Rattray - 6 / 9

Nico Izzi - 8 / 8

Davi Millsaps - 5 / 11

Phillip Nicoletti - 11 / 6

Andrew Short - 2 / 32

Justin Brayton - 12 / 10

Ben LaMay - 13 / 12

Broc Tickle - 32 / 5

Kyle Chisholm - 10 / 16

Robert Kiniry - 33 / 7

PJ Larsen - 14 / 14

Christian Craig - 9 / 24

Austin Howell - 18 / 15

Vince Friese - 15 / 18

Fredrik Noren - 31 / 13

Jimmy Albertson - 16 / 20

450 Motocross Point Standings - ( Round 11 of 12 )


Ryan Dungey - 530 - 2012 Champion

Mike Alessi - 409

Andrew Short - 333

Jacob Weimer - 327

Broc Tickle - 309

Josh Grant - 262

Justin Brayton - 222

Kyle Chisholm - 198

Davi Millsaps - 176

James Stewart - 163

Nico Izzi - 149

Brett Metcalfe - 142

Michael Byrne - 138

Tyla Rattray - 136

Tommy Hahn - 101

Ryan Sipes - 94

Robert Kiniry - 87

Ben LaMay - 85

Vince Friese - 82

Christian Craig - 74

Overall Results - 250 Class - Moto 1 / Moto 2


Eli Tomac - 1 / 1

Ken Roczen - 3 / 2

Justin Barcia - 2 / 3

Blake Baggett - 4 / 4

Marvin Musquin - 5 / 5

William Hahn - 9 / 6

Alex Martin - 8 / 9

Blake Wharton - 7 / 11

Malcolm Stewart - 6 / 12

Jake Canada - 11 / 10

Jeremy Martin - 14 / 8

Kyle Cunningham - 10 / 15

Jason Anderson - 13 / 13

Jessy Nelson - 12 / 14

Justin Bogle - 25 / 7

Cole Thompson - 17 / 16

Travis Baker - 15 / 18

Kyle Peters - 20 / 17

Martin Davalos - 16 / 37

Ryan Sipes - 18 / 39

250 Motocross Point Standings - ( Round 11 of 12 )


Blake Baggett - 472

Eli Tomac - 458

Justin Barcia - 454

Ken Roczen - 427

Marvin Musquin - 368

William Hahn - 282

Blake Wharton - 239

Jason Anderson - 222

Jessy Nelson - 205

Travis Baker - 177

Jake Canada - 170

Malcolm Stewart - 161

Alex Martin - 144

Justin Bogle - 126

Kyle Cunningham - 113

Gareth Swanepoel - 106

Ivan Tedesco - 105

Martin Davalos - 85

Kyle Peters - 78

Ryan Sipes - 58

WMX Inactive for this EventWomen's Motocross Point Standings - ( Round 7 of 8 )


Jessica Patterson - 280

Ashley Fiolek - 275

Tarah Gieger - 270

Mariana Balbi - 227

Sara Pettersson - 209

Jacqueline Strong - 206

Kasie Creson - 174

Alexah Pearson - 149

Sade Allender - 148

Sayaka Kaneshiro - 137

Amanda Brown - 130

Sarah Whitmore - 120

Brianna DeGray - 110

Meghan Rutledge - 78

Jackie Ives - 62

Shelby Rolen - 54

April Zastrow - 49

Hailey Larson - 48

Ashley Boham - 38

Marissa Markelon - 36