Robbie Maddison Breaks Leg, Out Of X Games
Chaparral Motorsports
|
July 2, 2012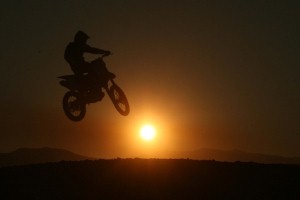 Robbie Maddison
, the rider perhaps best known for his New Year's Eve motorcycle stunts, will not be competing in this year's Moto X Speed & Style competition at this year's X Games after suffering a severe injury during practice, reports ESPN.

The popular rider was practicing a whoops section on an indoor dirt track when he went down hard. Maddison's bike landed on top of him, breaking his leg and causing several lacerations to his body. The rider also reportedly suffered a collapsed lung in the incident.

Maddison is considered to be fearless on the track, but he has the injuries to go along with his daredevil style of riding. The rider missed the 2007 and 2009 X Games with injuries. Last year, compressed vertebrae in his lower back caused him to miss the X Games as well. In the 2010 X Games, he competed with a broken hand and still earned the silver medal in the Best Trick competition.

In recent years, the rider has shown off his skills with increasingly ambitious New Year's Eve stunts. Last year, Maddison and snowmobile rider Levi LaVallee completed a tandem jump across San Diego Bay, flying across a gap of more than 350 feet.