Levi LaVallee, Robbie Maddison Clear New Year's Eve Jump
Chaparral Motorsports
|
January 4, 2012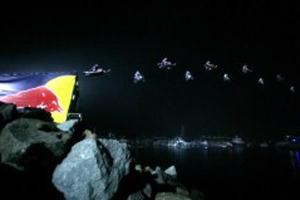 Levi LaVallee and Robbie Maddison put on quite a show on New Year's Eve, jumping their respective snowmobile and motorcycle more than 300 feet over a water gap in San Diego Harbor. The two riders cleared the jump with room to spare, with LaVallee breaking a world record.

LaVallee, who injured himself last year preparing for the same stunt, shattered his own world record of 361 feet by jumping his snowmobile 412 feet. The 50-foot improvement shocked spectators, as the snowmobile actually ended up outjumping the motorcycle, which most didn't expect.

It was slightly disappointing for Maddison, who was hoping to go 400 feet and break the world record of 391. Maddison ended up jumping 378 feet on the bike, which was officially a personal best for the rider but shy of the record. Maddison said that he had broken the 391-feet mark in unofficial jumps before the actual stunt. The daredevil said he planned on making some changes to his bike and trying again in the near future.

Thick fog rolled in before the planned stunt, which some thought might cause complications with the jump. In the end, both riders made it safely across and entertained a worldwide audience on New Year's Eve.