Kurt Caselli Wins Opening Hare & Hound Round
Chaparral Motorsports
|
January 24, 2012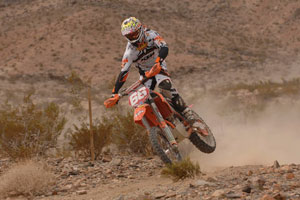 Factory FMF/KTM rider Kurt Caselli got off to a great start at the opening round of the AMA National Hare & Hound Series taking a dominating win over the rest of the field.

Caselli, the reigning Hare & Hound Champion, came into the series opener looking quite confident on his KTM 450 SX-F. "I feel very comfortable on my bike. I am lucky to be riding the same model we raced last season so we have a pretty good set-up already and had to make minimal changes during the off-season," stated Caselli.

With little rainfall hitting the southern California desert area this winter, each rider was concerned with getting a good start to avoid the dust clouds that would follow the start of the race. As the riders launched down the start straight, it was the KTM machine of Caselli that earned the holeshot and headed into the desert with a clear line of vision.

"Getting a great start was definitely the key to winning this race," remarked Caselli. "My bike fired up right away and I was able to get a good jump off the line and was out front early as we set out on the first loop," remarked Caselli.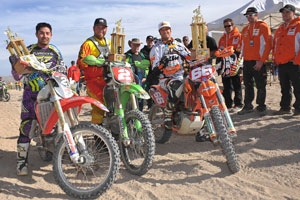 The event included two different 40 mile loops in the desert of Lucerne Valley. Caselli had pulled out to a 45 second lead at the end of the first loop over the 2nd place ride of Destry Abbott and the 3rd place ride of David Pearson. "Once I was out front, I just concentrated on riding my own race and keeping it on two wheels. I had no issues and was able to pull to a nice gab early in the race," reported Caselli.

At the end of the final loop, Caselli crossed the checkers 3 minutes ahead of the competition. David Pearson would go on to finish 2nd, while David Kamo rounded out the podium in 3rd.

Factory FMF/KTM Racing Team Manager, Antti Kallonen, commented, "This was a great way to kick off the Hare & Hound Series. Kurt had a great race and suffered no problems. We are very excited with this result and looking forward to the second round."

Overall Results



Kurt Caselli

David Pearson

David Kamo

Destry Abbott

Justin Morrow

Gary Sutherlin

Ricky Russell

Skyler Howes

Max Eddy

Axel Pearson