Kurt Caselli Wins WORCS Championship
Chaparral Motorsports
|
November 7, 2011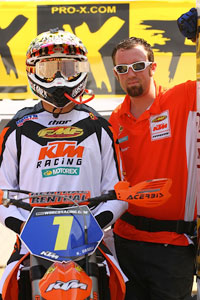 Mike Brown Wins Moto
Factory FMF/KTM rider Kurt Caselli clinched his third career WORCS Championship title in the first of two motos at the final round of the WORCS held at Speed World Motorsport Park while his teammate, Mike Brown, also celebrated by taking the moto win.

Caselli had a 41 point lead heading into the final round and only had to finish the race in order to secure the championship. "I knew I just needed to finish so I concentrated on riding a smooth and consistent race to maintain my pace throughout the moto and cruise to the finish," remarked Caselli.

Caselli started poorly and had to work his way up through the pack. By mid-race he had moved up into the top five and was able to maintain his position throughout the duration of the race. He eventually finished the moto in 4th position to earn his championship. Meanwhile, Brown had a great start and hopped into the lead early. He went on to take the moto win and further increase his points to help secure 2nd in the point standings.

This championship marks Caselli's third career WORCS Championship and makes him he first rider in WORCS history to earn three championships. This also marks the second championship won by Caselli this season as he also wrapped up the 2011 AMA National Hare & Hound Championship earlier this year.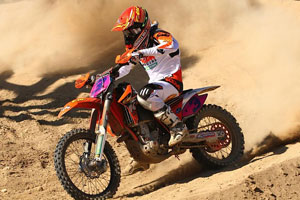 "I am very excited to win this championship," remarked Caselli. "I have worked very hard this year to defend my title and it is a great feeling to come out on top. Thanks to everyone who helped support me this year. I couldn't do it without their help."

Also, winning a championship was RPM/KTM's Kacy Martinez. The reigning Women's WORCS Champion worked hard all season to defend her WORCS title and was finally able to secure the title in the Women's class after taking the win in today's moto.

"Everyone always says it's harder to defend a title than to win your first and it definitely was," remarked Martinez. "I am glad that Kurt (Caselli) and I were both able to defend our titles and put another championship in the record books."