Zero Motorcycles To Unveil 2012 Lineup At Progressive New York Show
Chaparral Motorsports
|
January 20, 2012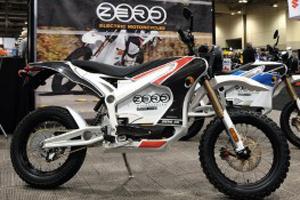 The Progressive International Motorcycle Show is famous for traveling from city to city over a lengthy tour of the country, and this might cause many to assume that every show is the same. However, occasionally a manufacturer will choose one of the shows to debut a new product, and that's exactly what electric motorcycle manufacturer Zero is planning to do at the New York show from January 20th through the 22nd.

Zero will be unveiling their 2012 lineup, which features some notable improvements over the 2011 models. Both the Zero S and Zero DS have gotten an upgrade in power, allowing them to reach top speeds of 88 and 80 miles per hour, respectively. The S is also the first electric bike rated to go beyond 100 miles on a single charge. The brand's city bike, the Zero XU, will also debut its new brushless motors and regenerative braking system.

"We selected New York because it's one of the largest IMS Shows in 2012 and it gives us an official press conference platform to highlight our all-new products," said Scot Harden, Vice President of Global Marketing for Zero Motorcycles. "We look forward to visiting with enthusiasts at each of the other cities on our stops and sharing with them the amazing new two-wheeled technology Zero has developed."