2012 AMA Supercross Phoenix Results
Chaparral Motorsports
|
January 16, 2012
Ryan Dungey Gives KTM Their First AMA Supercross Win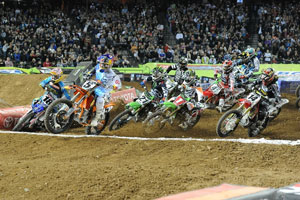 Ryan Dungey ahead of the pack - Photo: Frank Hoppen
Ryan Dungey is usually near the top of every race he competes in, but the rider has not tasted victory in quite some time. That changed at Phoenix when the rider rode a flawless race and gave his factory, KTM, an historic win.

KTM has never won a race in the premier class of AMA Supercross, though Dungey has come close many times. On this night, nobody really challenged Dungey after he grabbed the holeshot and built up his lead. Kawasaki's Jake Weimer was closest in second place.

"This was a big step in the right direction for KTM," Dungey told the news source. "They've been behind me the whole way and believed in me. We've come a long way since the off-season, but there's still a lot of racing to go. I got off to a great start and moved into the lead early, which made it nice on myself."

Defending champion Ryan Villopoto, who won last week, had some trouble after running into fallen rider Davi Millsaps. He fell all the way to dead last, but charged back and was able to take third overall. Villopoto and Dungey are now tied for the overall lead in the competition at 45 points apiece.

Red Bull/KTM's Ryan Dungey Wins Phoenix Supercross
Red Bull/KTM's Ryan Dungey wins Phoenix Supercross - Photo: Frank Hoppen
KTM's First SX Class Victory

Red Bull/KTM Factory rider Ryan Dungey did what he was hired to do - he won! Only two rounds into the series Dungey showed race fans everywhere what he and his new KTM 450 SX-F Factory Edition motorcycle could do as he crossed the checkers and took the win at the second round of the AMA Supercross Series held at Chase Field.

Not only did Dungey take the win, but he nailed the holeshot and led every lap of the twenty lap main event. Dungey's first career win on his KTM machine also marks the first win in history for the KTM brand in the SX class. Just two rounds into the season Dungey has already written pages in the history books at KTM.

The day started off relatively mellow for Dungey as he qualified third fastest from practice and earned a fourth place finish in his heat to transfer to the main. Once he lined up on that gate, everything would change. Everything would go his way!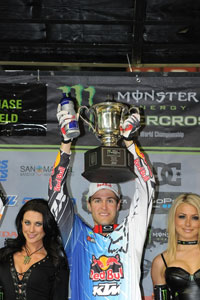 Ryan Dungey at the podium - Photo: Frank Hoppen
"I was definitely motivated by my teammate tonight," remarked Dungey on the podium. "I saw that Marvin (Musquin) got second in the Lites main and knew I had to step up my game to match him and do well for our team."

The gate dropped and Dungey launched forward to pull the holeshot on his KTM 450cc machine. He never looked back and checked out on the group behind him. He went on to take the win in the best way possible - leading every lap.

"This win feels so incredible," remarked Dungey after the race. "The whole crew at KTM has been behind me 100% since I joined them in October and it is amazing to earn this win together!"

Red Bull/KTM Factory Team Manager Roger DeCoster, commented, "It is not just our team in the US but the whole crew in Austria at our Factory that have helped us get here. In only our second race of the season it is amazing to get a podium. It feels really good that we were able to deliver for the people that backed us. We have proved ourselves with a win and intend to keep progressing."

The next round will be held in Los Angeles, CA on January 21, 2012 where Dungey will display the red number plate on his bike as the new series point's leader.

James Stewart 8th at Chase Field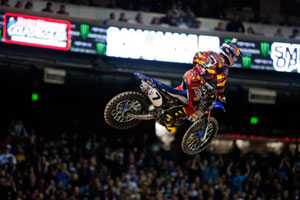 James Stewart 8th at Chase Field
JGRMX Yamaha's James Stewart was one of the fastest riders around a tight and challenging Chase Field circuit in Phoenix for the second round of the AMA Supercross series (also an FIM World Championship) but a slip mid-race prevented the former champion from rising higher than 8th position.

The YZ450F racer set the quickest time in the first qualification session and produced an electric performance to win his Heat race. The start of the main event at the packed baseball stadium in Arizona saw the Floridian - who was not physically 100% - outside the top five but he rapidly started to make ground. His pace would have easily pulled him into contention for the podium behind escaping leader Ryan Dungey but he lost control of the front end in the sandy section and lost valuable time.

"James wasn't really feeling all that good today," said team owner Coy Gibbs. "He skipped second practice because he felt sick and didn't want to wear himself down for the racing, which we thought was a good idea, but that was a tough main event. The start wasn't very good, and then to have a fall in the sand there, it was just too much to come through the pack in a field like this."

Team-mate Davi Millsaps made a bright start to the race but also went down in the sand - holding up champion Ryan Villopoto who would fly back to third place - and crossed the finish line in 13th.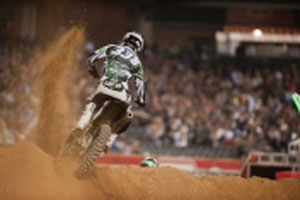 Zach Osborne rode well in the second round of the West Coast Lites category.
Monster Energy Yamaha's Zach Osborne rode well in the second round of the West Coast Lites category. The Grand Prix rider took his YZ250F to 6th place on what is the second of four appearances on the indoor arena circuit as part of his build-up for the 2012 MX2-GP World Championship that starts on Easter weekend in Holland.

The American was challenging for third position in the opening phases of the 15 lap sprint but was powerless to prevent the charge of Eli Tomac and round one winner Cole Seely. "That was a good chance of making the podium," he reflected "but it was an improvement on last week. My start was better and I attacked the best I could. So far these races are going pretty well and it is cool to be back doing this series. We have two more events to go now before we can start thinking about Europe."

Round three of fourteen will take place at Dodgers Stadium in Los Angeles next Saturday.

Source: www.yamaha-racing.com

Brett Metcalfe In Phoenix Supercross Top 10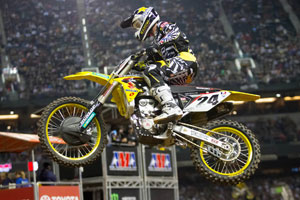 Brett Metcalfe in Phoenix Supercross Top 10
Yoshimura Suzuki Racing's Brett Metcalfe celebrated his first top-10 finish of the 2012 AMA/ FIM Supercross season at Saturday night's second round of the series at Chase Field in Phoenix, Arizona.

In front of almost 50,000 screaming Supercross fans, Metcalfe put in an aggressive ride on his Yoshimura Suzuki RM-Z450 and carded a solid ninth-place result. Consistency was the key to the Aussie rider's night and although a bit under the weather, he put up a good fight all night long. In his eight-lap heat race, he got a great start on his Yoshimura Suzuki RM-Z450 and brought home a sixth-place finish to advance to the Supercross Main. In the 20-lap Main Event, he got an excellent start and battled with the front-runners for the first half of the race and remained strong until the flag.

Said Metcalfe: "We had a really good week leading up to Phoenix and I came in a little more confident. In qualifying, I got an awesome start - the Yoshimura Suzuki RM-Z450 just flew down the straightaway. I came through the heat race and ended up sixth but I knew I had to step it up if I wanted to get a top-10 finish in the Main. The Yoshimura Suzuki is getting rippin' starts, and that's a huge positive for my game right now. In the Main I tried as hard as I could; about half way, I started getting passed but I tried to hang tough and hold down a top-10. I was a little under the weather this weekend and it was a tough 20 laps for me, but I managed to get through. This was a much more positive direction for us and I'm looking forward to having another solid week on the bike and moving up in the field."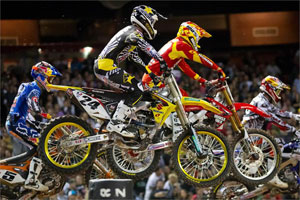 "I'm looking forward to having another solid week on the bike and moving up in the field," said Metcalfe
Next weekend, the Yoshimura Suzuki team will revisit Los Angeles' Dodger Stadium for only the second time ever. And since last year was also Metcalfe's first season racing in the Supercross class, his experience at the renowned venue was a memorable one.

"Dodger stadium was awesome last year," said Metcalfe. "The crowd was really cool and just being in that stadium was pretty spectacular. I got the holeshot and led two laps, but then I fell. But that's still a good memory to feed off and I'll try to duplicate that again - but stay up and not crash this time. Now, we've got to keep grinding it out, progressing and stay positive."

Supercross Standings: CLICK HERE
Phoenix Image Gallery: CLICK HERE

Dean Wilson Rebounds To Win Phoenix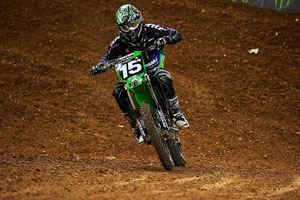 Dean Wilson righted the ship with an impressive victory at Chase Field - Photo: Frank Hoppen
Fans of Supercross might have been a bit surprised last week when Monster Energy Pro Circuit Kawasaki's Dean Wilson, one of the favorites to win the AMA Supercross Lites class, finished sixth in the opening race at Anaheim. This week, however, Wilson righted the ship with an impressive victory at Chase Field in Phoenix, Arizona,

KTM's Marvin Musquin raced hard to earn second place, but couldn't make it an all-KTM night after Ryan Dungey won the premier class race. He was followed closely by Wilson's Kawasaki teammate Tyla Rattray in third.

Wilson didn't grab the holeshot in the race, but quickly passed Rattray early on and held his position throughout the race. The rider described the track as slippery in his post-race comments.

"This feels great," Wilson told Cycle News. "Last weekend just wasn't me. I think I was too confident coming in. It means so much to get this win."

There's now a battle at the top of the Supercross Lites standings. Rattray leads the way with 42 points, followed by Cole Seely of Honda at 41. Wilson is in third with 40 points.

Marvin Musquin Earns 2nd at Phoenix Supercross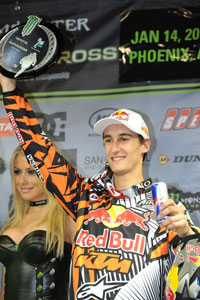 Marvin Musquin's first Supercross Lites podium finish
His First Supercross Lites Career Podium

Red Bull/KTM Factory Team rider Marvin Musquin finished second overall at the second round of the AMA West Supercross Lites Series held at Chase Field. His finish at the Phoenix round marked his best career finish and his first Supercross Lites class podium.

Musquin is already one of the happiest riders you can meet in the pits as he is two rounds into completing one of his childhood dreams - to race in the United States as a competitor in the AMA Supercross Series. Musquin walked away from the opening round very happy to finish safely and inside the top five. He topped that finish at the second round proving to race fans everywhere that he is a threat for the West Supercross Lites Championship.

The French rider finished fifth place in his heat race to easily transfer to the main event. When the gate dropped for the Supercross Lites main event Musquin rocketed off the line to show up second place around the first corner. He tried to block pass holeshot winner Tyla Rattray to take the lead on the second lap but wasn't able to make it stick. On the third corner he was able to move around Rattray but the pass slowed him up and allowed Wilson to pass for the lead.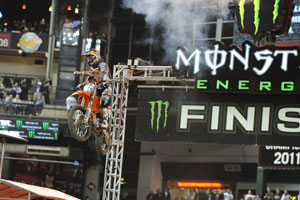 Musquin went on to ride his strongest race in the U.S. to date, holding the second place position the entire race.
Musquin went on to ride his strongest race in the U.S. to date, holding the second place position the entire race. After fifteen laps, Musquin crossed the line to earn the runner-up position on the podium behind race winner Dean Wilson. Tyla Rattray would finish in third.

"It feels awesome!" stated Musquin. "I have been dreaming of this moment since I was a young kid and was hoping this is what I would accomplish when I moved here from France. This is honestly a dream come true."

After two rounds Musquin is tied for third place in points with Dean Wilson. The next round of the series will take place in Los Angeles, CA on January 21, 2012.

Phoenix Overview And Point Standings
General Overview


Circuit Length: Unknown

Crowd: 49,236

Weather: Dry

Lap Record: 0:51.216 (Ricky Carmichael, 1/1/2005)

Last Years Winner: James Stewart

Next Event: Los Angeles, CA - January 21, 2012

Manufacturer Standings - 01/16/2012


Kawasaki - 47

KTM - 45

Honda - 40

Yamaha - 28

Suzuki - 24

Overall Results - Supercross Class: 20 Laps


Ryan Dungey: 17:44.005

Jake Weimer: +0:06.117

Ryan Villopoto: +0:08.908

Kevin Windham: +0:14.338

Chad Reed: +0:22.866

Andrew Short: +0:24.012

Trey Canard: +0:25.521

James Stewart: +0:31.053

Brett Metcalfe: +0:34.879

Josh Hansen: +0:37.691

Ivan Tedesco: +0:42.691

Kyle Chisholm: +0:44.741

David D Millsaps: +0:46.661

Justin Brayton: -1 Lap

Chris Blose: -1 Lap

Mike Alessi: -1 Lap

Kyle Partridge: -1 Lap

Thomas Hahn: -8 Laps

Nicholas Wey: -19 Laps

Jimmy Albertson: DNF

Point Standing - Supercross Class (Race 2 of 17)


Ryan Dungey - 45

Ryan Villopoto - 45

Jake Weimer - 38

Chad Reed - 38

Kevin Windham - 31

Andrew Short - 29

James Stewart - 28

Justin Brayton - 25

Brett Metcalfe - 22

Josh Hansen - 22

Ivan Tedesco - 18

Mike Alessi - 17

Kyle Chisholm - 16

Trey Canard - 14

David D Millsaps - 13

Broc Tickle - 9

Chris Blose - 9

Ryan Morais - 6

Jimmy Albertson - 4

Kyle Partridge - 4

Overall Results - Supercross Class: 15 Laps


Dean Wilson: 13:20.828

Marvin Musquin: +2.772

Tyla Rattray: +4.090

Eli Tomac: +5.605

Cole Seely: +7.030

Zachary Osborne: +13.643

Jason Anderson: +25.305

Nico Izzi: +29.438

Max Anstie: +30.319

Travis Baker: +32.971

Michael Leib: +36.325

Billy Laninovich: +41.839

Bruce Rutherford: +52.029

Vince Friese: +58.511

Teddy Maier: -1 Lap

Scott Champion: -1 Lap

Gareth Swanepoel: -1 Lap

Jean Carlo Ramos: -1 Lap

Adam Chatfield: -1 Lap

Martin Davalos: -3 Laps

Point Standing - Supercross Lites West Class (Race 2 of 8)


Tyla Rattray - 42

Cole Seely - 41

Dean Wilson - 40

Marvin Musquin - 40

Eli Tomac - 38

Jason Anderson - 28

Zachary Osborne - 27

Nico Izzi - 22

Travis Baker - 22

Max Anstie - 17

Ryan Sipes - 16

Billy Laninovich - 16

Teddy Maier - 14

Wil Hahn - 13

Vince Friese - 13

Michael Leib - 10

Matt Moss - 10

Bruce Rutherford - 8

Scott Champion - 5

Gareth Swanepoel - 4