Bridgestone Battlax BT-023 Sport Touring Tire Review
Chaparral Motorsports
|
November 3, 2011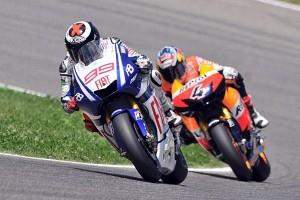 Those who own high-end sport bikes might take their toy to the track from time to time, but many riders also like to ride these bikes out on the open road. It's no fun to have to change your motorcycle tires completely every time you switch between track and road, which is why the whole concept of "sport touring" has become popular.

Bridgestone makes a type of motorcycle tire that is specifically designed for this subsection of the population, fittingly called the [mageProductLink sku="330-1010" title=""]Battlax BT-023 Sport Touring[/mageProductLink]. This tire, released last year, was developed as a replacement for the company's [mageProductLink sku="330-1030" title=""]BT-021 tire[/mageProductLink], a popular product that can still be found as OEM equipment on some bikes.

Bridgestone Battlax BT-023 Life Span
The first area where Bridgestone made improvements was longevity. This is a big issue for riders, as nobody wants to shell out tons of money every few weeks for a brand new set of tires. Bridgestone claims that the BT-023 offers 30 percent more life than its predecessor, which is a significant improvement.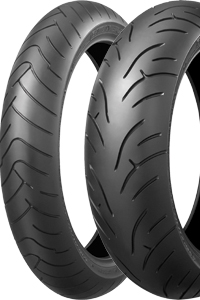 Bridgestone Battlax Tread
Bridgestone also focused on developing a brand new tread pattern for their tire. The BT-023 uses a combination of V-groove and T-groove treads to improve braking and linear handling, respectively. The treads are arranged at an angle to help with the longevity of the tire. There's even a groove-free area on the rear tire for the sole purpose of providing a quieter and smoother ride - which is perfect for those who like touring.

Features from other recent Bridgestone models also made their way to this tire. The big one is the RC Polymer, which can modify the attributes of the tire's rubber depending on the temperature. According to Bridgestone, this helps the tire perform at a higher level under a variety of different conditions.

The tire also uses a new compound known as Silica Rich EX on the front tire. This compound, used on the two shoulders of the tire, is designed to improve the bike's cornering in wet weather, which is definitely an advantage on or off the racetrack.

Bridgestone Battlax Price
Fortunately, one thing about the tire that didn't change was the price. Despite the litany of improvements that Bridgestone made for the [mageProductLink sku="330-1020" title=""]Battlax BT-023[/mageProductLink], the tires are still priced in the same range as the [mageProductLink sku="330-1031" title=""]BT-021 model[/mageProductLink].

Final Thoughts
With a bevy of features and plenty of experience behind their design, the Battlax BT-023 tires make an excellent choice for track riders, touring enthusiasts, or both.