Motorcycle Exhaust System Buyer's Guide
Chaparral Motorsports
|
September 30, 2011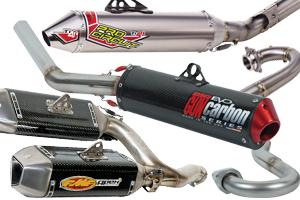 The most common aftermarket upgrade in the motorcycle community is swapping out exhaust pipes. It might not seem like a radical change, but this small step can have a huge effect on just about every aspect of your bike. In the performance department, you can improve both acceleration and fuel economy with a new exhaust pipe. The exhaust can also change the way your motorcycle handles heat, which affects performance as well.

Exhaust pipes are also popular stylistic accessories. You can radically alter the look of your bike with an eye-catching new pipe. Yet the aspect that many riders focus on is sound. Will your exhaust emit a high-pitched whine or a low rumble that can be heard from a mile away? Even the color and the amount of smoke that comes out the back of the pipe is something that bikers consider. There is perhaps no other motorcycle part that affects so much of a bike's look and performance - which is why so many people choose to go with a custom aftermarket exhaust.

Considering that the exhaust pipe can have a major affect on your motorcycle, you can't just rush into a decision. There are all sorts of pipes for all sorts of bikes, and a rider needs to do solid research before committing to just one.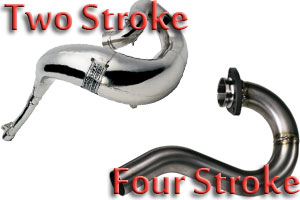 For starters, you need to make sure that you're buying an exhaust pipe that's compatible with your particular model. This seems obvious, but there are hundreds of buyers every year who forget what model they own or go into a sale blind and end up with a part that's of no use to them. One of the things you should definitely check is whether your engine is a 4-stroke or 2-stroke. Typically, exhaust systems will be built for one or the other, but not both.

You also need to pay attention to both federal and state guidelines. Exhaust pipes are one of the few motorcycle parts that can land you in trouble if you install one that doesn't comply with regulations - and many cops do look out for these. Some states now have laws in place that regulate both the emission levels and noise that these parts make. It's safe to say that if you're kicking up a ton of smoke and making a lot of noise when you try out the exhaust pipe, you should double-check to be absolutely certain you aren't breaking any laws - or you could be facing a stiff fine.

The big decision that you'll likely be making is between a complete exhaust system or a slip-on. Complete exhaust systems will require you to remove your old exhaust and install the new one, but they can also represent a major upgrade in performance. For many riders who plan on making serious modifications to a factory model, this is often one of the first steps they undertake. A new exhaust system can be somewhat expensive, but to many riders the difference is worth it.

Slip-on exhaust systems tend to be more popular. They're less expensive, easy to install and carry many of the benefits that the complete exhaust systems do. These motorcycle parts function just like their name says - simply slip them over your existing exhaust pipe. Remember, you need to ensure that the slip-on in question fits with your particular bike.

With all that in mind, buying a new exhaust system for your motorcycle can be one of the more instantly-gratifying aftermarket purchases, and it's a good way to get your feet wet if you've never added a custom motorcycle part to your bike before.