Take A Look At The Pro Circuit TI-6 Dirt Bike Exhausts
Chaparral Motorsports
|
February 28, 2014
[mageProductLink sku="997-0311425f2" title=""]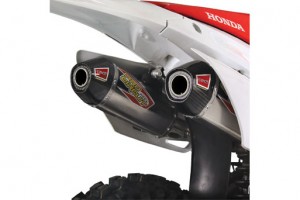 [/mageProductLink]It has already been established that dirt bike parts such as new exhaust systems are great options for riders who want to upgrade their motorcycles. In racing situations, these items could be the difference between being a winner and being an also-ran, as they are primed to improve the speed and efficiency of a bike. They also make a significant difference with regard to the sound of a motorcycle, and all of these advantages makes investing in a motorcycle exhaust a no-brainer for riders. However, choosing the exact right product may be more difficult.

If you find yourself in this position, it may be time to look at the four-stroke exhaust options from Pro Circuit. The company's products, and specifically items like the TI-6 and TI-6 Pro, are great for improving the performance, sound and durability of a dirt bike, and the gear is definitely one that should be considered by any competitive rider.

Why Pro Circuit?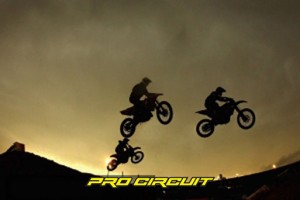 Since the time Pro Circuit was founded in 1978, it has been creating accessories that are poised to enhance the performance of a motorcycle. That is certainly true of its exhaust systems, which have been expertly created to improve the power output, noise and efficiency of dirt bikes. Although the brand started as a way to upgrade Husqvarna bikes, it has since expanded to encompass items that work seamlessly with manufacturers such as Honda, Kawasaki, KTM, Suzuki and Yamaha.

No matter what product you're looking at, there is a strong chance the exhaust item is top-notch. Pro Circuit stresses that its products are designed, tested and engineered in-house, with experts evaluating the progress made every step of the way. If you're looking to upgrade your dirt bike, one of these accessories could be the ideal choice.

Pro Circuit TI-6
[mageProductLink sku="997-0321425f" title=""]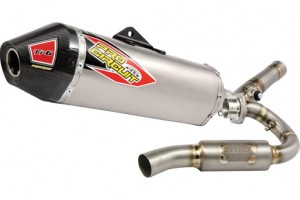 [/mageProductLink]The [mageProductLink sku="997-0321425f" title="Pro Circuit TI-6 Complete Exhaust System"]Pro Circuit TI-6 Titanium Complete Exhaust System[/mageProductLink] is one of the complete exhaust systems offered by the manufacturer. Comprised of a head pipe, mid pipe and canister, the entire system is made from titanium with a carbon fiber end-cap. Those parts are designed to improve the performance of the bike, regardless if it has a single or [mageProductLink sku="997-0311425f2" title="Pro Circuit TI-6 Dual Complete Exhaust System"]dual-exhaust[/mageProductLink] set-up, and will undoubtedly offer and rider a professional look in addition to the power upgrade. It is also an ideal investment for those looking to extend the life of their machine. Because the four-stroke exhaust is able control and manage the power output, you will be able to reduce the odds of overworking a motor.

If there is one area you have to watch out for, it's the sound. It doesn't pass the FIM sound requirement for professional racing, but it can still be used in other amateur or recreational situations. As a bonus, the removable spark arrestor, which has been approved by the USFS, is ideal for anyone who frequently switches between off-road riding and closed-course racing.

Pro Circuit TI-6 Pro
[mageProductLink sku="997-0321425fp" title=""]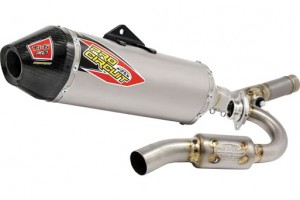 [/mageProductLink]Like the regular TI-6, the [mageProductLink sku="997-0321425fp" title="Pro Circuit TI-6 Pro Complete Exhaust System"]Pro Circuit TI-6 Pro Complete Exhaust System[/mageProductLink] has an asymmetrical muffler configuration that is employed to raise the packing volume of the exhaust. Even with the unique design, the entire system remains strong and leak-free thanks to thorough composition. The machined aluminum muffler bracket is extremely durable, while the joints throughout the item have been expertly welded to avoid cracks or leaks that could otherwise prove costly. The main difference between the TI-6 and the TI-6 Pro systems is that the TI-6 Pro is configured to meet the 98dB sound requirements found in professional racing associations, but it does not come with a spark arrestor - so it is only usable for closed-course racing.

There are multiple options depending on the model dirt bike you ride, so you are able to choose a four-stroke exhaust that offers the best possible improvement for your needs and riding style. By building on past models and responding to customer feedback, Pro Circuit has created a four-stroke exhaust system that can work for anyone.