By browsing, you consent to our

use of Cookies

.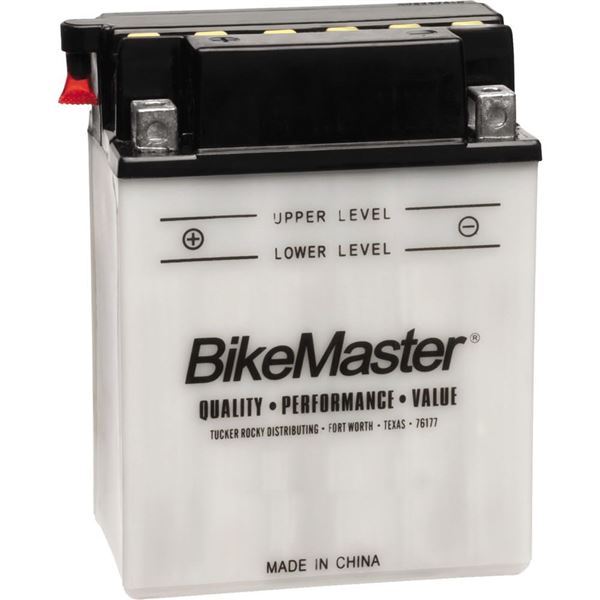 Free Shipping Over $75

Low Price Guarantee

No Hassle Returns

Bikemaster has designed and manufactured a great line of motorcycle batteries with all the features of O.E.M. batteries at a lower cost. The Bikemaster Standard Motorcycle Battery does not include acid, however you should be able to find acid at a local hardware store, car or ATV/MC dealer. We suggest that you research where to find acid in your location before purchasing this battery. The battery will also require a charge prior to installation.
Basic 6-Volt and 12-Volt dry batteries, mostly for older motorcycles and ATVs
All of the features of O.E.M batteries at a lower cost
May need periodic refilling
One year manufacturer's warranty
Note: Image for reference only. Actual product may vary according to vehicle.
Chaparral carries several Bikemaster Standard Batteries including: 12N10-3A-2, 12N10-3B, 12N12A-4A-1, 12N14-3A, 12N16-3B, 12N24-3, 12N5.5-3B, 12N5.5-4A, 12N5.5A-3B, 12N5-3B, 12N5-4B, 12N7-3B, 12N7-4A, 12N7-4B, 12N7D-3B, 12N9-3B, 12N9-4B-1, 6N11-2D, 6N12A-2C, 6N12A-2D, 6N2-2A, 6N2-2A-3, 6N2-2A-4, 6N2A-2C-3, 6N4-2A, 6N4-2A-4, 6N4-2A-5, 6N4-2A-8, 6N4A-4D, 6N4B-2A, 6N4B-2A-3, 6N4C-1B, 6N5.5-1D, 6N5.5-1D-1, 6N6-1D-2, 6N6-3B, 6N6-3B-1, 6YB8L-B, B38-6A, and YHD-12.
Bikemaster Standard Battery
Specifications
SKU
378-1040
Brand
Bikemaster

California Prop 65
WARNING: Cancer and Reproductive Harm - www.P65Warnings.ca.gov
Part Numbers
| | SKU | MPN | Availability | In-Store Pickup |
| --- | --- | --- | --- | --- |
| | 378-1040 | 781040 | 10+ In Stock. Ready to ship. | 6 In Stock. |
| | 378-1086 | EDTM26112 | 10+ In Stock. Ready to ship. | 2 In Stock. |
| | 378-1021 | EDTM2655B | 10+ In Stock. Ready to ship. | 2 In Stock. |
| | 378-1096 | EDTM2612D | 10+ In Stock. Ready to ship. | - |
| | 378-1094 | EDTM2662B | 10+ In Stock. Ready to ship. | - |
| | 378-1092 | EDTM262C3 | 10+ In Stock. Ready to ship. | - |
| | 378-1090 | EDTM2620A | 10+ In Stock. Ready to ship. | - |
| | 378-1089 | CHD-4-12 | 10+ In Stock. Ready to ship. | - |
| | 378-1071 | EDTM2663B | 10+ In Stock. Ready to ship. | - |
| | 378-1041 | EDTM2290B | 10+ In Stock. Ready to ship. | - |
| | 378-1033 | EDTM22A5B | 10+ In Stock. Ready to ship. | - |
| | 378-1025 | EDTM2660B | 10+ In Stock. Ready to ship. | - |
| | 378-1016 | EDTM2640B | 10+ In Stock. Ready to ship. | - |
| | 378-1010 | EDTM2241B | 10+ In Stock. Ready to ship. | - |
| | 378-1050 | EDTM2221B | 10+ In Stock. Ready to ship. | - |
| | 378-1037 | 78-1037 | 10+ In Stock. Ready to ship. | - |
| | 378-1001 | B38-6A | 10+ In Stock. Ready to ship. | - |
| | 378-1031 | EDTM2253B | 2 In Stock. Ready to ship. | 2 In Stock. |
| | 378-1100 | EDTM2216A | Unavailable. | - |
| | 378-1098 | EDTM2210B | Unavailable. | - |
| | 378-1084 | EDTM2648A | Unavailable. | - |
| | 378-1082 | EDTM2620B | Unavailable. | - |
| | 378-1079 | EDTM2644A | Unavailable. | - |
| | 378-1067 | EDTM2645A | Unavailable. | - |
| | 378-1063 | EDTM26B43 | Unavailable. | - |
| | 378-1055 | EDTM26C4B | Unavailable. | - |
| | 378-1054 | EDTM2216A | Unavailable. | - |
| | 378-1052 | 12N24-3 | Unavailable. | - |
| | 378-1043 | EDTM22102 | Unavailable. | - |
| | 378-1042 | EDTM2293B | Unavailable. | - |
| | 378-1038 | EDTM2274A | Unavailable. | - |
| | 378-1032 | EDTM2250B | Unavailable. | - |
| | 378-1022 | EDTM26551 | Unavailable. | - |
| | 378-1020 | EDTM26B4B | Unavailable. | - |
| | 378-1015 | EDTM26A4B | Unavailable. | - |
| | 378-1005 | EDTM2612J | Unavailable. | - |
| | 378-1003 | EDTM2623A | Unavailable. | - |