By browsing, you consent to our

use of Cookies

.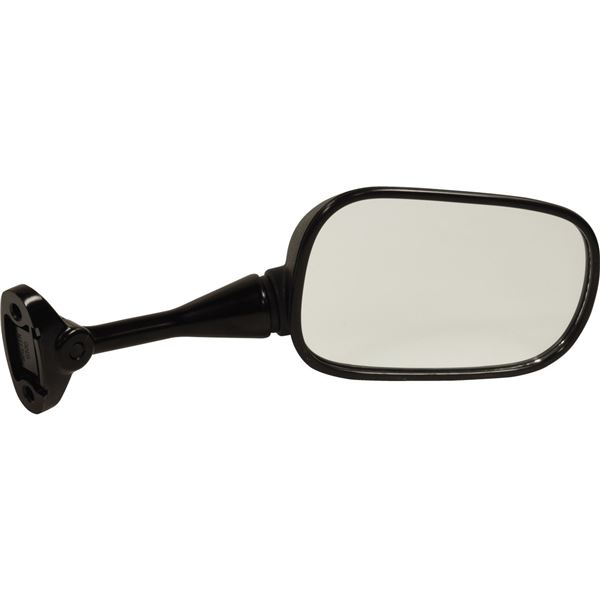 Free Shipping Over $75

Low Price Guarantee

No Hassle Returns

Designed to look just like your O.E.M mirror and give you a quality replacement at a great price.
O.E.M replacement
Mounts and looks like the original
Right side mirror
Note: Image for reference only. Actual product may vary according to vehicle.
With the wear and tear that a motorcycle goes through, having new motorcycle mirrors on standby are a must. An O.E.M. product like this ensures a seamless replacement that helps your bike look as good as the original.
Specifications
SKU
360-0218
Brand
Bikemaster
Frequently Bought Together

California Prop 65
WARNING: Cancer and Reproductive Harm - www.P65Warnings.ca.gov
Part Numbers
| | SKU | MPN | Availability | In-Store Pickup |
| --- | --- | --- | --- | --- |
| Black | 360-0218 | FH-232 RH | 3 In Stock. Ready to ship. | 3 In Stock. |
| Black | 360-0396 | FY-287 RH | 2 In Stock. Ready to ship. | 2 In Stock. |
| Carbon Fiber | 360-0280 | 600280 | 2 In Stock. Ready to ship. | 2 In Stock. |
| Black | 360-0278 | 600278 | 2 In Stock. Ready to ship. | 2 In Stock. |
| Carbon Fiber | 360-0236 | FS-142-1 RH | 2 In Stock. Ready to ship. | 2 In Stock. |
| Black | 360-0222 | FS-141 RH | 2 In Stock. Ready to ship. | 2 In Stock. |
| Carbon Fiber | 360-0220 | FH-232-1 RH | 2 In Stock. Ready to ship. | 2 In Stock. |
| Black | 360-0208 | FK-172 RH | 2 In Stock. Ready to ship. | 2 In Stock. |
| Black | 360-0204 | FS-137 RH | 2 In Stock. Ready to ship. | 2 In Stock. |
| Black | 360-0202 | FS-139 RH | 2 In Stock. Ready to ship. | 2 In Stock. |
| Black | 360-0200 | FA-61 RH | 2 In Stock. Ready to ship. | 2 In Stock. |
| Chrome | 360-0460 | FY-923R | 1 In Stock. Ready to ship. | - |
| Black | 360-0384 | FK-861-2 RH | 1 In Stock. Ready to ship. | - |
| Black | 360-0340 | MH028R | 1 In Stock. Ready to ship. | - |
| Black | 360-0338 | FK-295 RH | 1 In Stock. Ready to ship. | - |
| Black | 360-0334 | FY-291 RH | 1 In Stock. Ready to ship. | - |
| Black | 360-0324 | JY-138R | 1 In Stock. Ready to ship. | - |
| Black | 360-0316 | MK-008R | 1 In Stock. Ready to ship. | - |
| Black | 360-0294 | 600294 | 1 In Stock. Ready to ship. | - |
| Black | 360-0292 | 600292 | 1 In Stock. Ready to ship. | - |
| Black | 360-0290 | 600290 | 1 In Stock. Ready to ship. | - |
| Black | 360-0288 | 600288 | 1 In Stock. Ready to ship. | - |
| Black | 360-0284 | 600284 | 1 In Stock. Ready to ship. | - |
| Black | 360-0226 | UD-M017 | 1 In Stock. Ready to ship. | - |
| Carbon Fiber | 360-0224 | FS-141-1 RH | 1 In Stock. Ready to ship. | - |
| Black | 360-0214 | FH-231 RH | 1 In Stock. Ready to ship. | - |
| Black | 310-FH-982-RH | FH-982 RH | 1 In Stock. Ready to ship. | - |
| Chrome | 360-0470 | FS-926R | Unavailable. | - |
| Chrome | 360-0464 | FY-924R | Unavailable. | - |
| Chrome | 360-0462 | FY-923TR | Unavailable. | - |
| Black | 360-0458 | FY-869R | Unavailable. | - |
| Black | 360-0456 | FY-918R | Unavailable. | - |
| Black | 360-0454 | FS-292R | Unavailable. | - |
| Black | 360-0452 | FK-872R | Unavailable. | - |
| Black | 360-0450 | FK-873R | Unavailable. | - |
| Black | 360-0448 | FK-929R | Unavailable. | - |
| Black | 360-0386 | FS-876 RH | Unavailable. | - |
| Black | 360-0348 | FK-243 RH | Unavailable. | - |
| Black | 360-0346 | FK-177 RH | Unavailable. | - |
| Black | 360-0344 | FY-236 RH | Unavailable. | - |
| Black | 360-0330 | MY016-R | Unavailable. | - |
| Black | 360-0322 | MS012-R | Unavailable. | - |
| Black | 360-0320 | FK-289 RH | Unavailable. | - |
| Black | 360-0318 | FK-240 RH | Unavailable. | - |
| Black | 360-0234 | FS-142 RH | Unavailable. | - |
| Black | 360-0232 | UD-M023 | Unavailable. | - |
| Carbon Fiber | 360-0216 | FH-231-1 RH | Unavailable. | - |
| Chrome | 310-FY-997TRH | FY-997TRH | Unavailable. | - |
| Black | 310-FY-996RH | FY-996RH | Unavailable. | - |
| Black | 310-FY-979RH | FY-979RH | Unavailable. | - |
| Black | 310-FY-978RH | FY-978RH | Unavailable. | - |
| Black | 310-FY-956RH | FY-956RH | Unavailable. | - |
| Black | 310-FY-955RH | FY-955RH | Unavailable. | - |
| Black | 310-FY-953R | FY-953R | Unavailable. | - |
| Black | 310-FY-952R | FY-952R | Unavailable. | - |
| Black | 310-FY-804-RH | FY-804 RH | Unavailable. | - |
| Chrome | 310-FY-778-TRH | FY-778-TRH | Unavailable. | - |
| Black | 310-FY-288-RH | FY-288 RH | Unavailable. | - |
| Black | 310-FY-234-RH | FY-234 RH | Unavailable. | - |
| Black | 310-FY-228-RH | FY-228 RH | Unavailable. | - |
| Chrome | 310-FS-921R | FS-921R | Unavailable. | - |
| Black | 310-FS-801-RH | FS-801 RH | Unavailable. | - |
| Black | 310-FS-275-RH | FS-275 RH | Unavailable. | - |
| Black | 310-FK-999-RH | FK-999 RH | Unavailable. | - |
| Black | 310-FK-988-RH | FK-988 RH | Unavailable. | - |
| Black | 310-FK-976RH | FK-976RH | Unavailable. | - |
| Black | 310-FK-875RH | FK-875RH | Unavailable. | - |
| Black | 310-FK-811-RH | FK-811 RH | Unavailable. | - |
| Black | 310-FK-810-RH | FK-810 RH | Unavailable. | - |
| Black | 310-FK-806-RH | FK-806 RH | Unavailable. | - |
| Black | 310-FK-803RH | FK-803RH | Unavailable. | - |
| Black | 310-FK-802RH | FK-802RH | Unavailable. | - |
| Black | 310-FK-800RH | FK-800RH | Unavailable. | - |
| Black | 310-FK-388-RH | FK-388 RH | Unavailable. | - |
| Black | 310-FK-167RH | FK-167RH | Unavailable. | - |
| Black | 310-FK-166RH | FK-166RH | Unavailable. | - |
| Black | 310-FH-994-RH | FH-994 RH | Unavailable. | - |
| Black | 310-FH-949R | FH-949R | Unavailable. | - |
| Black | 310-FH-903-2-RH | FH-903-2 RH | Unavailable. | - |
| Black | 310-FH-850-RH | FH-850 RH | Unavailable. | - |
| Black | 310-FH-850-2-RH | FH-850-2 RH | Unavailable. | - |
| Black | 310-FH-300-7-RH | FH-300-7 RH | Unavailable. | - |
| Black | 310-FH-284-RH | FH-284 RH | Unavailable. | - |
| Black | 310-FD-981RH | FD-981RH | Unavailable. | - |
| Black | 310-FD-939-RH | FD-939 RH | Unavailable. | - |
| Black | 310-FD-916B-RH | FD-916B RH | Unavailable. | - |
| Black | 310-FD-321RH | FD-321RH | Unavailable. | - |