By browsing, you consent to our

use of Cookies

.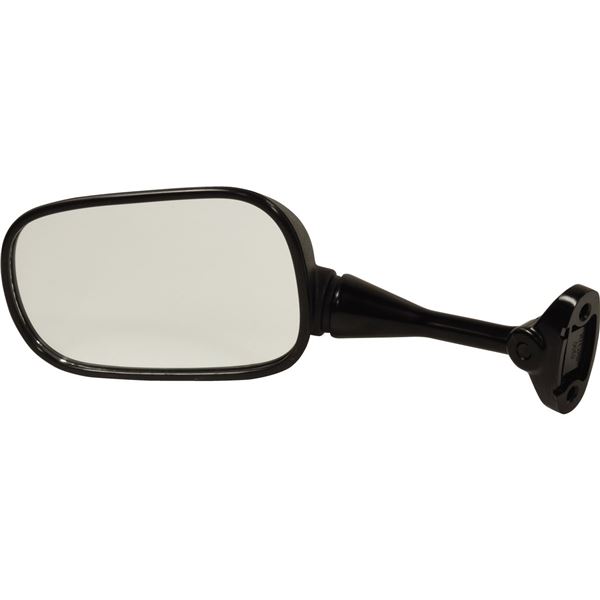 Free Shipping Over $75

Low Price Guarantee

No Hassle Returns

Designed to look just like your O.E.M mirror and give you a quality replacement at a great price.
O.E.M replacement
Mounts and looks like the original
Left side mirror
Note: Image for reference only. Actual product may vary according to vehicle.
Did one or more of your motorcycle mirrors take some heavy damage on your last ride? Check out our selection of direct-fit O.E.M. replacement mirrors by Bikemaster, designed to mount and perform just like the originals.
Specifications
SKU
360-0323
Brand
Bikemaster

California Prop 65
WARNING: Cancer and Reproductive Harm - www.P65Warnings.ca.gov
Part Numbers
| | SKU | MPN | Availability | In-Store Pickup |
| --- | --- | --- | --- | --- |
| Black | 360-0323 | MS012-L | 4 In Stock. Ready to ship. | 4 In Stock. |
| Black | 360-0293 | 600293 | 2 In Stock. Ready to ship. | 2 In Stock. |
| Black | 360-0233 | UD-M024 | 2 In Stock. Ready to ship. | 2 In Stock. |
| Carbon Fiber | 360-0225 | FS-141-1 LH | 2 In Stock. Ready to ship. | 2 In Stock. |
| Chrome | 360-0461 | FY-923L | 1 In Stock. Ready to ship. | - |
| Black | 360-0385 | FK-861-2 LH | 1 In Stock. Ready to ship. | - |
| Black | 360-0349 | FK-243 LH | 1 In Stock. Ready to ship. | - |
| Black | 360-0347 | FK-177 LH | 1 In Stock. Ready to ship. | - |
| Carbon Fiber | 360-0343 | MH028LCBN | 1 In Stock. Ready to ship. | - |
| Black | 360-0341 | MH028L | 1 In Stock. Ready to ship. | - |
| Black | 360-0339 | FK-295 LH | 1 In Stock. Ready to ship. | - |
| Black | 360-0335 | FY-291 LH | 1 In Stock. Ready to ship. | - |
| Black | 360-0319 | FK-240 LH | 1 In Stock. Ready to ship. | - |
| Black | 360-0317 | MK-008L | 1 In Stock. Ready to ship. | - |
| Black | 360-0295 | 600295 | 1 In Stock. Ready to ship. | - |
| Black | 360-0291 | 600291 | 1 In Stock. Ready to ship. | - |
| Black | 360-0289 | 600289 | 1 In Stock. Ready to ship. | - |
| Black | 360-0287 | 600287 | 1 In Stock. Ready to ship. | - |
| Black | 360-0285 | 600285 | 1 In Stock. Ready to ship. | - |
| Carbon Fiber | 360-0281 | 600281 | 1 In Stock. Ready to ship. | - |
| Black | 360-0279 | 600279 | 1 In Stock. Ready to ship. | - |
| Black | 360-0227 | UD-M018 | 1 In Stock. Ready to ship. | - |
| Black | 360-0223 | FS-141 LH | 1 In Stock. Ready to ship. | - |
| Carbon Fiber | 360-0221 | FH-232-1 LH | 1 In Stock. Ready to ship. | - |
| Black | 360-0219 | FH-232 LH | 1 In Stock. Ready to ship. | - |
| Carbon Fiber | 360-0217 | FH-231-1 LH | 1 In Stock. Ready to ship. | - |
| Black | 360-0205 | FS-137 LH | 1 In Stock. Ready to ship. | - |
| Black | 360-0203 | FS-139 LH | 1 In Stock. Ready to ship. | - |
| Black | 310-FY-804-LH | FY-804 LH | 1 In Stock. Ready to ship. | - |
| Chrome | 360-0471 | FS-926L | Unavailable. | - |
| Chrome | 360-0465 | FY-924L | Unavailable. | - |
| Black | 360-0459 | FY-869L | Unavailable. | - |
| Black | 360-0457 | FY-918L | Unavailable. | - |
| Black | 360-0455 | FS-292L | Unavailable. | - |
| Black | 360-0453 | FK-872L | Unavailable. | - |
| Black | 360-0451 | FK-873L | Unavailable. | - |
| Black | 360-0449 | FK-929L | Unavailable. | - |
| Black | 360-0397 | FY-287 LH | Unavailable. | - |
| Black | 360-0387 | FS-876 LH | Unavailable. | - |
| Black | 360-0345 | FY-236 LH | Unavailable. | - |
| Black | 360-0331 | MY016-L | Unavailable. | - |
| Black | 360-0325 | JY-138L | Unavailable. | - |
| Black | 360-0321 | FK-289 LH | Unavailable. | - |
| Carbon Fiber | 360-0237 | FS-142-1 LH | Unavailable. | - |
| Black | 360-0235 | FS-142 LH | Unavailable. | - |
| Black | 360-0215 | FH-231 LH | Unavailable. | - |
| Black | 360-0207 | FK-172 LH | Unavailable. | - |
| Black | 360-0201 | FA-61 LH | Unavailable. | - |
| Chrome | 310-FY-997TLH | FY-997TLH | Unavailable. | - |
| Black | 310-FY-996LH | FY-996LH | Unavailable. | - |
| Black | 310-FY-979LH | FY-979LH | Unavailable. | - |
| Black | 310-FY-978LH | FY-978LH | Unavailable. | - |
| Black | 310-FY-956LH | FY-956LH | Unavailable. | - |
| Black | 310-FY-955LH | FY-955LH | Unavailable. | - |
| Black | 310-FY-953L | FY-953L | Unavailable. | - |
| Black | 310-FY-952L | FY-952L | Unavailable. | - |
| Chrome | 310-FY-778-TLH | FY-778-TLH | Unavailable. | - |
| Black | 310-FY-288-LH | FY-288 LH | Unavailable. | - |
| Black | 310-FY-234-LH | FY-234 LH | Unavailable. | - |
| Black | 310-FY-228-LH | FY-228 LH | Unavailable. | - |
| Chrome | 310-FS-921L | FS-921L | Unavailable. | - |
| Black | 310-FS-801LH | FS-801LH | Unavailable. | - |
| Black | 310-FS-275-LH | FS-275 LH | Unavailable. | - |
| Black | 310-FK-999LH | FK-999LH | Unavailable. | - |
| Black | 310-FK-988-LH | FK-988 LH | Unavailable. | - |
| Black | 310-FK-976LH | FK-976LH | Unavailable. | - |
| Black | 310-FK-875LH | FK-875LH | Unavailable. | - |
| Black | 310-FK-811-LH | FK-811 LH | Unavailable. | - |
| Black | 310-FK-810-LH | FK-810 LH | Unavailable. | - |
| Black | 310-FK-806-LH | FK-806 LH | Unavailable. | - |
| Black | 310-FK-803LH | FK-803LH | Unavailable. | - |
| Black | 310-FK-802LH | FK-802LH | Unavailable. | - |
| Black | 310-FK-800LH | FK-800LH | Unavailable. | - |
| Black | 310-FK-388-LH | FK-388 LH | Unavailable. | - |
| Chrome | 310-FK-167LH | FK-167LH | Unavailable. | - |
| Chrome | 310-FK-166LH | FK-166LH | Unavailable. | - |
| Black | 310-FH-994-LH | FH-994 LH | Unavailable. | - |
| Black | 310-FH-982-LH | FH-982 LH | Unavailable. | - |
| Black | 310-FH-949L | FH-949L | Unavailable. | - |
| Black | 310-FH-903-2-LH | FH-903-2 LH | Unavailable. | - |
| Black | 310-FH-850-LH | FH-850 LH | Unavailable. | - |
| Black | 310-FH-850-2-LH | FH-850-2 LH | Unavailable. | - |
| Black | 310-FH-300-7-LH | FH-300-7 LH | Unavailable. | - |
| Black | 310-FH-284-LH | FH-284 LH | Unavailable. | - |
| Black | 310-FD-981LH | FD-981LH | Unavailable. | - |
| Black | 310-FD-939-LH | FD-939 LH | Unavailable. | - |
| Black | 310-FD-916B-LH | FD-916B LH | Unavailable. | - |
| Black | 310-FD-321LH | FD-321LH | Unavailable. | - |