By browsing, you consent to our

use of Cookies

.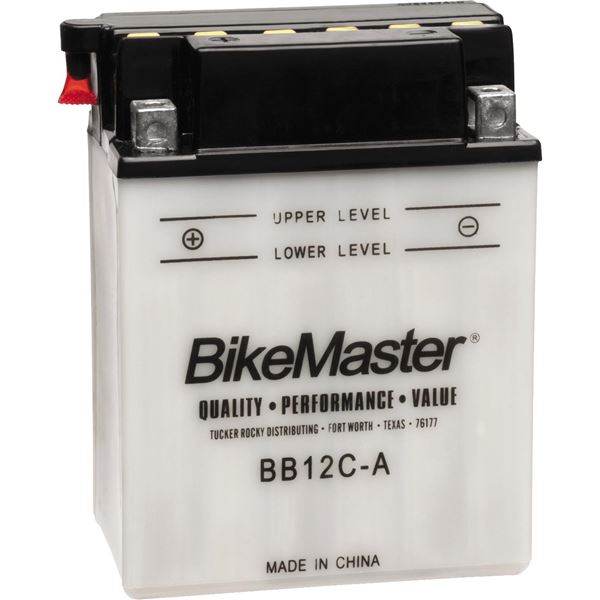 Free Shipping Over $75

Low Price Guarantee

No Hassle Returns

Bikemaster Conventional Motorcycle Batteries have been designed to provide increased cranking power due to improved plate design. The Conventional Motorcycle Battery includes a separate acid pack. The battery will also require a charge prior to installation.
Delivers increased cranking power as a result of improved technology used in plate design
Extra power at a very competitive price
Includes acid pack
May need periodic refilling
12 Volt
One year manufacturer's warranty
 Note: Image for reference only. Actual product may vary according to vehicle.
 Chaparral carries several Bikemaster Conventional Batteries including: 51814, 51913, 53030, HYB16A-A, HYB16A-AB, SY50-N18L-AT, SYB14L-A2, Y50-N18L-A, Y50-N18L-A3, Y60-N24AL-B, Y60-N24L-A, YB10A-A2, YB10L-A2, YB10L-B, YB10L-B2, YB12A-A, YB12A-A (w/sensor), YB12A-B, YB12AL-A, YB12AL-A2, YB12AL-A2 (w/adapter), YB12B-B2, YB12C-A, YB14-A2, YB14A-A1, YB14A-A2, YB14-B2, YB14L-A1, YB14L-A2, YB14L-B2, YB16AL-A2, YB16-B, YB16B-A, YB16B-A1, YB16CL-B, YB16L-B, YB18-A, YB18L-A, YB2.5L-C, YB2.5L-C-1, YB30CL-B, YB30L-B, YB3L-A, YB3L-B, YB4L-A, YB4L-B, YB5L-B, YB7-A, YB7B-B, YB7C-A, YB7L-B, YB9A-A, YB9-B, YB9L-A2, YB9L-B, and YTH16-12.
Specifications
SKU
378-1117
Brand
Bikemaster

California Prop 65
WARNING: Cancer and Reproductive Harm - www.P65Warnings.ca.gov
Part Numbers
| | SKU | MPN | Availability | In-Store Pickup |
| --- | --- | --- | --- | --- |
| | 378-1117 | 781117 | 4 In Stock. Ready to ship. | 4 In Stock. |
| | 378-1074 | EDTM229AY | 3 In Stock. Ready to ship. | 3 In Stock. |
| | 378-1056 | EDTM2214Y | 3 In Stock. Ready to ship. | 3 In Stock. |
| | 378-1160 | EDTM2224Y | 2 In Stock. Ready to ship. | 2 In Stock. |
| | 378-1144 | EDTM2281Y | 2 In Stock. Ready to ship. | 2 In Stock. |
| | 378-1129 | EDTM229LY | 2 In Stock. Ready to ship. | 2 In Stock. |
| | 378-1118 | EDTM2273Y | 2 In Stock. Ready to ship. | 2 In Stock. |
| | 378-1114 | BB7B-B | 2 In Stock. Ready to ship. | 2 In Stock. |
| | 378-1101 | EDTM226CL | 2 In Stock. Ready to ship. | 2 In Stock. |
| | 378-1158 | 781158 | 1 In Stock. Ready to ship. | - |
| | 378-1145 | EDTM2218L | 1 In Stock. Ready to ship. | - |
| | 378-1142 | EDTM22162 | 1 In Stock. Ready to ship. | - |
| | 378-1135 | EDTM2214A | 1 In Stock. Ready to ship. | - |
| | 378-1125 | EDTM2214H | 1 In Stock. Ready to ship. | - |
| | 378-1119 | EDTM2214B | 1 In Stock. Ready to ship. | - |
| | 378-1103 | EDTM224B2 | 1 In Stock. Ready to ship. | - |
| | 378-1072 | EDTM2212Y | 1 In Stock. Ready to ship. | - |
| | 378-1065 | EDTM221L2 | 1 In Stock. Ready to ship. | - |
| | 378-1157 | EDTM22S8T | Unavailable. | - |
| | 378-1140 | EDTM2214S | Unavailable. | - |
| | 378-1138 | EDTM22141 | Available. 5-7 Days. | - |
| | 378-1137 | BB12AL-A | Unavailable. | - |
| | 378-1136 | BB12AL-A2 | Unavailable. | - |
| | 378-1133 | 51913 | Unavailable. | - |
| | 378-1132 | 53030 | Unavailable. | - |
| | 378-1131 | 51814 | Unavailable. | - |
| | 378-1130 | EDTM2216K | Unavailable. | - |
| | 378-1128 | EDTM2292Y | Unavailable. | - |
| | 378-1127 | 781127 | Unavailable. | - |
| | 378-1126 | BB12AL-A W/ADAPTOR | Unavailable. | - |
| | 378-1124 | EDTM229BY | Unavailable. | - |
| | 378-1123 | EDTM227AY | Unavailable. | - |
| | 378-1115 | EDTM225LB | Available. 5-7 Days. | - |
| | 378-1111 | BB30L-B | Unavailable. | - |
| | 378-1110 | EDTM224LB | Unavailable. | - |
| | 378-1109 | EDTM223LB | Unavailable. | - |
| | 378-1107 | EDTM223LA | Unavailable. | - |
| | 378-1106 | 781106 | Unavailable. | - |
| | 378-1105 | EDTM225LC | Unavailable. | - |
| | 378-1104 | BB16B-A1 | Unavailable. | - |
| | 378-1099 | 781099 | Unavailable. | - |
| | 378-1095 | 781095 | Unavailable. | - |
| | 378-1093 | HBB16A-AB | Unavailable. | - |
| | 378-1091 | EDTM22S2Y | Unavailable. | - |
| | 378-1076 | EDTM221LB | Unavailable. | - |
| | 378-1070 | EDTM2216Y | Unavailable. | - |
| | 378-1066 | EDTM2210Y | Available. 5-7 Days. | - |
| | 378-1058 | B60-N24AL-B | Unavailable. | - |
| | 378-1057 | EDTM2218Y | Unavailable. | - |
| | 349-BB30CL-B | BB30CL-B | Unavailable. | - |
| | 349-BB12A-B | BB12A-B | Unavailable. | - |