By browsing, you consent to our

use of Cookies

.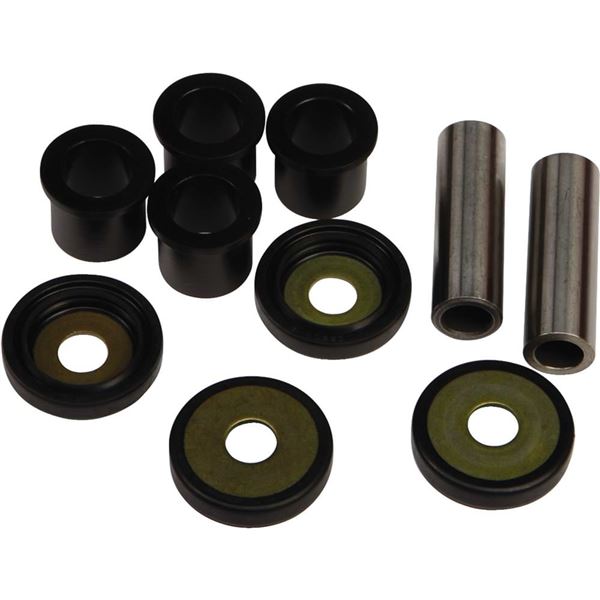 Free Shipping Over $75

Low Price Guarantee

No Hassle Returns

Contains all bearings, seals, shafts and misc. components to repair A-Arm bearing failure
Upgrade rubber bushings found in Utility ATV A-Arms to AB's redesigned HD Derlin bushings
Designed to replace worn out rubber bushings and provides greater suspension travel and performance
52100 bearing steel is hardened and precision ground
Double lip seals are Type TC
Each kit contains necessary bushings, hardened pins and seals to assure long component life
Kits are sold "per A-Arm"
Note: Image for reference only. Actual product may vary according to vehicle.
Specifications
SKU
AB50-1093
Brand
All Balls

California Prop 65
WARNING: Cancer and Reproductive Harm - www.P65Warnings.ca.gov
Part Numbers
| | SKU | MPN | Availability | In-Store Pickup |
| --- | --- | --- | --- | --- |
| | AB50-1093 | 50-1093 | 10+ In Stock. Ready to ship. | 3 In Stock. |
| | AB50-1176 | 50-1176 | 10+ In Stock. Ready to ship. | 2 In Stock. |
| | AB50-1186 | 50-1186 | 10+ In Stock. Ready to ship. | - |
| | AB50-1128 | 50-1128 | 10+ In Stock. Ready to ship. | - |
| | AB50-1096 | 50-1096 | 10+ In Stock. Ready to ship. | - |
| | AB50-1095 | 50-1095 | 10+ In Stock. Ready to ship. | - |
| | AB50-1092 | 50-1092 | 10+ In Stock. Ready to ship. | - |
| | AB50-1003 | 50-1003 | 10+ In Stock. Ready to ship. | - |
| | AB50-1131 | 50-1131 | 10+ In Stock. Ready to ship. | - |
| | AB50-1038 | 50-1038 | 10+ In Stock. Ready to ship. | - |
| | AB50-1090 | 50-1090 | 10+ In Stock. Ready to ship. | - |
| | AB50-1032 | 50-1032 | 10+ In Stock. Ready to ship. | - |
| | AB50-1130 | 50-1130 | 10+ In Stock. Ready to ship. | - |
| | AB50-1118 | 50-1118 | 10+ In Stock. Ready to ship. | - |
| | AB50-1005 | 50-1005 | 10+ In Stock. Ready to ship. | - |
| | AB50-1097 | 50-1097 | 10+ In Stock. Ready to ship. | - |
| | AB50-1036 | 50-1036 | 10+ In Stock. Ready to ship. | - |
| | AB50-1009 | 50-1009 | 10+ In Stock. Ready to ship. | - |
| | AB50-1119 | 50-1119 | 10+ In Stock. Ready to ship. | - |
| | AB50-1020 | 50-1020 | 10+ In Stock. Ready to ship. | - |
| | AB50-1037 | 50-1037 | 10+ In Stock. Ready to ship. | - |
| | AB50-1165 | 50-1165 | 10+ In Stock. Ready to ship. | - |
| | AB50-1143 | 50-1143 | 10+ In Stock. Ready to ship. | - |
| | AB50-1175 | 50-1175 | 10+ In Stock. Ready to ship. | - |
| | AB50-1039 | 50-1039 | 10+ In Stock. Ready to ship. | - |
| | AB50-1094 | 50-1094 | 10+ In Stock. Ready to ship. | - |
| | AB50-1133 | 50-1133 | 10+ In Stock. Ready to ship. | - |
| | AB50-1127 | 50-1127 | 10+ In Stock. Ready to ship. | - |
| | AB50-1126 | 50-1126 | 10+ In Stock. Ready to ship. | - |
| | AB50-1031 | 50-1031 | 10+ In Stock. Ready to ship. | 6 In Stock. |
| | AB50-1029 | 50-1029 | 10+ In Stock. Ready to ship. | - |
| | AB50-1028 | 50-1028 | 10+ In Stock. Ready to ship. | - |
| | AB50-1016 | 50-1016 | 10+ In Stock. Ready to ship. | - |
| | AB50-1033 | 50-1033 | 10+ In Stock. Ready to ship. | - |
| | AB50-1194 | 50-1194 | 10+ In Stock. Ready to ship. | - |
| | AB50-1188 | 50-1188 | 10+ In Stock. Ready to ship. | - |
| | AB50-1014 | 50-1014 | 10+ In Stock. Ready to ship. | - |
| | AB50-1161 | 50-1161 | 10+ In Stock. Ready to ship. | - |
| | AB50-1139 | 50-1139 | 10+ In Stock. Ready to ship. | 2 In Stock. |
| | AB50-1030 | 50-1030 | 10+ In Stock. Ready to ship. | 4 In Stock. |
| | AB50-1091 | 50-1091 | 10+ In Stock. Ready to ship. | - |
| | AB50-1193 | 50-1193 | 10+ In Stock. Ready to ship. | - |
| | AB50-1040 | 50-1040 | 10+ In Stock. Ready to ship. | - |
| | AB50-1002 | 50-1002 | 10+ In Stock. Ready to ship. | - |
| | AB50-1233 | 50-1233 | 10+ In Stock. Ready to ship. | - |
| | AB50-1160 | 50-1160 | 10+ In Stock. Ready to ship. | - |
| | AB50-1018 | 50-1018 | 10+ In Stock. Ready to ship. | - |
| | AB50-1008 | 50-1008 | 10+ In Stock. Ready to ship. | - |
| | AB50-1191 | 50-1191 | 10+ In Stock. Ready to ship. | - |
| | AB50-1168 | 50-1168 | 10+ In Stock. Ready to ship. | - |
| | AB50-1004 | 50-1004 | 10+ In Stock. Ready to ship. | - |
| | AB50-1163 | 50-1163 | 10+ In Stock. Ready to ship. | - |
| | AB50-1006 | 50-1006 | 10+ In Stock. Ready to ship. | - |
| | AB50-1140 | 50-1140 | 10+ In Stock. Ready to ship. | - |
| | AB50-1088 | 50-1088 | 10+ In Stock. Ready to ship. | - |
| | AB50-1067 | 50-1067 | 10+ In Stock. Ready to ship. | - |
| | AB50-1184 | 50-1184 | 10+ In Stock. Ready to ship. | - |
| | AB50-1189 | 50-1189 | 10+ In Stock. Ready to ship. | - |
| | AB50-1147 | 50-1147 | 10+ In Stock. Ready to ship. | - |
| | AB50-1078 | 50-1078 | 10+ In Stock. Ready to ship. | - |
| | AB50-1192 | 50-1192 | 10+ In Stock. Ready to ship. | - |
| | AB50-1190 | 50-1190 | 10+ In Stock. Ready to ship. | - |
| | AB50-1152 | 50-1152 | 10+ In Stock. Ready to ship. | - |
| | AB50-1027 | 50-1027 | 10+ In Stock. Ready to ship. | - |
| | AB50-1019 | 50-1019 | 10+ In Stock. Ready to ship. | - |
| | AB50-1206 | 50-1206 | 10 In Stock. Ready to ship. | - |
| | AB50-1089 | 50-1089 | 10 In Stock. Ready to ship. | - |
| | AB50-1011 | 50-1011 | 10 In Stock. Ready to ship. | - |
| | AB50-1012 | 50-1012 | 8 In Stock. Ready to ship. | - |
| | AB50-1001 | 50-1001 | 8 In Stock. Ready to ship. | - |
| | AB50-1187 | 50-1187 | 7 In Stock. Ready to ship. | - |
| | AB50-1022 | 50-1022 | 4 In Stock. Ready to ship. | - |
| | AB50-1073 | 50-1073 | 3 In Stock. Ready to ship. | - |
| | AB50-1013 | 50-1013 | Unavailable. | - |