By browsing, you consent to our

use of Cookies

.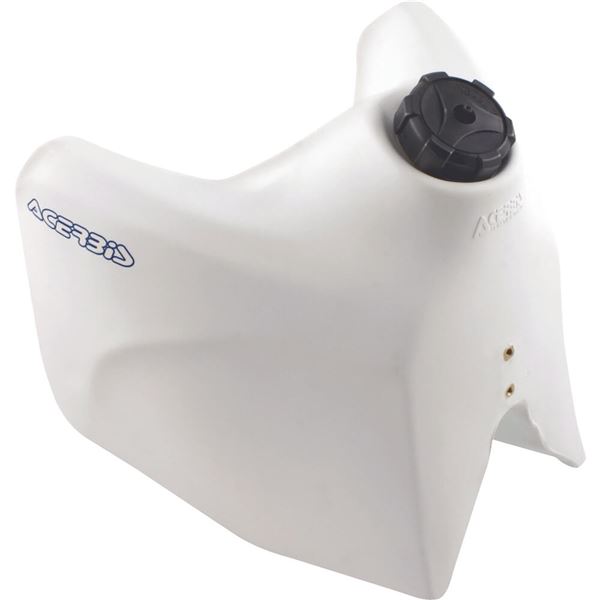 Fast, Free Shipping

Low Price Guarantee

No Hassle Returns

Fuel tank made with impact and abrasion resistant PU (Polyurethane)
Provides additional fuel capacity while still providing slim ergonomics and sleek look
Complete with all mounting hardware
Acerbis replacement cap and vent hose included
Note: Applications that require special fuel Y-fittings, petcocks, etc. will come with the tank. EFI tanks do NOT come with the fuel pump, they are designed to accept the stock one.
Note: Image for reference only. Actual product my vary according to vehicle.
Note: Yamaha WR 250/450F 2003-2004 fuel tanks must be used in conjunction with Yamaha YZF 2003-2005 shrouds
Increase the fuel capacity of your motorcycle by replacing the fuel tank. The tank is designed to handle the rigors of the trail or race. The additional fuel lets you ride longer and harder.
Specifications
SKU
257-237429-0001
Brand
Acerbis
Frequently Bought Together

California Prop 65
WARNING: Cancer and Reproductive Harm - www.P65Warnings.ca.gov
Part Numbers
| | SKU | MPN | Availability | In-Store Pickup |
| --- | --- | --- | --- | --- |
| Black 3.1 | 257-237429-0001 | 2374290001 | 7 In Stock. Ready to ship. | 7 In Stock. |
| Natural 2.9 | 4007.0101.30.5 | 2140620147 | 5 In Stock. Ready to ship. | - |
| Natural 3.1 | 257-273212-0147 | 273212-0147 | 5 In Stock. Ready to ship. | - |
| Black 3.1 | 257-273212-0001 | 273212-0001 | 5 In Stock. Ready to ship. | - |
| Black 2.7 | 257-263072-0001 | 2630720001 | 5 In Stock. Ready to ship. | - |
| Natural 3 | 4007.0114.30.6 | 2140820147 | 4 In Stock. Ready to ship. | - |
| Black 4 | 257-273209-0001 | 273209-0001 | 2 In Stock. Ready to ship. | 2 In Stock. |
| Natural 2.7 | 257-225366-0147 | 2253660147 | 2 In Stock. Ready to ship. | 2 In Stock. |
| Natural 3.2 | 257-225031-0147 | 2250310147 | 2 In Stock. Ready to ship. | 2 In Stock. |
| Natural 3.2 | 257-221156-0147 | 2211560147 | 2 In Stock. Ready to ship. | 2 In Stock. |
| Natural 2.3 | 257-220540-0147 | 2205400147 | 2 In Stock. Ready to ship. | 2 In Stock. |
| Black 3 | 4007.0114.1.6 | 2140820001 | 1 In Stock. Ready to ship. | - |
| Black 4.25 | 4007.0107.1.48 | 2140660001 | 1 In Stock. Ready to ship. | - |
| Natural 6.6 | 4007.0103.30.42 | 2140630147 | 1 In Stock. Ready to ship. | - |
| White 2.9 | 4007.0102.30.5 | 2140740147 | 1 In Stock. Ready to ship. | - |
| Natural 2.7 | 257-274262-0147 | 274262-0147 | 1 In Stock. Ready to ship. | - |
| Black 3.1 | 257-273208-0001 | 273208-0001 | 1 In Stock. Ready to ship. | - |
| Black 4.1 | 257-267620-0001 | 2676200001 | 1 In Stock. Ready to ship. | - |
| Black 2.9 | 257-264553-0001 | 2645530001 | 1 In Stock. Ready to ship. | - |
| Natural 2.7 | 257-263072-0147 | 2630720147 | 1 In Stock. Ready to ship. | - |
| Yellow 3.9 | 257-246481-0230 | 2464810230 | 1 In Stock. Ready to ship. | - |
| Black 3.9 | 257-246481-0001 | 2464810001 | 1 In Stock. Ready to ship. | - |
| Blue 2.2 | 257-237505-0003 | 2375050003 | 1 In Stock. Ready to ship. | - |
| Natural 3.1 | 257-237429-0147 | 2374290147 | 1 In Stock. Ready to ship. | - |
| Natural 1.7 | 257-237403-0147 | 2374030147 | 1 In Stock. Ready to ship. | - |
| Natural 4.1 | 257-237402-0147 | 2374020147 | 1 In Stock. Ready to ship. | - |
| Black 4.1 | 257-236775-0001 | 2367750001 | 1 In Stock. Ready to ship. | - |
| Black 2.7 | 257-232088-0001 | 2320880001 | 1 In Stock. Ready to ship. | - |
| Natural 3.2 | 257-225032-0147 | 2250320147 | 1 In Stock. Ready to ship. | - |
| Black 3.2 | 257-225031-0001 | 2250310001 | 1 In Stock. Ready to ship. | - |
| Natural 2.7 | 257-216017-0147 | 2160170147 | 1 In Stock. Ready to ship. | - |
| Black 2.7 | 257-216017-0001 | 2160170001 | 1 In Stock. Ready to ship. | - |
| YZ Blue 3.4 | 257-1612-82 | 204436-0211 | 1 In Stock. Ready to ship. | - |
| YZ Blue 6.6 | 4007.0122.33.42 | 2140700211 | Unavailable. | - |
| Natural 3.3 | 4007.0121.30.9 | 2140750147 | Available. 5-7 Days. | - |
| YZ Blue 3.3 | 4007.0120.33.9 | 2140690211 | Unavailable. | - |
| Natural 3.3 | 4007.0120.30.9 | 2140690147 | Available. 5-7 Days. | - |
| YZ Blue 3.4 | 4007.0119.33.10 | 2140730211 | Unavailable. | - |
| Natural 3.4 | 4007.0119.30.10 | 2140730147 | Unavailable. | - |
| Natural 3 | 4007.0117.30.6 | 2140770147 | Unavailable. | - |
| Black 3 | 4007.0117.1.6 | 2140770001 | Unavailable. | - |
| White 6.6 | 4007.0116.5.42 | 2140650002 | Available. 5-7 Days. | - |
| White 4.25 | 4007.0115.5.48 | 2140640002 | Available. 5-7 Days. | - |
| Orange 6.3 | 4007.0112.8.39 | 2140780237 | Available. 5-7 Days. | - |
| KTM Orange 6.6 | 4007.0111.8.42 | 2140670237 | Available. 5-7 Days. | - |
| Black 3.3 | 4007.0110.1.9 | 2140810001 | Unavailable. | - |
| Natural 4.1 | 4007.0109.30.17 | 2140830147 | Unavailable. | - |
| Black 4.1 | 4007.0109.1.17 | 2140830001 | Unavailable. | - |
| Natural 3.3 | 4007.0108.30.9 | 2140760147 | Available. 5-7 Days. | - |
| Black 3.3 | 4007.0108.1.9 | 2140760001 | Available. 5-7 Days. | - |
| 03 RM Yellow 4.25 | 4007.0107.32.48 | 2140660230 | Available. 5-7 Days. | - |
| White 5.8 | 4007.0105.5.34 | 2062480002 | Unavailable. | - |
| Natural 4.75 | 4007.0104.30.47 | 2140800147 | Unavailable. | - |
| Red 4.75 | 4007.0104.3.47 | 2140800004 | Unavailable. | - |
| Black 2.9 | 4007.0102.1.5 | 2140740001 | Available. 5-7 Days. | - |
| Black 2.9 | 4007.0101.1.5 | 2140620001 | Available. 5-7 Days. | - |
| YZ Blue 3.4 | 257-7457-82 | 204429-0211 | Unavailable. | - |
| Natural 3.2 | 257-297941-0147 | 2979410147 | Unavailable. | - |
| Black 3.2 | 257-297941-0001 | 2979410001 | Unavailable. | - |
| Natural 2.9 | 257-297939-0147 | 2979390147 | Unavailable. | - |
| Black 2.9 | 257-297939-0001 | 2979390001 | Unavailable. | - |
| Blue 3.2 | 257-297632-0211 | 2976320211 | Unavailable. | - |
| Natural 3.2 | 257-297632-0147 | 2976320147 | Unavailable. | - |
| Black 3.2 | 257-297632-0001 | 2976320001 | Unavailable. | - |
| Black 6.6 | 257-297612-0001 | 2976120001 | Unavailable. | - |
| Natural 3.7 | 257-297610-0147 | 2976100147 | Unavailable. | - |
| Black 3.7 | 257-297610-0001 | 2976100001 | Unavailable. | - |
| Natural 3.9 | 257-278066-0147 | 278066-0147 | Unavailable. | - |
| Black 3.9 | 257-278066-0001 | 278066-0001 | Unavailable. | - |
| Natural 3.1 | 257-278065-0147 | 278065-0147 | Unavailable. | - |
| Black 3.1 | 257-278065-0001 | 278065-0001 | Unavailable. | - |
| Natural 3.1 | 257-278064-0147 | 278064-0147 | Unavailable. | - |
| Black 3.1 | 257-278064-0001 | 278064-0001 | Unavailable. | - |
| Natural 3.9 | 257-278063-0147 | 278063-0147 | Unavailable. | - |
| Black 3.9 | 257-278063-0001 | 278063-0001 | Unavailable. | - |
| Natural 3.1 | 257-278062-0147 | 278062-0147 | Unavailable. | - |
| Black 3.1 | 257-278062-0001 | 278062-0001 | Unavailable. | - |
| Natural 1 | 257-278061-0147 | 278061-0147 | Unavailable. | - |
| Black 1 | 257-278061-0001 | 278061-0001 | Unavailable. | - |
| Black 2.7 | 257-274262-0001 | 274262-0001 | Unavailable. | - |
| Natural 4 | 257-273211-0147 | 273211-0147 | Unavailable. | - |
| Black 4 | 257-273211-0001 | 273211-0001 | Unavailable. | - |
| Natural 3.1 | 257-273210-0147 | 273210-0147 | Unavailable. | - |
| Black 3.1 | 257-273210-0001 | 273210-0001 | Unavailable. | - |
| Natural 4 | 257-273209-0147 | 273209-0147 | Unavailable. | - |
| Natural 3.1 | 257-273208-0147 | 273208-0147 | Unavailable. | - |
| YZ Blue 2.6 | 257-272676-0211 | 272676-0211 | Unavailable. | - |
| Natural 2.6 | 257-272676-0147 | 272676-0147 | Unavailable. | - |
| Natural 3.1 | 257-272674-0147 | 272674-0147 | Unavailable. | - |
| Black 3.1 | 257-272674-0001 | 272674-0001 | Unavailable. | - |
| Natural 3 | 257-267621-0147 | 2676210147 | Unavailable. | - |
| Black 3 | 257-267621-0001 | 2676210001 | Unavailable. | - |
| Natural 4.1 | 257-267620-0147 | 2676200147 | Unavailable. | - |
| Natural 2.9 | 257-264553-0147 | 2645530147 | Available. 5-7 Days. | - |
| Natural 3.9 | 257-246481-0147 | 2464810147 | Available. 5-7 Days. | - |
| Grey 3.9 | 257-246481-0011 | 2464810011 | Available. 5-7 Days. | - |
| Blue 3.9 | 257-246481-0003 | 2464810003 | Available. 5-7 Days. | - |
| Black 3 | 257-246475-0001 | 2464750001 | Unavailable. | - |
| Black 3 | 257-244972-0001 | 2449720001 | Unavailable. | - |
| Black 2.7 | 257-237507-0001 | 2375070001 | Available. 5-7 Days. | - |
| Natural 3 | 257-237506-0147 | 2375060147 | Unavailable. | - |
| Black 3 | 257-237506-0001 | 2375060001 | Unavailable. | - |
| White 2.2 | 257-237505-0002 | 2375050002 | Unavailable. | - |
| Black 2.2 | 257-237505-0001 | 2375050001 | Unavailable. | - |
| Natural 2.3 | 257-237422-0147 | 2374220147 | Available. 5-7 Days. | - |
| Black 2.3 | 257-237422-0001 | 2374220001 | Unavailable. | - |
| Red 1.7 | 257-237403-0004 | 2374030004 | Available. 5-7 Days. | - |
| Black 4.1 | 257-237402-0001 | 2374020001 | Available. 5-7 Days. | - |
| Natural 6.6 | 257-236776-0147 | 2367760147 | Available. 5-7 Days. | - |
| Grey 6.6 | 257-236776-0011 | 2367760011 | Available. 5-7 Days. | - |
| Blue 6.6 | 257-236776-0003 | 2367760003 | Available. 5-7 Days. | - |
| White 6.6 | 257-236776-0002 | 2367760002 | Available. 5-7 Days. | - |
| Black 6.6 | 257-236776-0001 | 2367760001 | Unavailable. | - |
| Natural 4.1 | 257-236775-0147 | 2367750147 | Available. 5-7 Days. | - |
| Black 2.7 | 257-225366-0001 | 2253660001 | Unavailable. | - |
| White 5.3 | 257-225046-0002 | 225046-0002 | Unavailable. | - |
| Natural 5.3 | 257-225036-0147 | 2250360147 | Unavailable. | - |
| Grey 5.3 | 257-225036-0011 | 2250360011 | Available. 5-7 Days. | - |
| Blue 5.3 | 257-225036-0003 | 2250360003 | Available. 5-7 Days. | - |
| White 5.3 | 257-225036-0002 | 2250360002 | Unavailable. | - |
| Black 5.3 | 257-225036-0001 | 2250360001 | Unavailable. | - |
| Natural 5.3 | 257-225035-0147 | 2250350147 | Available. 5-7 Days. | - |
| Black 5.3 | 257-225035-0001 | 2250380001 | Unavailable. | - |
| Natural 5.3 | 257-225034-0147 | 2250340147 | Available. 5-7 Days. | - |
| Black 5.3 | 257-225034-0001 | 2250340001 | Available. 5-7 Days. | - |
| Natural 5.3 | 257-225033-0147 | 2250330147 | Unavailable. | - |
| Black 5.3 | 257-225033-0001 | 2250330001 | Unavailable. | - |
| Black 3.2 | 257-225032-0001 | 2250320001 | Available. 5-7 Days. | - |
| Natural 3.2 | 257-225030-0147 | 2250300147 | Available. 5-7 Days. | - |
| Black 3.2 | 257-225030-0001 | 2250300001 | Available. 5-7 Days. | - |
| YZ Blue 3.2 | 257-221156-0003 | 2211560003 | Unavailable. | - |
| Black 2.3 | 257-220540-0001 | 2205400001 | Available. 5-7 Days. | - |
| White 5.3 | 257-219795-0002 | 219795-0002 | Available. 5-7 Days. | - |
| Black 5.3 | 257-219795-0001 | 219795-0001 | Available. 5-7 Days. | - |
| Natural 3.7 | 257-216018-0147 | 2160180147 | Unavailable. | - |
| Black 3.7 | 257-216018-0001 | 2160180001 | Unavailable. | - |
| Orange 3.4 | 257-214079-0237 | 2140790237 | Available. 5-7 Days. | - |
| Black 3.7 | 257-214068-0001 | 2140680001 | Available. 5-7 Days. | - |
| Red 6.6 | 257-214063-0004 | 2140630004 | Unavailable. | - |
| White 6 | 257-212563-0002 | 212563-0002 | Unavailable. | - |
| Black 6 | 257-212563-0001 | 212563-0001 | Unavailable. | - |
| Black 6 | 257-211830-0001 | 211830-0001 | Unavailable. | - |
| Red 5.8 | 257-206248-0229 | 2062480229 | Available. 5-7 Days. | - |
| Red 5.8 | 257-204433-0229 | 2044330229 | Available. 5-7 Days. | - |
| Natural 5.8 | 257-204433-0147 | 2044330147 | Available. 5-7 Days. | - |
| White 4.25 | 257-1604-06 | 204411-0002 | Unavailable. | - |
| White 5.8 | 257-1590-06 | 2044330002 | Unavailable. | - |