By browsing, you consent to our

use of Cookies

.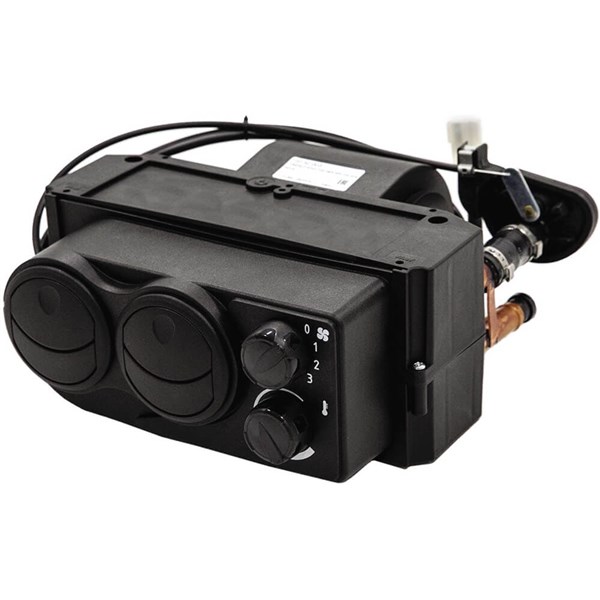 Fast, Free Shipping

Low Price Guarantee

No Hassle Returns

SuperATV's Cab Heater will keep you warm and toasty, even in the most brutal cold temperatures. It draws heat directly from your engine, just like a traditional car heater, and mounts under the dash to stay out of the way. Thanks to multiple temperatures and fan speeds, you'll be in total control of your cab's comfort. A warm cab isn't worth a whole lot if you can't see where you're going. Luckily, this kit includes two defrost vents and hoses in addition to the vents in the heater itself. These defrost vents get routed neatly through your dash so you don't have to worry about the hoses getting in the way. This kit uses high grade radiator hoses that are rated from -40 to 285 degres F, so no matter how cold it is outside or how hot your engine gets, this cab heater can handle it. This kit comes with everything you need for a fast and easy install, including hoses, drill bits, and machine specific mounting plates. You'll have your new UTV heater up and running in no time.
Adjustable temperature and fan speeds
360 degrees adjustable vents
High grade radiator hoses rated -40 to 285 degres F
Includes defrost hoses and vents
Capable of 14,600 BTU at 135 CFM
3.4 amps at 13.7V
Built in shutoff valve
Easy install includes all installation hardware and instructions
Heater control box measures 10"L x 4 1/2"W x 11 3/4"H
Note: Drilling through plastic and firewall may be required, all necessary bits are included.
Specifications
SKU
S-HTR-P-RZRXPTS
Brand
Super ATV

California Prop 65
WARNING: Cancer and Reproductive Harm - www.P65Warnings.ca.gov
Part Numbers
| | SKU | MPN | Availability | In-Store Pickup |
| --- | --- | --- | --- | --- |
| | S-HTR-P-RZRXPTS | HTR-P-RZRXPTS | 10+ In Stock. Ready to ship. | - |
| | S-HTR-P-RZR1K | HTR-P-RZR1K | 10+ In Stock. Ready to ship. | - |
| | S-HTR-P-RAN900 | HTR-P-RAN900 | 10+ In Stock. Ready to ship. | - |
| | S-HTR-P-RAN1K | HTR-P-RAN1K | 10+ In Stock. Ready to ship. | - |
| | S-HTR-CA-DEF | HTR-CA-DEF | 10+ In Stock. Ready to ship. | - |
| | S-HTR-H-PIO1K | HTR-H-PIO1K | 10+ In Stock. Ready to ship. | - |
| | S-HTR-P-RANMID | HTR-P-RANMID | 10+ In Stock. Ready to ship. | - |
| | S-HTR-P-GEN1K | HTR-P-GEN1K | 10+ In Stock. Ready to ship. | - |
| | S-HTR-P-RZR900S | HTR-P-RZR900S | 10 In Stock. Ready to ship. | - |
| | S-HTR-K-MULE-FXT | HTR-K-MULE-FXT | 9 In Stock. Ready to ship. | - |
| | S-HTR-Y-VIK | HTR-Y-VIK | 8 In Stock. Ready to ship. | - |
| | S-HTR-K-TRX4 | HTR-K-TRX4 | 4 In Stock. Ready to ship. | - |
| | S-HTR-CA-COM | HTR-CA-COM | 3 In Stock. Ready to ship. | - |