By browsing, you consent to our

use of Cookies

.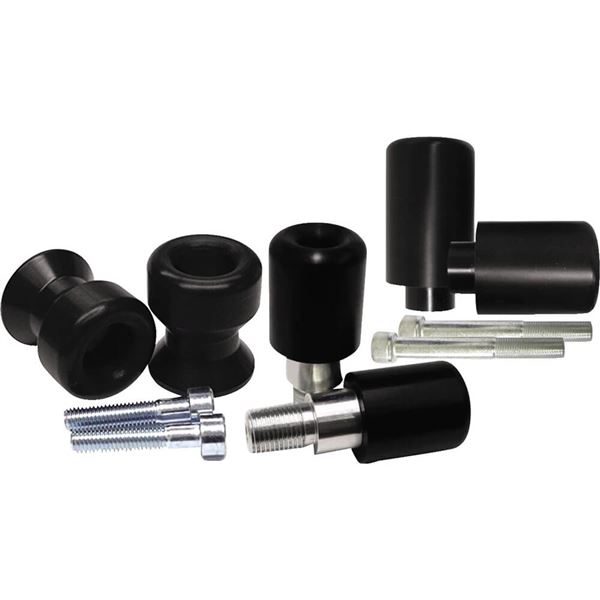 Fast, Free Shipping

Low Price Guarantee

No Hassle Returns

Pucks are made of shatter proof UHMW (ultra high molecular weight) material infused with UV protective polymer
Pucks absorb kinetic energy from crashes and will not shatter in cold temperature like some types of Delrin or fade in the sun
Each puck has a press fit aluminum bushing to hold it in place during impact to reduce the risk of the puck tearing off of the mounting point
Frame slider offsets are CNC machined from the same grade aluminum as military aircraft
Offsets are anodized black to match O.E.M components. Each offset is manufactured to stringent specifications with ISO 9000 quality control
Sliders use the latest CAD/CAM technology and are specifically designed for each model to ensure the best fitment and highest level of protection
Each frame slider comes with high tensile strength corrosion resistant hardware
Shogun uses socket head bolts in nearly every kit, allowing for stronger frame slider design in a more compact space
Newer applications of Shogun frame sliders make use of a counter sunk design, which distributes the force of impact over a wider area and gives additional strength to the system so that the puck remains attached to the motorcycle
Includes Bar end sliders, swingarm sliders and frame sliders
Made in the USA
Black
Note: Some models may require modifications for application.
Note: Image for reference only. Actual product may vary according to vehicle.
These pucks made of shatterproof UHMW absorb the energy from crashes and won't shatter or fade in extreme temperatures. The sliders are specially designed to fit and protect each model perfectly.
Shogun Frame Slider Full Kit
Specifications
SKU
71-755-6129
Brand
Shogun

California Prop 65
WARNING: Cancer and Reproductive Harm - www.P65Warnings.ca.gov
Part Numbers
| | SKU | MPN | Availability | In-Store Pickup |
| --- | --- | --- | --- | --- |
| Black | 71-755-6129 | 755-6129 | 9 In Stock. Ready to ship. | - |
| Black | 71-1281 | 755-3809 | 9 In Stock. Ready to ship. | - |
| Black | 71-755-4849 | 755-4849 | 6 In Stock. Ready to ship. | - |
| Black | 71-755-4839 | 755-4839 | 6 In Stock. Ready to ship. | - |
| Black | 71-1586 | 755-6739 | 5 In Stock. Ready to ship. | - |
| Black | 71-1486 | 755-5449 | 5 In Stock. Ready to ship. | - |
| Black | 71-1484 | 755-5229 | 5 In Stock. Ready to ship. | - |
| Black | 71-1356 | 755-4949 | 5 In Stock. Ready to ship. | - |
| Black | 71-1587 | 755-6749 | 4 In Stock. Ready to ship. | - |
| Black | 71-1585 | 755-6359 | 4 In Stock. Ready to ship. | - |
| Black | 71-1488 | 755-5339 | 4 In Stock. Ready to ship. | - |
| Black | 71-1483 | 755-5319 | 4 In Stock. Ready to ship. | - |
| Black | 71-1480 | 755-5309 | 4 In Stock. Ready to ship. | - |
| Black | 71-755-5659 | 755-5659 | 3 In Stock. Ready to ship. | - |
| Black | 71-1583 | 755-6719 | 3 In Stock. Ready to ship. | - |
| Black | 71-1580 | 755-6309 | 3 In Stock. Ready to ship. | - |
| Black | 71-755-6399 | 755-6399 | 2 In Stock. Ready to ship. | - |
| Black | 71-755-4449 | 755-4449 | 2 In Stock. Ready to ship. | - |
| Black | 71-1287 | 755-3349 | 2 In Stock. Ready to ship. | - |
| Black | 71-755-5639 | 755-5639 | 1 In Stock. Ready to ship. | - |
| Black | 71-755-3939 | 755-3939 | 1 In Stock. Ready to ship. | - |
| Black | 71-1485 | 755-5439 | 1 In Stock. Ready to ship. | - |
| Black | 71-1389 | 755-4439 | 1 In Stock. Ready to ship. | - |
| Black | 71-1380 | 755-4409 | 1 In Stock. Ready to ship. | - |
| Black | 71-755-7769 | 755-7769 | Unavailable. | - |
| Black | 71-755-7759 | 755-7759 | Unavailable. | - |
| Black | 71-755-6759 | 755-6759 | Unavailable. | - |
| Black | 71-755-6149 | 755-6149 | Unavailable. | - |
| Black | 71-755-5629 | 755-5629 | Unavailable. | - |
| Black | 71-755-5619 | 755-5619 | Unavailable. | - |
| Black | 71-755-5379 | 755-5379 | Unavailable. | - |
| Black | 71-755-4719 | 755-4719 | Unavailable. | - |
| Black | 71-755-4709 | 755-4709 | Unavailable. | - |
| Black | 71-755-4539 | 755-4539 | Unavailable. | - |
| Black | 71-755-4529 | 755-4529 | Unavailable. | - |
| Black | 71-755-3959 | 755-3959 | Unavailable. | - |
| Black | 71-755-3369 | 755-3369 | Unavailable. | - |
| Black | 71-755-3359 | 755-3359 | Unavailable. | - |
| Black | 71-1626 | 755-7749 | Unavailable. | - |
| Black | 71-1622 | 755-7739 | Unavailable. | - |
| Black | 71-1584 | 755-6349 | Unavailable. | - |
| Black | 71-1582 | 755-6709 | Unavailable. | - |
| Black | 71-1581 | 755-6329 | Unavailable. | - |
| Black | 71-1482 | 755-5419 | Unavailable. | - |
| Black | 71-1481 | 755-5409 | Unavailable. | - |
| Black | 71-1438 | 755-5469 | Unavailable. | - |
| Black | 71-1434 | 755-5459 | Unavailable. | - |
| Black | 71-14006 | 755-5359 | Unavailable. | - |
| Black | 71-1390 | 755-4129 | Unavailable. | - |
| Black | 71-1388 | 755-4429 | Unavailable. | - |
| Black | 71-1387 | 755-4939 | Unavailable. | - |
| Black | 71-1384 | 755-4119 | Unavailable. | - |
| Black | 71-1383 | 755-4419 | Unavailable. | - |
| Black | 71-1382 | 755-4919 | Unavailable. | - |
| Black | 71-1381 | 755-4909 | Unavailable. | - |
| Black | 71-1285 | 755-3929 | Unavailable. | - |
| Black | 71-1283 | 755-3319 | Unavailable. | - |
| Black | 71-1282 | 755-3819 | Unavailable. | - |
| Black | 71-1280 | 755-3309 | Unavailable. | - |