By browsing, you consent to our

use of Cookies

.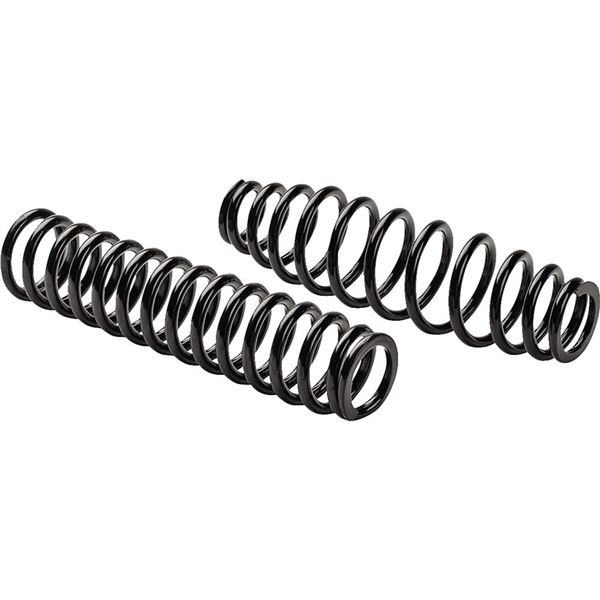 Free Shipping Over $75

Low Price Guarantee

No Hassle Returns

Bottoming out is not a pleasant sensation, and one that can be avoided with these durable suspension springs.
Made from high quality chrome silicone
Heavy duty springs are approximately 25-30% heavier than stock
ISO 9001:2000 certified
Sold individually
Made in USA
Note: Image for reference only. Actual product may vary according to vehicle.
Specifications
SKU
315-WE325117
Brand
Quadboss

California Prop 65
WARNING: Cancer and Reproductive Harm - www.P65Warnings.ca.gov
Part Numbers
| | SKU | MPN | Availability | In-Store Pickup |
| --- | --- | --- | --- | --- |
| | 315-WE325117 | WE325117 | 10+ In Stock. Ready to ship. | - |
| | 315-WE325114 | WE325114 | 10+ In Stock. Ready to ship. | - |
| | 315-WE321520 | WE321520 | 9 In Stock. Ready to ship. | - |
| | 315-WE321450 | WE321450 | 9 In Stock. Ready to ship. | - |
| | 315-WE324010 | WE324010 | 7 In Stock. Ready to ship. | - |
| | 315-WE325116 | WE325116 | 6 In Stock. Ready to ship. | - |
| | 315-WE321500 | WE321500 | 4 In Stock. Ready to ship. | - |
| | 315-WE320020 | WE320020 | 4 In Stock. Ready to ship. | - |
| | 315-WE321519 | WE321519 | 3 In Stock. Ready to ship. | - |
| | 315-WE325115 | WE325115 | 2 In Stock. Ready to ship. | - |
| | 315-WE325108 | WE325108 | 2 In Stock. Ready to ship. | - |
| | 315-WE325125 | WE325121 | 1 In Stock. Ready to ship. | - |
| | 315-WE325107 | WE325107 | 1 In Stock. Ready to ship. | - |
| | 315-WE325103 | WE325103 | 1 In Stock. Ready to ship. | - |
| | 315-WE325123 | WE325123 | Unavailable. | - |
| | 315-WE325122 | WE325122 | Unavailable. | - |
| | 315-WE325120 | WE325120 | Unavailable. | - |
| | 315-WE325118 | WE325118 | Unavailable. | - |
| | 315-WE325113 | WE325113 | Unavailable. | - |
| | 315-WE325112 | WE325112 | Unavailable. | - |
| | 315-WE325110 | WE325110 | Unavailable. | - |
| | 315-WE325109 | WE325109 | Unavailable. | - |
| | 315-WE325106 | WE325106 | Unavailable. | - |
| | 315-WE325105 | WE325105 | Unavailable. | - |
| | 315-WE325104 | WE325104 | Unavailable. | - |
| | 315-WE325101 | WE325101 | Unavailable. | - |
| | 315-WE325015 | WE325015 | Unavailable. | - |
| | 315-WE325010 | WE325010 | Unavailable. | - |
| | 315-WE324000 | WE324000 | Unavailable. | - |
| | 315-WE322010 | WE322010 | Unavailable. | - |
| | 315-WE322000 | WE322000 | Unavailable. | - |
| | 315-WE320000 | WE320000 | Unavailable. | - |