By browsing, you consent to our

use of Cookies

.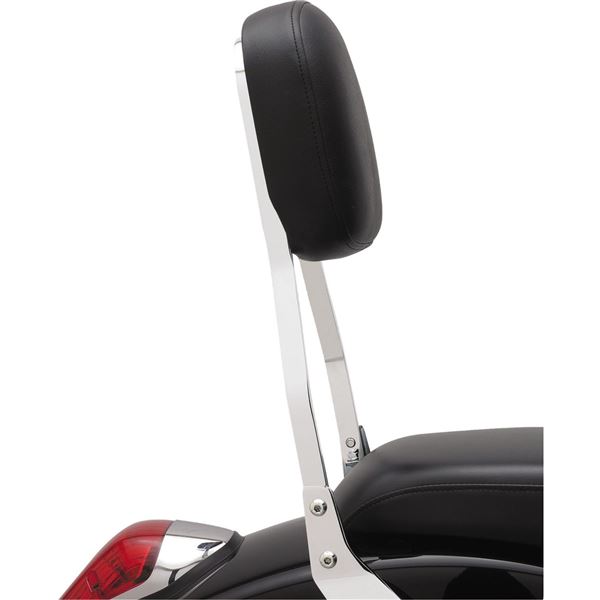 Fast, Free Shipping

Low Price Guarantee

No Hassle Returns

Cobra chrome Sissy Bars make life easier for your passengers by offering back support. They also help carry your luggage. Built for the long haul, these sissy bars are made of high strength steel with heavy-duty mounting brackets and comes with a Freedom Pad. Now available in three sizes for most models; Standard, Short and Mini. Cobra's Sissy Bars use stock mounting points for a no fabrication installation.
Made from rectangular bar steel
All come complete with chromed side rail mounting plates
Comes with Freedom sissy bar pad
Chrome-plated
17" tall
Made in the USA
Note: Image is for reference only, actual product will vary according to vehicle.
Specifications
SKU
219-602-1151
Brand
Cobra

California Prop 65
WARNING: Cancer and Reproductive Harm - www.P65Warnings.ca.gov
Part Numbers
| | SKU | MPN | Availability | In-Store Pickup |
| --- | --- | --- | --- | --- |
| | 219-602-1151 | 602-1151 | 10+ In Stock. Ready to ship. | - |
| | 219-602-1152 | 602-1152 | 10+ In Stock. Ready to ship. | - |
| | 219-602-1154 | 602-1154 | 10 In Stock. Ready to ship. | - |
| | 219-602-1150 | 602-1150 | 9 In Stock. Ready to ship. | - |
| | 219-02-5135 | 02-5135 | 9 In Stock. Ready to ship. | - |
| | 219-02-5105 | 02-5105 | 9 In Stock. Ready to ship. | - |
| | 219-02-5468 | 02-5468 | 8 In Stock. Ready to ship. | - |
| | 219-02-5161 | 02-5161 | 8 In Stock. Ready to ship. | - |
| | 219-02-5440 | 02-5440 | 7 In Stock. Ready to ship. | - |
| | 219-02-5270 | 02-5270 | 7 In Stock. Ready to ship. | - |
| | 219-02-5240 | 02-5240 | 7 In Stock. Ready to ship. | - |
| | 219-02-5260 | 02-5260 | 6 In Stock. Ready to ship. | - |
| | 219-02-5115 | 02-5115 | 6 In Stock. Ready to ship. | - |
| | 219-02-5345 | 02-5345 | 5 In Stock. Ready to ship. | - |
| | 219-02-5160 | 02-5160 | 5 In Stock. Ready to ship. | - |
| | 219-02-5250 | 02-5250 | 4 In Stock. Ready to ship. | - |
| | 219-02-5201 | 02-5201 | 4 In Stock. Ready to ship. | - |
| | 219-02-5118 | 02-5118 | 4 In Stock. Ready to ship. | - |
| | 219-02-5116 | 02-5116 | 4 In Stock. Ready to ship. | - |
| | 219-02-5111 | 02-5111 | 4 In Stock. Ready to ship. | - |
| | 219-02-5110 | 02-5110 | 4 In Stock. Ready to ship. | 4 In Stock. |
| | 219-02-5461 | 02-5461 | 3 In Stock. Ready to ship. | - |
| | 219-02-5342 | 02-5342 | 3 In Stock. Ready to ship. | - |
| | 219-02-5245 | 02-5245 | 3 In Stock. Ready to ship. | - |
| | 219-02-5150 | 02-5150 | 3 In Stock. Ready to ship. | - |
| | 219-02-5122 | 02-5122 | 3 In Stock. Ready to ship. | 3 In Stock. |
| | 219-602-1153 | 602-1153 | 2 In Stock. Ready to ship. | - |
| | 219-02-5420 | 02-5420 | 2 In Stock. Ready to ship. | 2 In Stock. |
| | 219-02-5265 | 02-5265 | 2 In Stock. Ready to ship. | - |
| | 219-02-5136 | 02-5136 | 2 In Stock. Ready to ship. | - |
| | 219-02-5101 | 02-5101 | 2 In Stock. Ready to ship. | - |
| | 219-02-5441 | 02-5441 | 1 In Stock. Ready to ship. | - |
| | 219-02-5151 | 02-5151 | 1 In Stock. Ready to ship. | - |
| | 219-02-5340 | 02-5340 | Unavailable. | - |
| | 219-02-5134 | 02-5134 | Unavailable. | - |