The Different Types Of Dirt Bike Racing
Chaparral Motorsports
|
April 13, 2021
|
Last Updated: April 13, 2021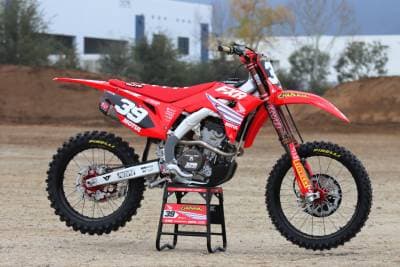 What is your motivation for getting into motorcycles? For some people, it is the lifestyle, and for others, it is merely a hobby. There is no right or wrong answer when it comes to personal interests. For those who entered the world of dirt bikes they typically do so for the freedom and enjoyment dirt bike riding provides. Then there are those who seek the thrill and excitement of dirt bike racing, which can be the pinnacle of the dirt bike experience.
Racing combines the freedom of riding with the risk of pushing your limits to feed your competitive nature and testing your riding skills. It encompasses determination, adrenaline, spatial awareness, and quick thinking. Racers are more than motorcyclists; they are athletes, training and giving the best parts of themselves in the pursuit of excellence.
Most people have heard of motocross, better known as MX, but many do not realize that there are multiple races and sports within the off road motorcycle discipline. For beginners, the field might seem slim until delving deeper into the sport dissecting each specialty and uncovering each race type's nuances and intricacies.
With this article we hope to shed some light on the different types of dirt bike racing that are available for enthusiasts. Each section will discuss the disciplines in detail, providing specifics of each type. The piece will wrap up with an explanation about race prep and help you determine your level of readiness. If you think you might have it in you to be a top-notch racer, then read on for more information.
What's the Difference Between Motocross and Supercross?
Motocross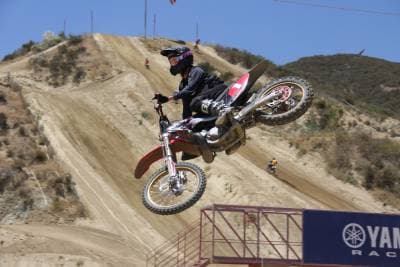 Motocross is among the most well known and most popular type of dirt bike racing there is across the globe. The outdoor tracks are typically man-made and cover anywhere from one to three miles in length. The tracks are brimming with sharp turns, banked curves, straightaway stretches as well as jumps, up hill and down hill sections. While not a circle design the meandering track does wind its way so that the start and finish are at the same point. Depending on the race and weather and terrain, tack conditions can range from sandy or dusty, to wet or muddy. The course is designed to test the rider's skill and ingenuity.
On the technical side, the race is comprised of two 12- to 30-minute sessions with an additional one or two laps when the time clock expires. In the professional series there are two classes, one for 250cc dirt bikes one for 450cc dirt bikes. The 250 class is usually comprised of younger riders who are just starting their professional careers while the 450 class is the premiere riders. Each riding session is called a moto. Riders receive scores for each moto, with first place receiving the lowest score of 1 point and the last place finisher receiving the most points. The rider at the end of the two motos with the lowest combined score wins the event.
Supercross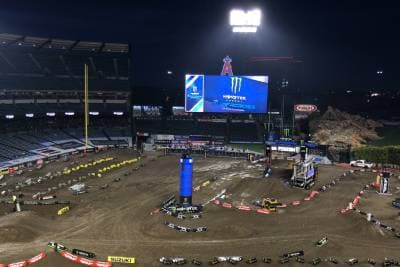 While participants in Supercross tend to wear the same motocross gear as other MX riders, SX races are more viewer-friendly, with most taking place in arenas or stadiums. The vantage point means that viewers can see all the action no matter where they're sitting. In order to build a Supercross track dirt has to be trucked into the facility and then heavy equipment operators move the dirt around to create jumps, banked turns, over/under bridges, and other obstacles like whoops sections, walls or sand sections. It is not unusual for an SX rider to reach nearly 35 feet high off a jump and travel some 70-foot through the air.
Since the tracks are within a more confined area, they tend to be a little more constrained, with tighter turns and significantly bigger jumps. This is part of what makes Supercross so exciting. With the more confined space of a SX event comes a lot more rubbing amongst riders and thrilling passing exchanges that can whip the fans into a frenzy and in turn get the riders more pumped up.
Similar to Motocross, the professional Supercross series has a 250cc class and 450cc class. Events are spread out over the course of several hours with qualifying, heat races and then the main races. There is only one main event race for each class. The 250 class races for 15 minutes plus one lap and the 450 class races for 20 minutes plus one lap. The first one to cross the finish line after the final lap is the winner of their respective class for that event.
Challenging Terrain of Hare Scrambles vs Grand National Cross Country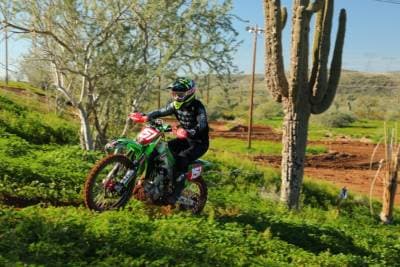 Hare scrambles also known as cross country or XC races encompass a 3- to 8-mile course across natural terrain. You typically will not find the high jumps or acrobatics in scrambles, but do not assume that means the races are more comfortable. The rough natural terrain, including rocks, mud, water crossings, roots, and steep climbs, makes these races intimidating in their own right.
The difficulty and complexity of XC races are why riders are separated into classes, with each class released in 30-second intervals, starting with the most advanced. Interval and timed releases reduce the risks of passing on narrow trails, which can be dangerous at high speeds. The race's objective is to get as many laps in within the one- to two-hour window, and the rider with the most completed laps wins.
The Grand National Cross Country races, or GNCC for short, are similar to the hare scrambles. The primary difference between XC and GNCC is the length of the tracks and the variety of skills a rider must possess. The courses for these races can reach distances of 12 miles, and many races will combine the all-terrain mentality of XC with the daredevil spirit of MX. Additionally, GNCC does not discriminate against other machines, providing classes for ATV and electric mountain bikes.
Three Types of Enduro Races
Enduro or endurance races are all about the distance, with many races being 100 miles or more. The races typically include time for refueling and repairs because of the extended length. If you are interested in enduro races, there are at least three styles you should become familiar with: traditional timekeepers, sprints, and restart or start-control.
Traditional timekeepers are somewhat easy-going races that force racers to maintain specific speeds and paces or risk penalization. Penalization comes when you arrive at a checkpoint late or early. This type of endurance race has more to do with strategy than anything else, and because of the release of racers in rows minutes apart, it is an excellent option for friends who want to race together.
Sprints are relatively new to the enduro world, and because of that, rules and formats will probably continue to change, depending on the organization you race with. These races mimic the hare-style races, with racers pitted against the clock, trying to get the fastest times. There are several types of tracks in sprints, and each racer will get multiple chances on the different paths to achieve their best time. The trails vary from XC to MX.
Finally, restart or start-control enduros are similar to traditional timekeepers. However, these races have timed sections over challenging terrain where racers attempt to complete the trek the quickest. Once finished with the timed section, the clock stops so the rider can travel to the next timed event, hence the restart or start-control name.
Vintage Bike Racing
The American Historic Racing Motorcycle Association provides opportunities for racers of all kinds, as long as they have a bike predating 1999. The best part about vintage races is the affordability. Many people veer away from MX, SX, XC, or other dirt bike activities because it can be an expensive hobby. Still, vintage or older models are often inexpensive and great for trying to have a little fun, allowing hobbyists to experiment with the dirt bike world without the expensive price tag.
Race Prep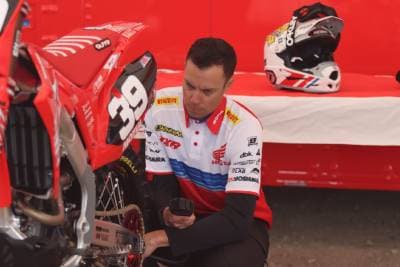 It's normal to feel amped about straddling your dirt bike and wanting to head out for your first race, but it is crucial not to rush the process. MX, SX, XC, and all the other races out there take skill and training. Before you hurry onto the racing scene, make sure that you are confident in your abilities to ride, even when signing up for beginner races.
Beyond preparing yourself, you need to make sure your bike is ready for the rigors of racing. No matter what race you choose, each is daunting on a bike's engine and frame. Granted, dirt bikes are made to take the abuse, but it doesn't hurt to perform a routine checkup on your bike. If you do not have the skills yet, take it to a shop and tell them your racing plans. Mechanics can help you figure out if your bike is race-ready.
You will also need to make sure you are wearing proper dirt bike gear. The race organizers take their job, which is your safety, very seriously. If you show up without adequate safety equipment — helmet, gloves, boots, goggles, etc. — they will probably turn you away.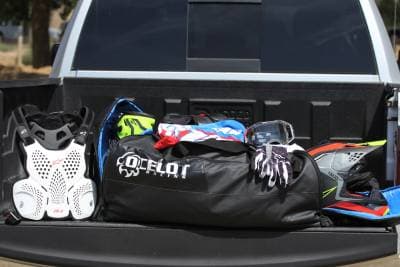 If you choose to race enduro, make sure to bring food and water in addition to spare parts, tools, and fuel. While most races only require two to three hours, enduros last the whole day, covering large areas, so keep that in mind when preparing for the race.
Remember that you are not in this alone. There are numerous resources to gather all the necessary information for race prep. You can also contact the local organizations hosting the event; they will have people who can help you figure out the logistics and your riding class. Most organizations understand that many novices will not have the information to start in the racing world, and they want to help build the community, so they are more than willing to guide those interested.
Finally, when you arrive at the race, you might need to purchase an AMA membership, and you will probably need to pay a gate or sign up fee between $40 and $80. After paying all necessary fees, you will reach the sign up table where you are assigned a number and possibly a transponder to track lap times. The person at the sign up table will walk you through all the rules, checklists, and guides, ensuring you know precisely where and when to start your race.
Dirt bike racing is an exhilarating experience, and most people who buy a bike want to try a race at least once. There are so many options for racers, from hare scrambles to MX and more. However, the critical step before any race is getting familiar with your machine and all the necessary equipment that keeps you safe. It is no secret that motorcycles can be dangerous. Even in the most skilled hands, these adventure-bound and fantastic machines carry a higher risk of injury than other vehicles. If you are new to motorcycles or dirt bikes and are just beginning to test the waters of the racing world, then contact a Chaparral Motorsports representative to discuss the essential safety equipment and possible bike mods you'll need for success.