8 Ways To Improve Dirt Bike Horsepower And Performance
Chaparral Motorsports
|
April 28, 2021
Most dirt bike enthusiasts will reach the point of bellowing out a certain tool man's catchphrase, "more power!" It is predictable and almost natural since dirt bikes are, by design, racing and adventure machines. While an owner can opt for the most expensive upgrades and modifications, such changes are often not entirely necessary for the average rider or hobbyist.
You can make at least eight modifications to your motorcycle to improve performance, some more expensive than the rest, but keep in mind that not every conversion is right or necessary for every rider, every budget, or every skill level. Before traveling down the mods highway, it is crucial to know and understand your machine; many novice riders assume their bikes are not powerful enough, ignoring the simple changes and design features that would give them the boost they're after.
1. Start With the Basics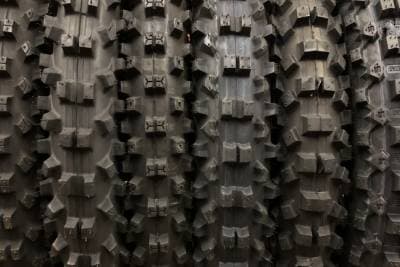 Remember, to take advantage of your machine, you need to care for it. Too many amateur riders dive headfirst into modifications, believing that under performance is direct result of stock settings and parts. Truthfully, there is a learning curve with dirt bike ownership. Every novice needs to focus first on the fundamentals. If you want to get the most out of your dirt bike, make sure you are adhering to suggested maintenance schedules. Do yourself a favor and read through your owner's manual or pick up a service manual for the specific year/make/model dirt bike you have and learn how to perform a tune-up. A tune-up ensures that your bike's engine and other components operate as designed, meaning you can reach the bike's full performance potential.
After you understand the basic maintenance requirements of your bike, you can begin altering the design or swapping out parts. However, before delving into mechanical alterations, it is best to swap out your tires. Do some research and locate the right tires for your riding style and the terrain or track conditions. Proper tire selection can help improve traction and handling, directly affecting the speed and performance of the machine. Additionally, each time before you ride check your tire pressure and add or remove air as needed.
2. Use a Better Fuel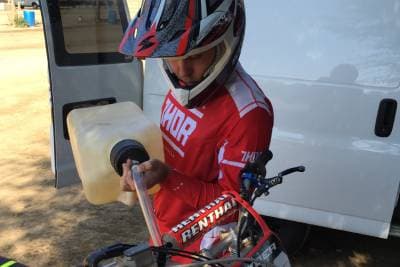 You may be thinking we are talking about race gas, which could be an option (more on that in a second), but we're talking about the stuff you get from your local gas station. Splurge for the higher octane premium gas when you go to fill up your dirt bike tank. Although it's more expensive and can seem really tough to do when gas prices rise, you're only putting in a few gallons—maybe 1-2 gallons if your filling your dirt bike gas tank and/or only 5 gallons if you're filling a gas can or gas jug. Spending a few extra dollars for something like 91 octane is worth the little bit of extra money when it comes time to ride. Another thing to consider when it comes to choosing your fuel is to pay attention to the gas stations in your area. The gas station that is always busy will have the freshest fuel since they will continually have to replenish their supply.
While race fuel is an option, albeit an often rather expensive one, it's not always the best option for everyone. You really need to be careful if you think you want to go the race fuel route with a bone stock dirt bike engine. Running too high of octane in your dirt bike can be detrimental to the performance of your motorcycle. Most race fuels are typically best suited for modified engines, or will at least require you to do some re-jetting/tuning to ensure proper performance.
3. Help it Breathe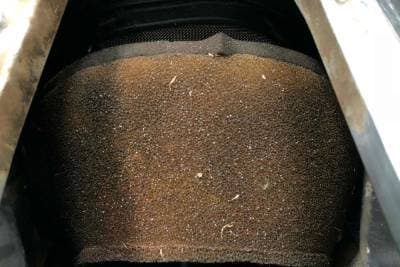 Getting more air into your machine is a key way to get better performance. A premium air filter can work wonders on the ability for air to flow into your engine. Dirt, dust, and debris can build up on the air filter thus reducing air flow. While your stock air filter will do it's best to allow for air to continually flow, there can be dirt and other harmful particles that can get past. Upgrading to something like a dual stage Pro Filter from Maxima or a Twin Air Filter can make a big difference. With differing media types and sizes these premium filters can help keep out larger particles on the exterior layers and then filter out even smaller debris with the secondary layer. With tight fitting seals that secure the filters to your air box, you get a strong draw of air directly through the main portion of the filter.
Depending on the premium air filter you choose to go with it may come pre-oiled which will make for easier installation and it may also be reusable which means you can wash it and re-oil for multiple uses while also saving money.
4. Upgrade Your Factory Clutch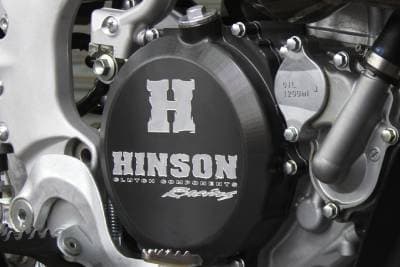 While the clutch on most dirt bikes is satisfactory for novice riders straight from the factory floor, changing the manufacturer clutch for a more race-specific or race-ready style can lead to some significant gains. However, those gains will not come in the form of horsepower. The upgrade you will notice is in the ground power, meaning better acceleration, pickup, and control which ultimately leads to better overall speed and performance from the engine.
Swapping out the clutch, like changing the muffler or fuel, is not a complicated process. Most novice riders can figure out the steps and install the new clutch in under an hour; however, it is not the installation that prevents many owners from changing the clutch, it is the price. Many riders, especially those new to racing, may feel that the gains from altering the clutch are not worth the financial investment. However, every little increase counts for the more experienced rider, getting them to the finish line even a 10th of a second faster than their opponents.
5. Increase the Flow Rate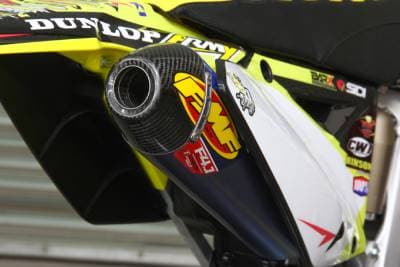 A more intricate modification with a 4-stroke engine involves flow-porting. Porting requires a specific set of skills and tools, such as a flow-bench. The flow-bench can measure the engine's vacuum level, determining the necessary level for air removal from the intake port and exhaust flange. Porting is only part of the process for improving your bike's performance. You will also need to polish the interior of the cylinder heads, ensuring everything functions correctly and air flows extremely smoothly. Flow porting is all about improving the flow rate of air and creating a genuinely high-performance machine. However, as with other modifications, porting requires a delicate and practiced touch and is best left to the professionals.
6. Open the Valves
A significant component of motorcycle speed and performance is the balance of airflow and fuel. If you can increase the airflow into the engine, you can, in theory, boost its power. Camshafts are the components that meter the airflow into the machine by opening and closing valves. High-performance cams will allow the valves to remain open longer, allowing more airflow and increasing the horsepower range.
Unfortunately, upgrading your camshafts is not the most cost-effective or most straightforward modification. If you are interested in performing such a change to your dirt bike, it is best to hire a professional for the job as they can determine which cam shaft and cam profile would suit your riding style or your engine setup to deliver the best results and will make sure everything is installed correctly.
7. Improve Compression
Another change to boost your bike's performance is by changing the compression ratio. However, the process is different depending on the type of engine you have. Altering the compression ratio of a 2-stroke engine will require the milling of the head. To perform a similar change to a 4-stroke engine, you will need to change out the piston with a piston that has a more pronounced dome shape. Improving the compression of your bike is the same as giving it a little more oomph. Essentially, better compression increases the power on your acceleration, but it does not come without a sacrifice. The change will take a bit off the bike's top-end performance, but the low-end gains likely make up for the difference. Keep in mind that altering the compression settings will also change the fuel type you need. Raising the compression means that you will need higher octane gasoline, which will cost more money than standard or premium fuel at the pump.
8. Upgrade the Exhaust
A vital component of the exhaust system is the muffler, helping the bike to "breathe" better. Depending on your engine, adding a pipe (2-stroke) or slip-on (4-stroke) can boost engine performance, albeit incrementally. The beauty of a muffler upgrade is that it requires little skill, making it the perfect alteration for a novice. You can typically complete the swap in about 15 minutes, only needing to worry about keeping track of a few bolts.
Before making the muffler modification, pay attention to where you can expect the power boost: the top end or bottom. Different designs increase efficiency at one or the other, and while you might not feel much difference to start, it pays to understand where the change should occur. If you are uncomfortable with making the change and do not trust your abilities, you can take your bike to a local shop and have the swap performed by a professional.
For the four stroke rider who takes racing seriously, a complete exhaust system overhaul could be worth it. While upgrading your muffler is part of the exhaust system, it is only a small portion helping to regulate the airflow and power of the system. If you want real and measurable performance gains, consider an entire system upgrade which includes the header, mid pipe, and muffler. With options from the likes of FMF Racing, Yoshimura, and Pro Circuit, a complete dirt bike exhaust system will provide you with a setup that has been expertly tuned from tip to tail. Similar to installing a muffler or 2-stroke pipe swap, installing a full dirt bike exhaust system isn't that difficult. Most full systems will help deliver power across the board from low to high range. Another benefit with a full system are the materials that are used to make them can reduce overall weight while improving power. A titanium system with carbon fiber end caps can save you a couple pounds but is also the quite expensive. You may want to try some of the other less expensive suggestions on this list before opting for a titanium exhaust system upgrade.
It is a natural progression for a racer and dirt bike enthusiast to experiment with trying to achieve more power and performance gains. Still, it is vital to acknowledge and utilize the power your machine already possesses. Minor tweaks and tune-ups are often enough to provide the novice to the intermediate rider with ample power and performance. It is only when you reach professional and advance riding levels that more expensive alterations might be necessary. If you want help figuring out how to the most out of your machine, consider contacting a Chaparral Motorsports representative.