How To Choose The Right Golf Cart Tire
Chaparral Motorsports
|
April 1, 2021
|
Last Updated: April 21, 2021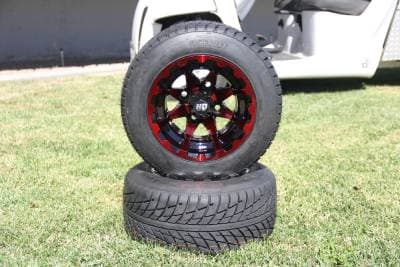 In addition to being a common sight on the golf course, golf carts are used by wandering adventurers, hunters, and property owners to explore the environment or help with hauling equipment or tools. With their easy drivability, open air design, and ability to carry multiple passengers, more and more people are buying golf carts so they can cruise around their neighborhoods. Though the speeds on a golf cart generally stay below 25 miles per hour, golf cart tires still play a key role in both comfort and safety when riding around. To enjoy your cart and to ensure that operations are smooth and safe, it's important to learn as much as you can about this vehicle's tires when it comes to purchasing new golf cart tires or customizing your golf cart.
Golf Cart Tire Types
There are two basic types of golf cart tires: turf/street tires and all terrain tires.
Turf/Street Golf Cart Tires
Turf/street golf cart tires are what you will find on carts that spend the majority of their time on the golf course. They are pretty basic in design with a flat tread design so that they don't damage the grass on the course. Siping in the tread allows for water dispersion and helps with traction, cornering, and breaking. These tires are typically low profile, comprised of 4 plies, lighter weight, and smaller overall compared to all terrain tires. Turf/street aren't good tires for muddy, rocky, steep or slippery terrain. An example of this type of tire would be the Ocelot P820 Golf Cart Tire shown here.
All Terrain Golf Cart Tires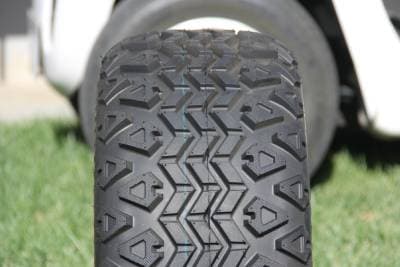 As the name implies, all terrain golf cart tires can take you almost anywhere. With more aggressive tread designs and deep lugs, all terrain tires provide superior traction and can crawl through mud or climb over rocky rutted paths. They are also decent on the street, however with their higher profile design they can feel a bit less planted than low profile tires. With the added height that all terrain tires provide they will help give your golf cart more clearance when you venture off road. Aside from their ability to travel across a variety of surfaces, many people like to install all terrain tires on their golf cart because they like the look and customized appearance they provide. If you spend the majority of the time using your golf cart for golfing, you probably don't want to have all terrain tires—unless you enjoy getting harassed by the course marshal. Additionally, all terrain tires are quite a bit larger and are available in larger sizes than most turf/street style golf cart tires. With bigger all terrain tire sizes comes limitations, meaning you may need to make modifications in the form of a lift kit to gain clearance if you want to install tires that are quite a bit larger than a stock golf cart tire.
Understanding Golf Cart Tire Sizes
As with any vehicle, the size of a golf cart's tires plays a role in comfort and safety. However, unlike the hundreds, if not thousands, of vehicle options for the roadway, most golf carts share similar size features and have standardized tires. If you go to any golf course and check out the tires on the golf carts they rent, you'll probably see 18×8.5-8 on the sidewall. This is the most common size tire that come stock on the average golf cart. We say average because not all golf carts are built specifically for the golf course, some are intended more for recreational purposes. Recreational golf carts will typically be outfitted with the bigger all terrain style tires mentioned above.
So what does the 18×8.5-8 on the sidewall actually mean? The first number (18) is the tire's overall height or outer diameter. The second number (8.5) is the width of the tire. The last number (8) is the wheel size the tire will fit on. Now in the example we just mentioned all those measurements are in inches. So the average golf cart uses an 18 inch tall tire, with a width of 8.5 inches and fits on an 8 inch wheel.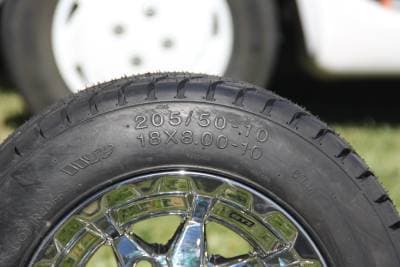 Not all golf cart tire sizes are measured this way though. You may also see them listed as 205/50-10—similar to an automotive tire. In this method the first number represents the tire's width in millimeters. The second number is the measurement of the sidewall in relation to the width, which is called the aspect ratio. The sidewall is measured as a percentage. So in this example the height of the sidewall is equal to 50 percent of the width of the tire. The last number is the size of the wheel the tire will fit on; and that number is in inches. A 205/50-10 is equivalent to an 18x8-10 tire as seen here on the Ocelot P820 Golf Tire.
Comparing Low-Profile Golf Cart Tires vs. High-Profile Tires
It can be confusing trying to find the right tire for your golf cart. The way the labels work for the tire size takes some getting used to. You also have to decide between low-profile or high-profile tires within your size requirements.
Low Profile Golf Cart Tires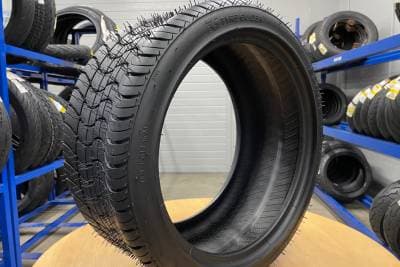 A golf cart that has not been lifted usually has low-profile tires—turf/street style tires like this Tyre Guider GF04. These come in different sizes, but overall, they are thinner and good for use with dry, paved roads. The tires have stiffer sidewalls, and when combined with a better grip on smooth terrain, there is more wheel control and response. Low-profile tires are efficient and quick. The majority of the time you'll see low profile tires with the automotive style measurement (e.g. 205/50-10)
High Profile Golf Cart Tires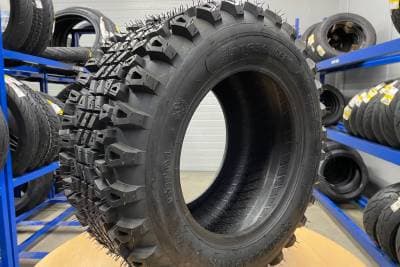 High profile tires are taller, with more sidewall—all terrain style tires. They absorb the shock and bounce better, providing more comfort and balance during the ride. These will help give you more clearance but will also have more flex in the sidewall. Most of these tires will be listed in the inch style measurement such as 23x10.5-12 like the Tyre Guider GF01 tires above.
Measuring Golf Cart Tire Size
If for some reason your current tires don't have the measurement on the sidewall, and you need to know the size you can simply use a tape measure. Stand the tire up and take a measurement from the top of the tire all the way down to the floor (with the tire laying down flat measure directly across the center from edge to edge) this is the tire height/overall diameter. Next measure, the width of the tire by measuring across from one side of the tread to the other. Now measure the diameter of the center hole—or the wheel if your tire is mounted to determine wheel size. The style of the tire you are looking for, all terrain or turf/street tires, will usually determine whether you need to put those measurements into inches or millimeters.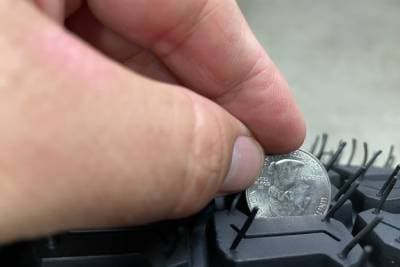 It should be noted that measuring the width of the tread is not the same as checking for tread depth. Tread depth refers to the space remaining in the grooves of the tire, which impacts how safe it is to operate your golf cart. Similar to other vehicles, tire tread wears down and leads to less stability on driving surfaces.
A quick way to check for tread depth is with the quarter test. Insert a quarter down into the tread groove, keeping George Washington's head upside down when inserted and facing you. If you are able to see Washington's entire head when the coin is pushed all the way into the groove, the tire treads are less than 4/32 inches. This means it is time to replace your tires according to the recommendations of safety experts. On some street tires this test won't work because the tread is so low already. All tires have wear indicators on them to help you determine is the tread is worn down and they should be replaced.
Choosing the Right Golf Cart Tire
If you're replacing your tires, you need to select from a size that is correct to the vehicle, in addition to purchasing a tire style based on your driving needs. There are different tread styles that are recommended, depending on whether your golf cart has been modified. Golf carts that are strictly for the golf course and smooth terrain should use turf/street style tires. For recreational carts that will be hitting mixed terrain all terrain tires are the best option.
As for what will fit your golf cart, if your cart is stock (not lifted) you can fit pretty much any low profile turf/street tire. The biggest tire you can fit will most likely be 18.5 inches-20 inches tall. This all depends on the year/make/model of your golf cart. But for the most part any tire that's bigger than 18.5 inches you will probably need a lift kit for clearance. If your cart is lifted you can go with a low profile tire or go big with with tires up to 23 inches tall or more. The taller the lift kit your cart has, the taller all terrain tires you can run.
New vs. Used Golf Cart Tires
You may be budget-conscious and hoping to save money on your tires, but it is never recommended to buy used tires for your golf cart. Many assume that there is no need to look for quality given the moderate to low use their vehicle may get, but performance and longevity should never be sacrificed for the sake of saving a few dollars. Poor-quality tires or those with an unknown amount of mileage already on them can end up costing you more money down the road. Instead of purchasing used golf cart tires, consider Ocelot Golf Cart Tires which are quality tires at a great price.
DOT Approved Golf Cart Tires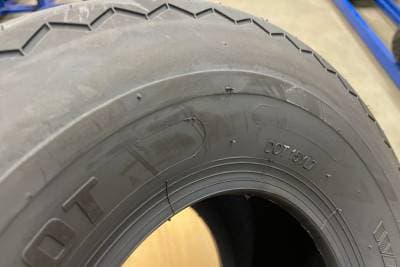 In most locations, golf carts are not approved for street use unless modifications have been made to render the cart a low-speed vehicle. The Department of Transportation has determined appropriate construction requirements for street use tires, and these guidelines deal with tread depth, hydroplaning, and sidewall construction. A tire must be marked as DOT-certified or labeled as approved for a golf cart to be legally taken onto the roads. You can find both low and high-profile tires that are DOT-certified.
Golf Cart Wheels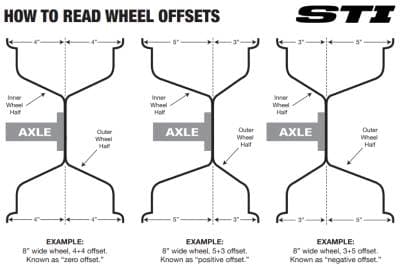 While choosing golf cart tires is based on the type of terrain and surfaces you'll be driving on, choosing golf cart wheels is mostly about aesthetics. Golf cart rims can significantly change the look but they can also add a bit of safety by changing the stance of the vehicle. When shopping for rims you will find them in different sizes, styles, and colors. Golf cart wheels can be made from aluminum or steel. Steel wheels are typically less expensive, while aluminum wheels give you a wider selection of styles and colors to choose from.
Many recreational golf cart owners will choose to go up in wheel size. As we mentioned earlier, most stock golf carts come with 8 inch tall wheels. When it comes to upgrading your wheels you will find options in the standard 8 inch size but there are also taller sizes such as 10 inch, 12 inch, and 14 inch wheels available. The majority of golf cart wheels come in 7 inches wide no matter if they are 10 inches, 12 inches, or 14inches tall.
If you are going to run low profile turf/street style tires on a stock/non lifted golf cart, you can go with a 12 inch wheel and either 18.5 inch or 20.5 inch tires without rubbing—depending on the make of your golf cart. In order to run all terrain tires on a non lifted cart you will need to stay in the realm of an 8 inch or 10 inch wheel and an 18 inch-20 inch tire. Again this is all subject to the make/model of your golf cart. When it comes to installing 12 inch or 14 inch wheels and 20 inch or taller all terrain tires, you're going to need to have a lift on your golf cart in order to maintain proper clearance.
What are Offset Golf Cart Wheels?
Wheel offset is how the wheels and tires sit under the golf cart. Offset is based upon where the center line/center weld of the wheel is and where the hub mounting surface is. Wheels can have negative offset, positive offset, or no offset (centered). Negative offset means that the hub mounting surface sits behind the center line of the wheel. This pushes the wheels out and gives the vehicle a wider stance. Positive offset is when the mounting surface is in front of the center line of the wheel. This will bring the wheels in closer towards the vehicle for a narrower stance. Neutral or no offset means the mounting surface is in the middle of the wheel and places the wheels directly under the vehicle.
Offset is measured in inches starting with the backside (side that faces the hub) and typically looks like this: 3+4. To find the offset, measure from the inside of the hub mounting surface to the center of the inner tire bead seat. Then on the front side (side that faces outward) measure from the front of the hub mounting surface to the center of the outer tire bead seat. When you add these numbers together they will equal the width of the wheel. Most golf cart wheels come in a negative offset of 3+4 which pushes the wheels out a tad providing better stability and balance for these narrow vehicles.
NOTE: Often you can find the height, width, and offset of a golf cart wheel (or pretty much any wheel) stamped or engraved into the backside of the wheel.
Best Golf Cart Tires
If you are in the market for new golf cart tires, there are several quality options that can be a good choice for your tire upgrades or replacement. Once you have the right tires for your vehicle, you should change them out as the tread wear down or as they age as you would a standard car or truck tire.
Consider the following, highly recommended golf cart tires:
Ocelot P334 Golf Cart Tire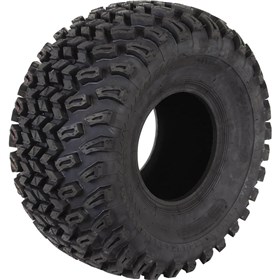 This Ocelot P334 Golf Cart Tire is a great high-profile tire for the golf course, bumpy back road terrain or all-around driving. A thick directional 15.5mm tread depth brings solid ride stability.
TG Tyre Guider Wave Golf Cart Tire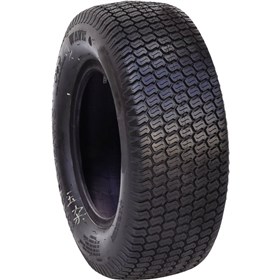 The TG Tyre Guider Wave Golf Cart Tire is a reliable low-profile tire has a tread pattern that reduces slipping on the different surfaces while also doing the least amount of damage to the grass. It comes in a number of sizes as well.
Excel Tire Sahara Classic Golf Cart Tire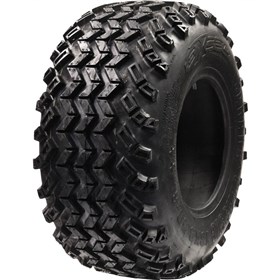 The Excel Tire Sahara Classic Golf Cart Tire is beefy all-terrain tire has tread that works well both on and off the road and is capable of handling speeds up to 62 miles per hour. The size doesn't impact sound, as it rolls quietly and makes for a smooth ride.
Kenda K399 Pro Tour Radial Golf Cart Tire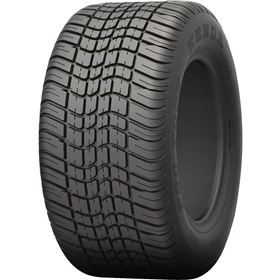 The Kenda K399 Pro Tour Radial Golf Cart Tire is a good-looking tire delivers a professional driving experience, making it ideal for use within golf cart communities and turf applications. Not only does it look high-end, but it also delivers excellent fuel economy, a soft ride, and minimal rolling resistance.
Purchasing Quality Golf Cart Tires
For the best selection of high-quality golf cart wheels, browse the line of golf cart tires and golf cart wheels at Chaparral Motorsports. With a low price guarantee and fast, free shipping, you can outfit your golf cart with new wheels and deliver a better driving experience on the green or around the neighborhood.