Parts To Install Larger ATV Tires
April 30, 2021
|
Last Updated: April 30, 2021
Before going ahead and swapping out your ATV Tires for a larger size, you'll want to read our article on the 5 Possible Consequences of Installing Larger ATV Tires.
Note that depending on your ATV and desired height adjustment, you might not need to alter your machine at all. Some ATV manufacturers leave enough space for riders to go up one or two tire sizes, meaning that modifications are unnecessary. For the rider content with a more subtle size shift, warranty issues and countless other problems can be avoided because the manufacturer essentially provides permission to up the tire size. An ATV that operates under 500cc should not go beyond one tire size beyond the standard tire. If your machine is over 500cc, it is possible you can go up two tire sizes and still stay within manufacturer expectations. Be sure to check your user manual.
If you're ready to alter the height of your ATV with supersized tires, this article will help you learn how to do it and what tools are necessary to make it possible. Installing larger tires, especially ones that go up two or three sizes or more, often requires some modifications to make them work. When it comes to the parts and accessories you may need, you'll want to become familiar with: wheel spacers, lift kits, and suspension and drivetrain components.
ATV Wheel Spacers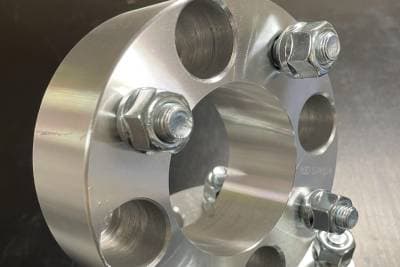 ATV wheel spacers can help resolve many of the typical issues that arise from installing taller tires. While many people assume that spacers are only useful when installing wider tires to prevent rubbing, they carry many of the same benefits for taller wheels as well. Spacers push the tires out away from the frame, preventing rubbing when turning.
With the installation of taller tires, the spaces can also help to reduce the change in the center of gravity. By forcing the tires away from the frame, the spacers help realign or disperse the ATV's weight more evenly, reducing the risk of tip-overs. While you can achieve stability without the spacers by adjusting wheel offsets, spacers are a safer option. Brands like Quadboss offer wheel spacers from 1" up to 2" thick.
ATV Lift Kits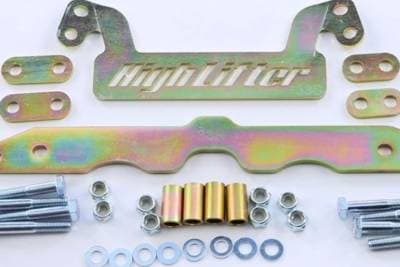 One of the first things to look into when upsizing your tires is a an ATV Lift Kit. While these kits are not necessary for every tire installation, depending on the new tires' size and height, you may need to provide more room under the suspension. A suspension lift kit not only provides ample space for tire installation but it also helps raise your ATV even higher than the tires alone. However, it is vital to remember that while a larger ATV does not necessarily have a limit on the height of new tires, the more you lift the frame, the more out of center the machine becomes, meaning it is easier to get into accidents. One lift kit you might consider is the High Lifter 2" Signature Series ATV Lift Kit.
ATV Suspension and Drivetrain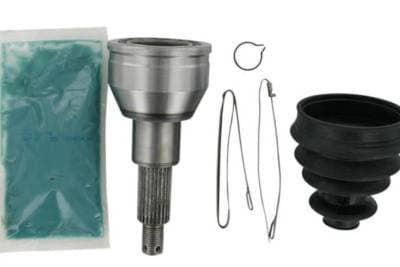 Keep in mind that your ATV is designed with specific factors and parts in mind. Altering any aspect of the design can affect the machine's performance and is likely to stress a multitude of components. A standard drivetrain and suspension may not be able to handle the added weight and increased angles of larger tires, meaning that you need to upgrade those components if you want to maintain similar performance specs.
Include the shocks, axles, and CV joint kits like those from EPI in the list of upgrades or replacement parts to prevent rapid deterioration or wear and tear. While upgrades are recommended for most ATV models, remember that each machine and rider is different, so what works for one vehicle might not work for yours. Check out our large selection of ATV Suspension Components.