Suzuki Kicks Off 2020 Demo Tour At Daytona Bike Week
Chaparral Motorsports
|
March 10, 2020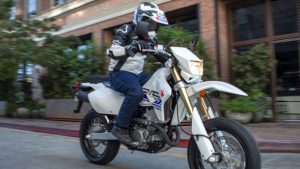 Suzuki Motor of America, Inc. is excited to kick-off its summer demo tour for 2020 at Daytona Bike Week this weekend at the Daytona International Speedway, March 6-14th. The full tour will make stops at select events and dealers in more than 60 cities and will feature Suzuki's 2020 Motorcycle lineup including the KATANA and V-Strom series.
With over 19 different models in the fleet, riders will have the opportunity to demo their favorite Suzuki model before making a purchase decision. Suzuki experts will be on-hand at each stop to help educate consumers on the different models Suzuki has to offer, as well as how Suzuki helps new riders get on two wheels. Riders who participate on a demo ride will receive an exclusive $250 off* coupon towards a new Suzuki motorcycle at select events. Consumers new to two wheels can receive $100 back from Suzuki after completing a new rider course through your state program**.
In addition to Daytona, Suzuki is scheduled to be at major events such as MotoGP in Austin, MotoAmerica at Laguna Seca and Indy, the Quail Motorcycle Gathering, Americade, AMA Vintage Days, AIMExpo, Barber Vintage Days, and more. The demo tour will wrap up at the 2020/2021 IMS Show in Long Beach, California.
Check out www.suzukicycles.com/events to see what dealer and/or city Suzuki will be stopping at for your opportunity to demo these great motorcycles. Locations will be updated daily and may be subject to change.
Suzuki Motor of America, Inc. press release