Motorsports Legend Travis Pastrana Joins The Can-Am Off-Road Family; Already Doing Travis Pastrana Things
Chaparral Motorsports
|
February 24, 2020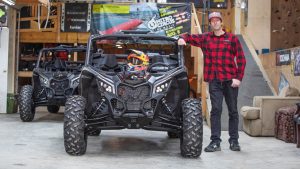 Can-Am Off-Road has been on a tear recently. Whether it's unveiling some of the toughest, most capable utility side-by-side vehicles on the market, or crushing the competition at the world's most grueling races. Like, for example, finishing in all of the top 20 spots at the 2020 Dakar Rally in Saudi Arabia and then following that up by sweeping the podium (and 8 of the top 10 spots) at the annual King of the Hammers race in California.
It's good to be Can-Am, which is leveraging the momentum to stake its claim as the brand of choice for people who crave the ultimate in performance, capability and adventure.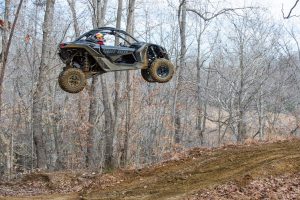 The industry has certainly taken notice, as have some of the most recognizable legends in motorsports. That includes the likes of Ken Block and Casey Currie, who joined the Can-Am team in 2015 and 2017, respectively. And now the stable is growing once again, as the legend himself, Travis Pastrana, joins the Can-Am Off-Road family.
Pastrana has accumulated 17 X Games medals, including 11 gold medals, plus five golds from the Gravity Games, as well as more wins at other events, including Dew Tour and Red Bull X-Fighters. At the 2006 X-Games, Travis redefined what was possible with his groundbreaking double backflip on a motorcycle. He's raced everything from Rally, NASCAR, FMX, and side-by-side vehicles.
"Can-Am makes the fastest and most durable side-by-side vehicles on the market," said Pastrana. "After some coaxing by my good friend and the mechanic (Hubert Roland) who is always putting my broken vehicles back together, I gave a Can-Am Maverick X3 a shot on a 1,200-mile New Year's trip in Baja. I was sold, and I'm happy to now be with a company that's as excited as I am to push their vehicles to the limit. Since the switch we haven't changed a single belt or axel at Pastranaland."

Bombardier Recreational Products Inc press release