Five Takeaways From Glendale Supercross 2020
Chaparral Motorsports
|
January 29, 2020
A mix of highlights, lowlights, or just random observations
this is some of what we saw, or what we thought we saw at this past weekend's Supercross race.
Roczen Rocks the Desert
Ken Roczen has a point to prove and he did it in dominant fashion on Saturday night. We got our first Triple Crown format of the season and K-Roc whipped his CRF 450R into a frenzy clearing past the competition in all three mains to ride away with the crown for the night. If I'm not mistaken, Roczen is the first rider to win all three main even races in a triple crown event since the format was introduced back in 2018.
Out of the 39 laps that were raced in the three different 450 Mains on Saturday night, Ken led all but one of them! That's pretty awesome! Ken now has two season wins under his belt, keeps the red plate, and extended his lead to eight points.
Where Was Webb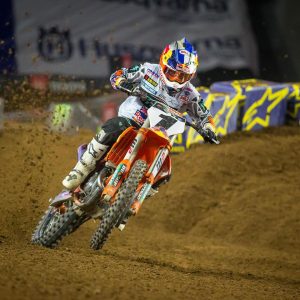 On the way to his first 450 SX championship last season Cooper Webb was a force to be reckoned with when it came to the Triple Crown events. He ended up winning two out of the three Triple Crowns and the one he didn't win, round 8 in Detroit, he only missed tying Tomac's cumulative three-race score of eight points by one point.
While Saturday night was a good night, he wasn't in the same form we had seen him in these special events last year. Webb ended up with a 4th overall and got some valuable points to move up one spot from sixth to fifth in the overall for the season. The first main he got a bad start but worked his way up to an 8th place finish. The other two mains however, he got great starts and trailed Roczen for the first couple of laps but then once he got passed he continued to slip down a couple spots down the line. Again it wasn't a terrible night for the KTM factory rider, but it wasn't the Triple Crown performance we saw from him last year. I wonder if he's still recovering from the illness he had at the start of the season?
Craig Can't Catch a Break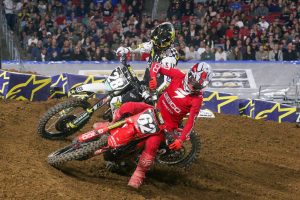 After last week's hoopla with Dylan Ferrandis, everyone was hoping for big things for Christian Craig, unfortunately Saturday night went way south. Actually things have been going south for Craig since he stepped up to the third spot on the podium at the opening round in Anaheim. He went down in St. Louis after clipping a tuff block and then taking a handlebar to the stomach. Then there was the Ferrandis incident at A2. It looked like things were going to turn back around to where they were at the start of the season when he took a 3rd in the first main--after a very nice pass on Mosiman with two laps left. But then Craig went down on the first lap in the second main and apparently ended up with a fracture in his hand. Hopefully he'll heal up quick and come back to the gate with a fresh reset.
Cianciarulo Has a Scary Off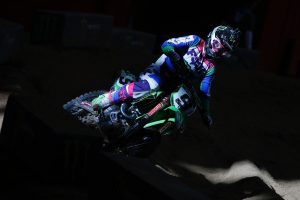 Adam Cianciarulo looked great in the first main taking a 3rd place. The second main he got a good start and was able to work his Kawasaki KX 450F up behind Webb for 3rd and then put down a beautiful inside pass on the turn before the finish to take 2nd--only to to go down about a minute later. While he was able to recoup and salvage a 6th place finish, the third main was a doozy. After a red flag re-start he had to work his way from a mid pack start and was sitting in 3rd with only a minute left on the clock when he got out of sorts in the whoops, got bucked over the bars, and landed on his tailbone/back on the face of the last whoop. It was a pretty gnarly off seeing as how he had been clearing through the whoops with good speed the entire night. Although he wasn't able to remount and finish the race, thankfully the slam only knocked the wind knocked out of him and didn't result in any serious injuries.
Bad News for Bloss, Bogle, and Blose
Unfortunately there was some additional carnage leftover from Saturday night. During his qualifying session Benny Bloss took a hard slam and had the crowd nervous for a bit as he laid on his back for a spell before moving. No broken bones, but he did get a concussion and is on concussion protocol until cleared to race.
Later in the evening program Justin Bogle got pinched between Cianciarulo and Osborne in the opening turn of the second main and went down extremely hard. It was a scary scene as he wasn't moving at all. The race was red flagged and Bogle was immediately attended to by the medic staff. Thankfully he was'n't seriously injured but did get a concussion as well, so he'll be out until he's cleared.
In the final main event FXR Chaparral Honda rider Chris Bloss had a mid pack start and then got out of balance in the whoops. He ended up tapping his front wheel over the top of two whoops and then his rear end pushed him over the bars and directly into the face of a whoop. His upper body hit first with his arm/wrist taking the brunt of the force. Another red flag was called as he laid there not moving. A collective sigh of relief was exhaled when he was finally able to get to his feet and was taken off the track in the medic cart. It's been announced he'll have surgery on his arm/wrist. We're bummed the team captain will be out, but wish him a full recovery and look forward to seeing him back on the track.